Sleigh bells are ringing but today, we take on some summer feels! Pink is Ashley's favorite color while Josh's is red, which parallels to a clear-cut romantic themed wedding. And since Ashley is from the Fashion industry, she was very keen with the sophisticated wardrobe — it was stylish with no doubt! Learn from Ashley's skills by reading more as she shared with us the things she's experienced in planning. Feel the warmth with this good read for your Christmas Eve.
Click image to enlarge
Like. Click to Vote
>
Our Story
During college my best friend and roommate who is from Vegas took me there for a weekend. While at a club she invited her friend who brought his co worker Josh. We were introduced and hit it off that night. Before leaving and going back to Arizona where I was from, we exchanged numbers. After talking on the phone constantly we would visit each other back and forth, we began dating. We always had so much fun together. He would make me laugh and we had so much in common. After a year once I graduated college I moved to Las Vegas to be with him.

We Are A Perfect Match
Josh and I have similar outgoing personalities. our similarities are great for understanding each other and knowing what makes each one of us tick. Our differences makes each of us a better person. We are always learning and growing together. I know that this will make our relationship last a lifetime.
The Proposal
Josh and I spoke about marriage early on in our relationship. When the timing was right we custom designed the rings and he told me when they arrived at his parents. Being so excited I began to ask his friends if josh mentioned when he may pop the question. They all told me he planned on sometime in August around our birthdays. With that being the consensus I gave up any thought of it happening at another time. In April my parents took us on a trip to Maui. It was Josh's first time ever in Hawaii so it was going to be so much fun.
The second night we were there, josh and I were walking along the beach before dinner around sunset. He told me to give him a kiss. He was acting a little nervous. He then said, you know I love you right? You know I want to spend the rest of my life with you. He then got down on his knee and pulled the ring box out of his pocket. And said and you know I would never let you wait till August! Will you marry me? I was crying and said yes! My mom was taking pictures a little but away. I was shocked. It was so perfect and cute.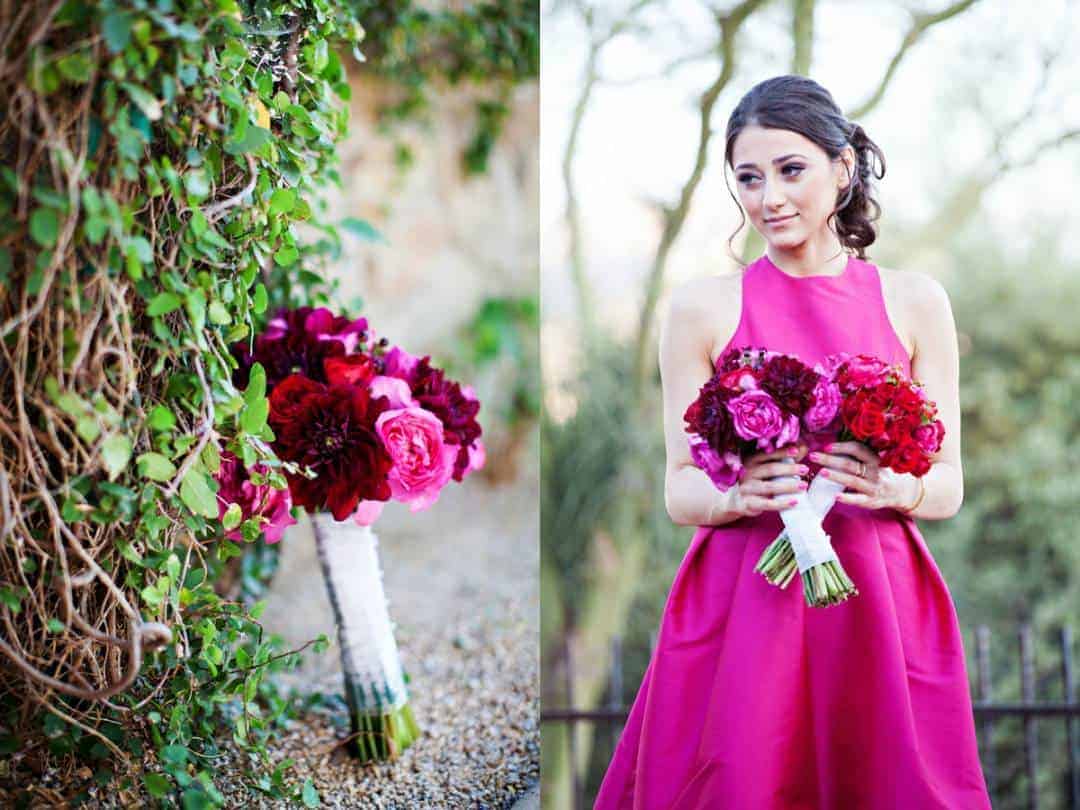 The Planning Process
He proposed in April of 2013. We were married June 6th of 2014. So I had over a year to plan the wedding. We live in San Diego and the wedding was in Arizona so that part was tricky. Luckily my mom dedicated tons of time to getting things done. And thank goodness for the Internet and email. All the vendors were so accommodating about how I could only come to meet them briefly. The length of time was definitely enough. Everything was perfect.
The Best Advice We Received
Have a day of coordinator. Whether that is someone working at your venue, a very organized friend, or an outside wedding planner. The day of, YOU do not want to think of every little detail. You should relax and live in the moment. Have someone else keep things running. At our venue we had a wedding coordinator and she was great at staying organized and keeping the guests where they needed to be.
Tips & Tricks For Future Brides
I originally wanted to DIY a lot more than I did for the wedding. I planned on doing my own floral arrangements since flowers can be costly. I decided not to since I didn't have the time, and space to take on the project especially the day before the wedding to keep the flowers fresh. If you do, then go for it. I ended up making the escort cards by water coloring and drawing each name on tags which I hung on manzanita trees I purchased. I created the escort cards over time. They came out perfect and I was glad I could not only save money but add my own style to the wedding. Look into DIY for more ideas!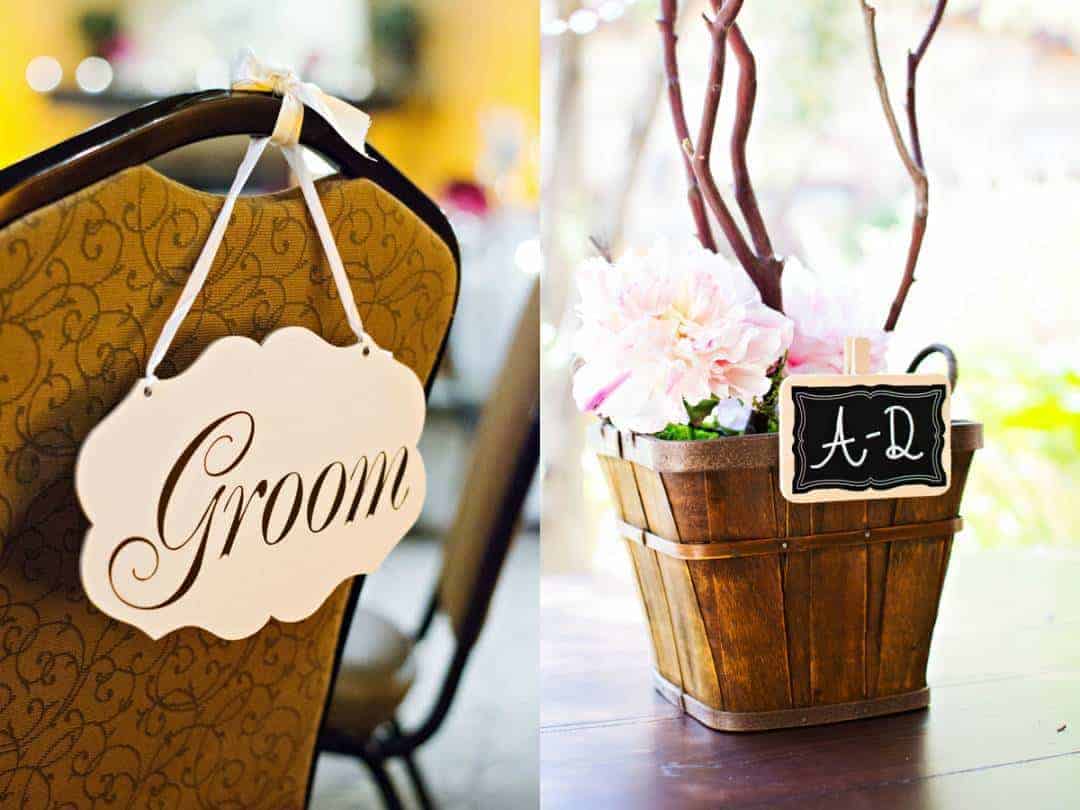 The Challenges We Faced
Luckily we never faced big problems. Everything was easily solvable. With that being said i am a very easy going girl. So to me one small problem may be bigger to others. So when you do face problems keep an open mind. Try to be accommodating while realizing that alternative options are ok too and that no matter what everything will work out. And you'll be so caught up in the moment and enjoying yourself that you won't notice the little things. The wedding will be so wonderful no matter what.
Wedding Decor Inspiration
I had envisioned the wedding for a while. I pictured it a million different ways though. My Pinterest boards reflected that. Once the venue was decided it fell into place. My favorite color is pink and Josh's is red. So those were the colors. I love flowers so I knew a few I wanted in arrangements and my bouquet.
My dress was the very first thing we purchased. Being in the fashion industry as I am, of course the dress would be first. The Essence of Australia gown I saw online first then tracked it down. It was the first dress I tried and it was the one! I wanted everything else to be romantic. Soft glow of candles. Pop of color from the flowers.
Wedding Outfit Inspiration
I wanted things romantic. My lace and tulle dress by a Essence of Australia with a sweetheart neckline was very romantic and feminine. My husband wore a fitted and modern Tommy Hilfiger tuxedo. My maid of honor wore a gorgeous pink a line dress that matched my bright pink Manolo Blahnik pumps. Combining the red and pink kept the romantic theme going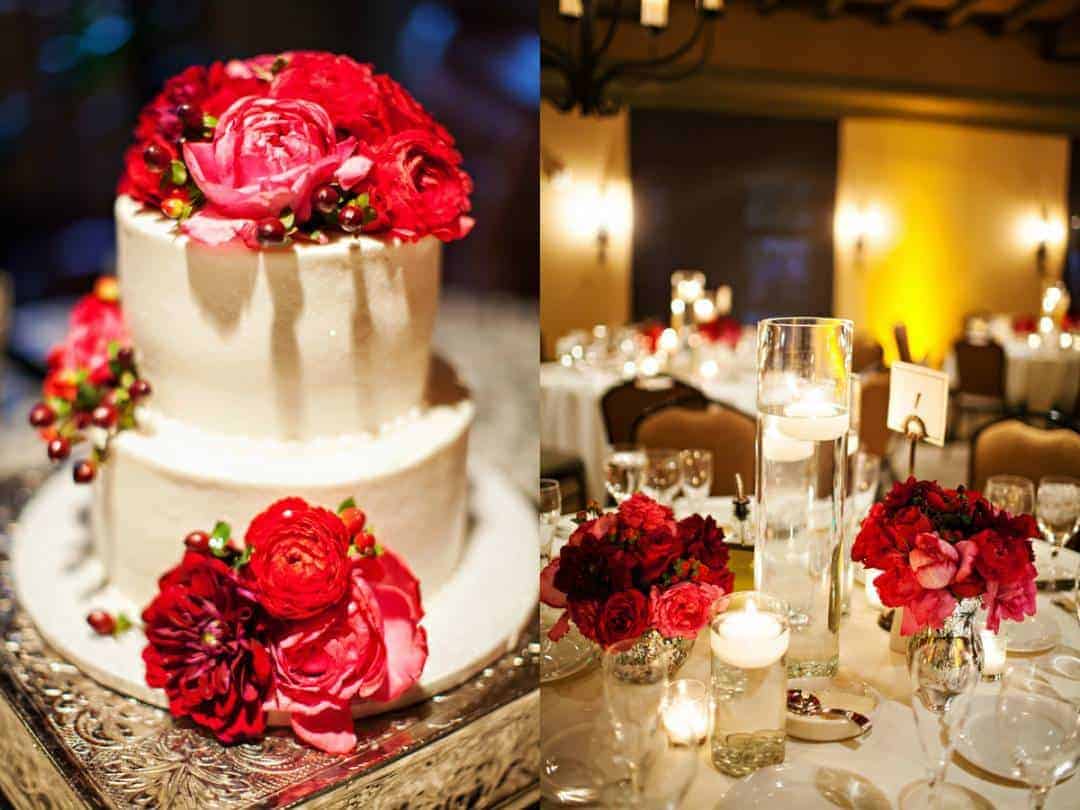 Our Do-It-Yourself (DIY) Projects
I hand made escort cards for the wedding. I bought tags from Michaels which I hand painted with pink watercolor. I then drew each persons name on them. Attached pink ombré twine and hung them from manzanita trees that were sitting in small baskets covered with moss and faux flowers.
Money Matters
I did a lot of online research I found vendors that were excellent quality for the cost. We also decided to get married on a Friday rather than a weekend. That saved a lot.
The Songs
Creating the wedding music was one of my favorite things. I found an acoustic guitarist and vocalist duo. They sang some of our favorite songs while guests were seated. "I'll Be" while Josh walked down the aisle. "A Thousand Years" when my dad walked me down the aisle. "Better Together" when Josh and I walked down the aisle as husband and wife.
Planning Advice For Couples
Don't stress. Everything will work out. Don't worry about little details. The day will rush by and you'll be so focused on each other and your guests that the little things won't matter.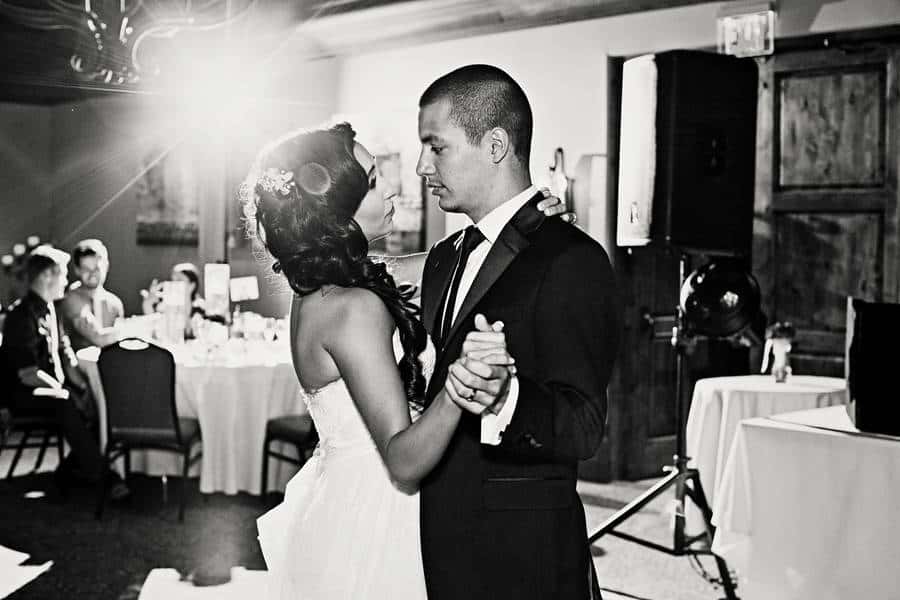 Highlights from the Ceremony and the Reception
The ceremony was perfect. The best part was hearing five reasons we had wrote to each other beginning with I love you because my husband was funny and so sweet. I'll always remember that. The reception was a blast and so special. Dancing with our parents, hearing the speeches and dancing the night away. I wish it could have lasted longer.
Favorite Part of the Day
My two favorite parts of the wedding would have to be the ceremony, becoming officially husband and wife. The second would be dancing with my husband. It's always been one of our favorite things to do and so just being so happy and in the moment was especially fun and memorable.
Our Wedding Video
VENDORS
Photographer:  Jillian Ryan Photography
Cake Designer: Let Them Eat Cake
Floral Designer: Arizona Cut Flower Company
Ring Designer: Joseph Schubach Jewelers
Cake Designer: Let Them Eat Cake
Musicians: Ray the DJ Mobile Disc Jockey Service
Makeup Artist: Rolfs Salon
Reception Venue: sassi
Dress Store: Uptown Bridal & Boutique
Officiant: Your Dream Ceremony