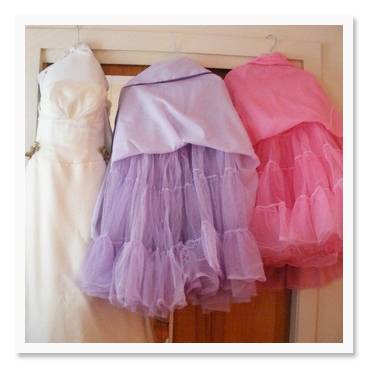 I was hoping to do a colored crinoline for my wedding, but I was not looking forward to a long search for one or dyeing it (I see grand visions of perma-stained hands, and possibly kitties). It dawned on me that maybe – just maybe – someone on Etsy would be clever enough to fill that gap since color in unexpected places has become a pre-peak trend of late, found in bridal shoes in particular.
Well, thank goodness for Wedding Cabaret, who will not only do it for you, but will do it affordably! For only $25, you can choose from a wide variety of colors. Don't have the time to even pick up the crinoline yourself? They'll pick one up for you (now that's service!).
ETA 5/7/2009: If you purchase the crinoline skirt yourself, make sure it is 100% cotton, linen, silk, wool, ramie, rayon, nylon, acetate, or a fiber blend containing at least 60% of these fabrics. I, sadly, bought one that was polyester (FAIL!) and had my fittings in it before realizing it couldn't be dyed. No more pink crinoline for Maddy!