I'm in full-on favor mode now, and I'm definitely making my own. I, like many of my fellow brides-to-be, am making the most of my creativity and resourcefulness as a result of this fantastic recession we're in (a blessing in disguise for my wedding, at least, though certainly not for my parents' savings and 401K). Relying more on myself to take the time out and design things my way has, I think, made me cherish my wedding day in a different way, and makes it more special – but back to my original point.
I've been doing a lot of research on boxes. As I believe I mentioned before, I'm personally opposed to prepackaged Jordan almonds and the like. I blame working at an invitation store through high school – if I see one more candle or glass with a couple's name on it, I'll probably hurl it through a window! It's astounding how many times people ordered that, even in the age of perfectly styled Martha ideas. But I digress. I've always loved the idea of a candy buffets – yes, perhaps they've become a little overdone in the process of being trendy, but so the best ideas always do. I love that each guest can have something that suits him or her, and that a variety of options are laid out before them. It's so much more personal while also being considerably less fussy (less favor prep!).
Oh look, I've veered off topic again. So sorry. Anyway, once again back to topic.
In my research, I've come across a great variety of favor packaging companies, and though I probably won't go with them (the boxes are slightly too small for what I need), I was still nonetheless charmed by BellaTerra. Their boxes are cute and there's a lot of options on the table. Their scallop lid box is one I'll remember, and would hands down go back to if ever I host a bridal shower (Note to Sam: If you're out there, please make Anne settle down already! Must. Organize. Party.) or baby shower (being that none of my friends are married or even engaged, far less likely to happen). Here's some tasty treats to wrap up before I go off on yet another tangent: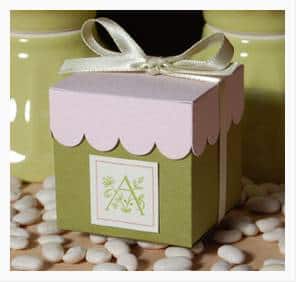 Images from BellaTerra.