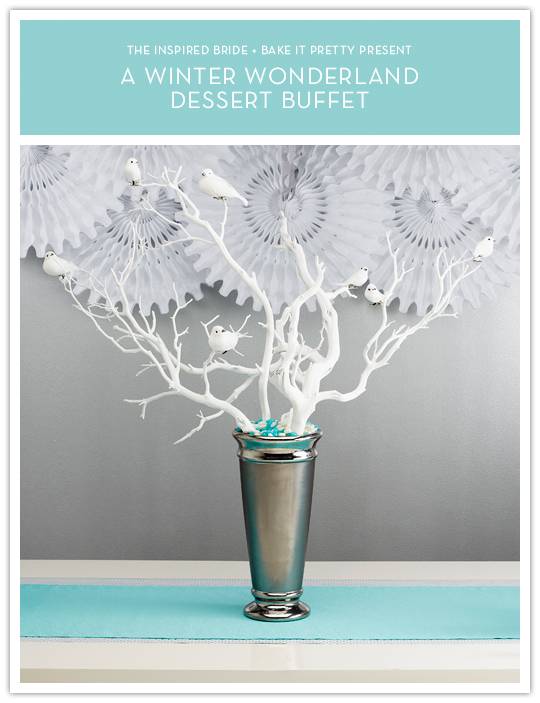 In this post, we'll take on the centerpiece. It's incredibly easy and quick to make, and looks lovely when it's done. We liked the container we chose because it had great height, which let it be seen above the candy and gave another scale shift on the table. That's something you'll want to consider when you're shopping for your own vessel.
• • ♥ • •
What You'll Need
Container with a Mouth Wide Enough to Accommodate Your Branches
Manzanita Branches (we used three smaller ones)
White Spray Paint
Floral Foam
Parchment Paper and Tape
Newspaper
Large Mushroom Birds with Metal Clip Bottoms or Other Attachment Hardware (ours are from Michael's)
Jelly Beans or Other Small Candy
Stuff your container with old newspaper up to about half to two thirds way, depending on the height of the vessel. Keep the paper pieces compact for support.
In a well ventilated space, spray paint your manzanita branches. Allow to fully dry. A few coats may be needed for consistent color, so repeat as necessary.
Wrap your floral foam blocks in parchment paper as you would a gift. This will minimize any breakoff that occurs to the foam after the branches are inserted. Place the floral foam pieces in one by one, puzzle piecing them together so they are rigid and cover most, if not all, of the container's area. When you press down on the foam blocks and they feel secure, begin to insert the manzanita branches – one at a time if you have multiples. Press them into the foam bed until they are firmly supported and do not wobble or slouch if you remove your hand or move the container.
When all of your branches have been inserted and secured, check the parchment paper on the foam blocks. If any tearing has occurred or foam is otherwise exposed, patch it up with tape and additional parchment paper. (Note: keeping the foam perfectly wrapped is important to prevent any breakage from happening and mixing with the candy.) Finish off the top of the centerpiece with a layer of jelly beans or other small candy to completely cover the foam layer.
Begin to attach the mushroom birds to the branches. One the first pass place them randomly, then step back and see how it looks from a distance. Adjust as needed. Group one or two couples together to appear as though they are interacting. When placement is finalized, the centerpiece is complete.
Images by Michael Haug; prop styling by Kirki Schultz; food styling by Maddy Hague.