If you've been wondering why the weekend posts have been MIA the past few weeks, it's because I've been doing some serious work on the back end trying to get the Inspired Bride's second version finished. Needless to say, it's taking a while. As an advance treat, though, I figured I'd let one feature go public, so here's our first DIY project.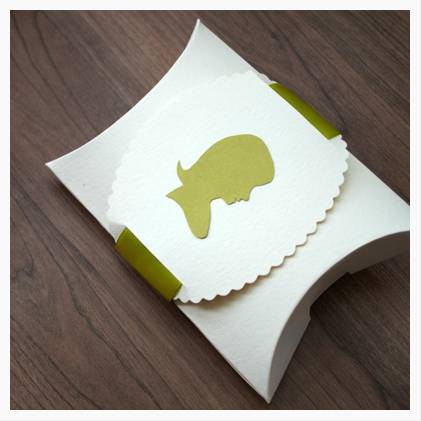 I developed these while making mockups for my own wedding favors. Though I'm not going to use these personally, I thought they'd be super cute for a bridal shower in particular. These directions are for the basic piece above, but if you want to fancy it up a little, consider adding another layer between the scalloped card and the silhouette so that the silhouette pops white out of whatever color you place there (almost like a cameo, if you can visualize it!). Also consider using pillow boxes with pre-printed patterns for a little more flair.
What You Will Need:
Pre-cut Pillow Boxes
Silk or Grosgrain Ribbon (1″ or 1.5″ thick – ours is 1.5″)
Scalloped Oval Cards
Colored Flat Card Stock
Glue Stick
Double Sided Tape
Scissors
X-Acto Knife and Blade
Rotary Trimmer (optional)
Multiple Photocopied Photos of the Bride and/or Groom in Profile
All of our paper and ribbon in this test were made using Paper Source products.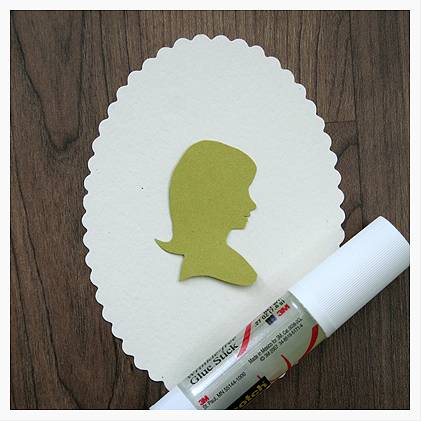 STEP ONE: Prepare to cut your silhouette. Your subjects' images should be roughly 2″ to 2.5″. Attach your photo(s) to a sheet of your flat card stock with a paper clip or hold them tightly together. Begin to cut along the contour of the subject's face with an X-Acto knife . You will probably want to simplify some of the lines, particularly with curly hair. Notice the simple hair style in the sample – it's best to try for a few sweeping motions that represent the overall area you're cutting. To finish the silhouette bust, cut an S-shape like the example shown above rather than cutting a straight line to finish it.
STEP TWO: With your finished silhouette in hand, take out your scalloped flat card. Center the silhouette on the flat card (vertically and horizontally), glue the back of the silhouette, and place down where you centered it.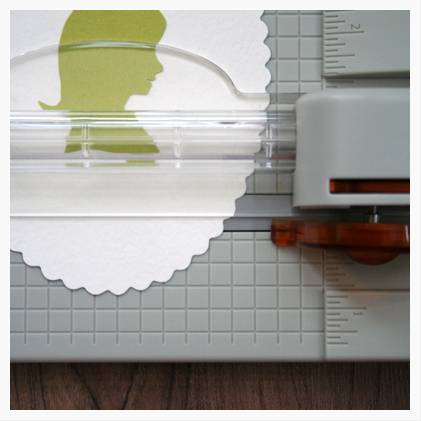 STEP THREE: Using your X-Acto or rotary trimmer, cut a straight line at least a half inch from the bottom of the flat card that is approximately a quarter inch larger than your ribbon. Repeat on the top of the card.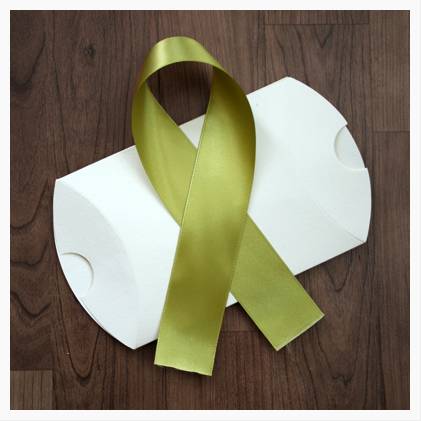 STEP FOUR: Cut a length of ribbon that is approximately an inch longer than the circumference of your pillow box.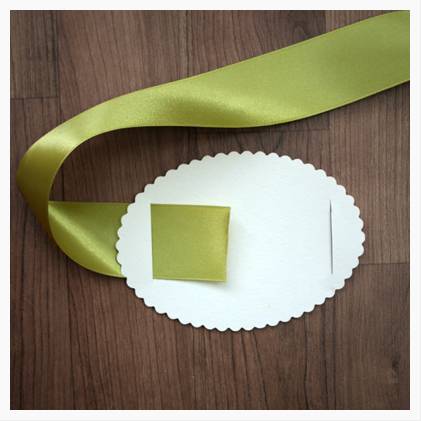 STEP FIVE: Thread your ribbon through one of the slits you created on your scalloped flat card. Do not pull it completely through. Because we want to hide the ribbon seam, both ends of the ribbon will meet underneath the flat card. Repeat with the other side of the ribbon through the other slit. Double stick tape one of the ribbon ends to the back of the flat card, but leave the other one untaped for the moment.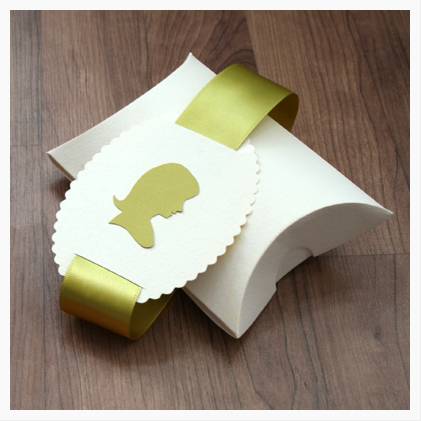 STEP SIX: Because one of your ribbon's sides has not been taped down, it should easily slide over the surface of the constructed pillow box. Pull it across and rough in the approximate placement you want for your flat card and silhouette.
STEP SEVEN: Pull the untaped end of the ribbon tight. Unless you've allowed yourself a little additional ribbon like I did for safety, you probably won't have as much ribbon as I do in the above image. Trim whatever excess ribbon you have that cannot be hidden by the card, and double stick tape the ribbon to the back of the flat card.
Congratulations! You have a cute vintage-meets-modern favor box. As you've noticed, I tried to keep this as plain as possible so that you can be creative as you want with it. If you're looking for style suggestions, my earlier recommendations about making a more layered flat card piece or using a pre-printed, patterned pillow box would work great. Also consider hiring a calligrapher to handwrite out the Bride and/or Groom's Name so you can make a stamp out of it to embellish the flat card below the silhouette. Happy crafting!