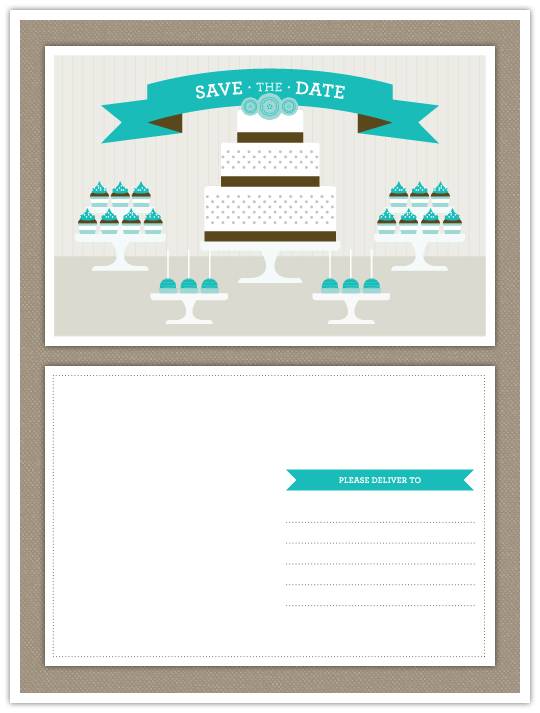 Yummy baked goods? Check. Convenient post card format? Check.  No need for excess paper in the form of an envelope? Check.
I recently stopped contributing to Minted's Design Challenges for personal reasons (if you really want to know, e-mail me) and I was looking through all the things I had created for them in the past and had either not been picked or had not been selected. I illustrated this cake for a challenge a little while back and thought it was too cute to just have it laying around on my hard drive, so I pulled some inspiration from some of my favorite dessert buffet designers (primarily Sweet and Saucy, but also Amy Atlas) and illustrated this simple but adorable dessert table.
Why a Save the Date of all things? Well, it's because I have someone very special to dedicate this to who can probably use on soon…
I want to publicly give my warmest congratulations to my best friend (and pseudo-sister) Anne, who on Saturday called me with the most wonderful news that she's engaged! I was so thrilled that I cried the whole way home in the car from Bethany's house and for the remainder of the day any time I said (or even thought!) "Anne is engaged" or "Anne is getting married' I started crying again. I'm so, so ecstatic – her husband-to-be (!!), Sam, is absolutely incredible, and has been a rock for her. They're perfect for each other, and I wish them all the happiness in the world. Congratulations again, guys, and hope my shout out didn't embarrass you too much.
Enjoy, everyone!
COLOR OPTIONS