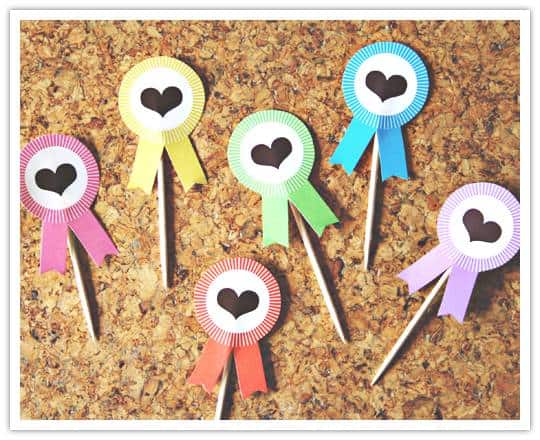 I confess: I'm moderately totally obsessed with award ribbons of all sorts, and not only do I love looking at them, I absolutely adore drawing them in Illustrator. That's a designer for you.
I decided to take these guys and turn them into cupcake toppers after my buddy Shauna Younge, a local dessert table designer, mentioned it can be difficult to find non-juvenile toppers that "don't suck". Yeah, that's right, Shauna, I've been recording our conversations via Google Chat. Now how's that for Big Brother?!
Anyway, I put them together and I couldn't be more pleased. I'm happy to report that my fur balls, Marlowe and Jocko approve, as well – less than thirty seconds after I took the above shot, they both walked over to them and sat on them (it's how they claim what's "theirs").
• • ♥ • •
What You'll Need

Award Ribbon Graphic PDF (Color Choices Available Below)
Cover Weight Paper
Glue Dots
Plain Toothpicks, Preferably with a Flat Top

Print out several sheets of our award ribbon graphic PDF. Cut each template along the white line that goes around the inside (the excess color is bleed, so the line is NOT a design element), and set aside. Affix a glue dot to the center of the circular portion of the graphic, then lightly press a single toothpick into the glue dot. Take another cut out and line it up with the outline of the original. Press into the glue dot to affix – if none or only a little bit of the dot was exposed after attaching the toothpick, you'll want to put down another one.
• • ♥ • •
Color Options:
Pink / Orange / Yellow / Green / Blue / Purple
Images by Maddy Hague.