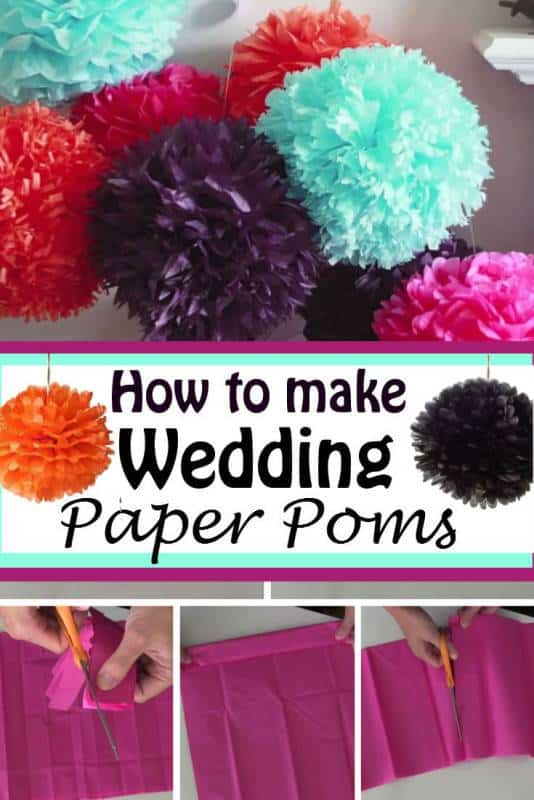 In a wedding, it is during reception when guests have more time to get acquainted with others. To avoid possible awkward feelings, the ambiance in the reception has to be light and warm. Do you think this is difficult to achieve? Of course, not! Our tutorial today will teach you how to brighten your reception area using DIY paper poms. Just like the rest of our DIY projects, they are inexpensive and absolutely easy-to-make. Find the instructions below.
What do you need:
Tissue paper (various colors)
Scissors
Thread or fishing line
Choose any color of the tissue paper. Open it up once you remove it from the pack. Fold it in half. Cut along the line. Put the half on top of the other making layers of tissue paper.
Start folding again from the top. The fold should be about 1.5 inches wide but you can customize the width depending on your preferences. Once you have created the first fold, turn over the tissue paper and fold the same width. Turn it over again and fold. Repeat the process until you have reached the end. Then, press it down to make clear creases on the paper.
Lay it out and take about 4-6 sheets. Grab the scissors and start to cut around the top. You are basically cutting the folded edges. This is essential as this will give the look of the poms. Do this also on the other side. Another trick to do this is to get the entire bundle of sheets. Cut a semi-circle to the middle, then flip it over and again, cut another semi-circle to the middle.
Put back all the layers. Cut about a few inches of fishing line or thread. Then, tie it at the center. Make sure to make it tight to keep the tissue papers in place.
Lastly, start opening up the layers. This step is a bit difficult as first you may tear up the paper. So, begin to open up the layer gently towards the center. Flip over and do the same on the other side. Flip it over again and repeat the process. Do this in a circular motion forward. Working on one side won't make the layers even so going around is much better.
If you are done with all the layers on both sides, then fluff it up. Hooray! Now you have dashing paper poms that will surely bring life to your wedding day!
Watch How it is Done
Save All the Steps Above using this Bookmarklet