Tara and Chad planned a lovely garden wedding despite the challenges they went through. The couple didn't let Tara's condition get in between them in preparing their wedding that have become a beautiful success. The couple was pretty involved with the planning and decor DIY on their wedding. Tara had a lovely wedding dress embellished with blush and pink florals and, of course, her shoes had fabric flowers on them too. She didn't stop there; she gave her bridesmaids heart printed tote bags and clutch accented with pink fabric flowers (how I wish I were one of her bridesmaids).
Click image to enlarge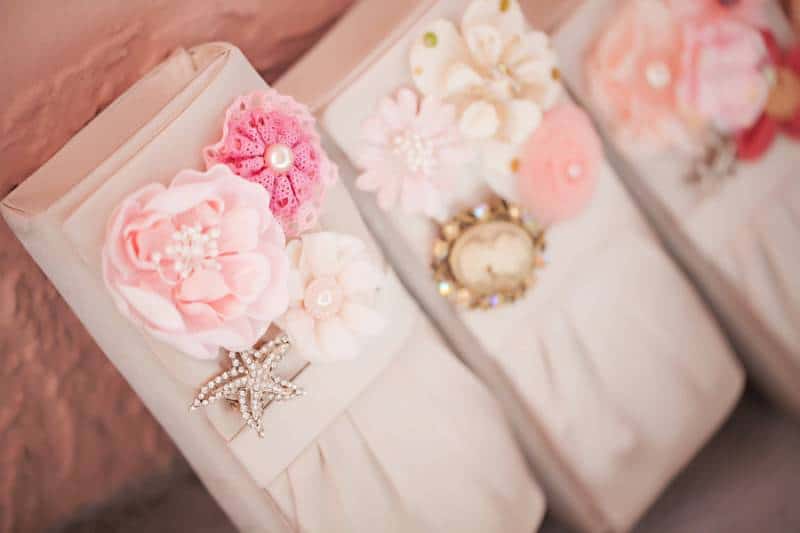 Like. Click to Vote
>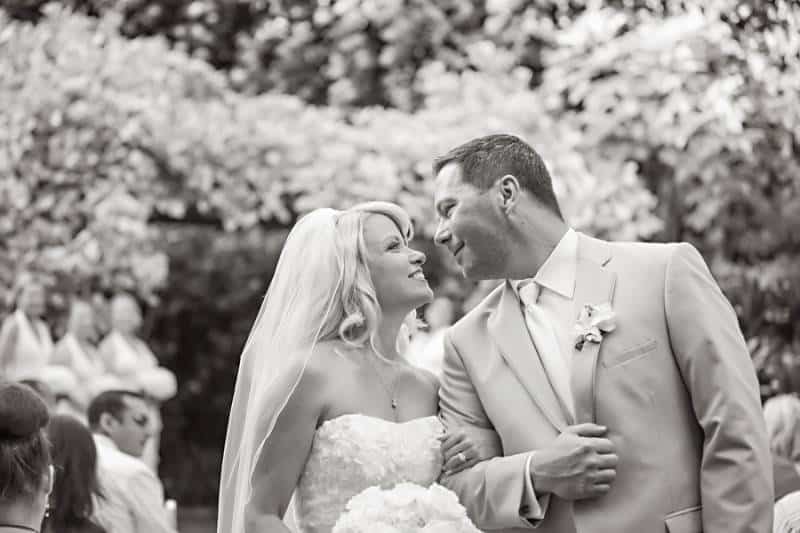 Here's a little more information on their wedding day from the lovely bride Tara.
What is your story as a couple, how did you meet & fall in love?
I initially met my husband, Chad, through mutual friends. However, our paths did not cross much, until a group trip to Key West. We were inseparable on that trip, as we both felt an instant connection and ease with each other.
What makes the two of you a perfect match?
For the first time in both of our lives, we each found someone with whom we could be ourselves completely. We are a perfect match because we accept each other as we are, flaws and all, and have never wanted to change a thing about each other. We have so much fun being together, whether it is traveling the world or doing nothing at all. When there is no one else you would rather be with than the one to whom you are married, you just know it is the perfect match.
How did he (or you) propose?
The proposal was one fit for a romantic movie script. Chad surprised me with a weekend getaway stay during the holidays at the Vinoy Renaissance hotel in St. Petersburg. He made reservations in the private dining restaurant at the Vinoy, where we had an amazing dinner. It was a beautiful evening, so he suggested we go for a walk through the park to stroll through all of the holiday lights and decorations. We were approaching the large Christmas tree when Chad started leading me over to a beautiful old oak tree that was strung with white lights. As we neared the tree, I noticed a beautiful, lit-up mistletoe ball hanging from the branch of the tree. Hanging from that mistletoe ball was my gorgeous ring. As he got down on his knee, I finally understood what was happening. After many tears and saying "yes", my best friend came running out with champagne (she was keeping a close eye on the ring hanging from the tree) did I mention that they had an according player there to enhance the mood with romantic music? 🙂 After the proposal, he had a horse and buggy waiting to take us on a romantic ride through the park. After our buggy ride and a celebratory glass of champagne, we went back to our room to find it decorated with rose petals, candles and more champagne. It was a dream proposal!!!
How long was the planning process? Did you think it was enough time?
Our planning process was about 9 months and we found that was enough time for us.
What was the best advice you received when you were planning your wedding?
Our friend suggested we go take a look at Sunken Gardens as a potential venue. We instantly fell in love with the place and ended up booking it. Thanks to her, we found the most romantic and unique location for our intimate wedding.
What tips & tricks (can we use "hacks"?) can you share future brides that you yourself have learned during and after your wedding?
There are so many useful resources online. However, I found that I wanted to incorporate way too many of the ideas I found on wedding websites and Pinterest. I created several different boards, so I could keep everything organized. I also had a secret board for myself to pin gift ideas for our bridal party. Even more helpful was adding a few of my best friends as contributors, so they could add their ideas and suggestions.
What were some challenges you faced while planning your wedding & what did you do to address them?
My biggest challenge during the planning process was that I was very ill, suffering with Lyme disease. For the most part, I could not leave the house while we were planning. I was so lucky to have a fiancé that wanted to be a part of the planning, so he was able to a lot of the running around. He even helped with the DIY projects. I planned the majority of our wedding on the computer, while lying in bed.
What inspired your wedding décor? Why did you choose the things that you did?
Since both our ceremony and reception were outside in the gorgeous botanical gardens, we wanted the focus to be on the natural beauty around us. We didn't need floral arrangements (other than bouquets), since we were surrounded by the lush greens and flowers already. Our decor only helped to enhance the romantic vibe already set in this beautiful venue.
What was the wedding budget?
Hmmm….we didn't set a solid budget, however we wanted a small and more intimate affair. We kept the guest list to 50, which helped control the costs a bit.
Where did you save the most money?
Since we didn't need floral arrangements for decor, I would say we saved the most on flowers. Our bouquets and boutonnieres were beautiful, but costs less than $500.
What was the biggest expense?
It's a tie between our venue and caterer, but both were phenomenal and we wouldn't change a thing!
How many guests were invited in your wedding and what was the final guest count?
54 invites and 48 guests on the final count
How did you narrow down your list?
We kept our invite list to immediate family and closest friends only. It was great to have all of our favorite people in the same place. Having a small guest list made it easier to spend time with everyone.
What songs did you use during the ceremony?
I fell in love with the idea of having all classical guitar music for the ceremony. Since the wedding was in the garden, it was a perfect fit! For the parents of the groom and groom's daughers we played "I can't help falling in love" by The O'Neill brothers, for the wedding party, we played "unchained Melody" by Esteban and I walked down the isle to "Canon in D" by The O'Neill brothers.
Where did you go on your honeymoon?
We went on a 7-night Western Caribbean Cruise on Royal Caribbean.
What are you most excited about for the future?
I am excited to finish my treatment for Lyme Disease and get back to work. We have had to put any traveling and entertainment on hold, until I can better. We are planning on starting a search for a new home next year as well.
Do you have advice for couples still in the planning process?
Take a deep breath and take a break from planning, if you are feeling overwhelmed. Also, take advantage of offers of help from friends and family. I highly recommend that brides-to-be enlist their fiancés to help in the process. It is really wonderful when you plan your big day together, as a team.
What is the overall story for this album?
Our photo album highlights our ceremony and reception, along with formal portraits and private husband and wife moments.
What inspired the wedding day outfits?
I always heard that when you find your wedding gown, you just know it is the perfect one. This was true for me, 100%. I wanted my dress to be one that fit in our garden setting. A dress that was lacy and romantic. I found a dress that was a fit and flare style with embroidered flowers all over it. The flowers actually had a faint hint of blush pink, which is why I decided to have the bridesmaids dress in blush pink. We also decided that the men's tuxes should be a more neutral tan, instead of traditional black. This color scheme was romantic, yet neutral enough for the vibrant garden setting.
What was your favorite part of the day?
The whole day!!! 🙂 It truly was my best day ever and I want to do it all over again, just to relive it. The moment right before walking down the aisle was very special for me. I was flooded with emotions and excitement and could not wait to see my groom. I also loved the time in the reception where all of the pomp and circumstance was over and everyone was dancing and celebrating together.
Was there any Do it Yourself (DIY) projects? If so, can you describe them in detail?
We had many DIY projects and little details. Our welcome sign was a handmade project that we both worked on. My husband spray painted the sign with chalkboard paint and I decorated the sign with chalk. We also used the chalkboard theme in our seating chart. We were so fortunate to have my lifelong friend, who is a graphic designer, help us with several projects. She created our original invitations, table numbers, seating chart cards and our thank you cards that we placed at each place setting. I gave my bridesmaids several gifts that I made myself. I custom made a clutch for each maid and personalized them with special rhinestone pins and flowers. I also made hand-stamped canvas bags and bridesmaid t-shirts for the day of.
What were the highlights from the ceremony & reception?
We were able to track down the accordion player who played for us when we got engaged. He played while our guests were arriving to the ceremony. My husband has two teenage daughters, who walked him down the aisle before the ceremony. I was walked down the aisle by both my mom and brother, which was very special for me. Our good friend officiated for us, which was another special highlight for us. The reception was amazingly beautiful, with market lights strung throughout the canopy of trees. My groom bought and assembled a crystal chandelier that was hung from the center of the market lights..
Was there a theme for the ceremony and reception?
Our theme was garden romance, with our decor being all white and neutral tones.
What part of the ceremonies do you think was the most memorable for you? (& your guests?)
The pure beauty of our venue was something very memorable for our guests and for us. We wrote our ceremony and vows together and having a friend officiate was very special. Our guests could not stop raving about our food and the top-notch service they received. Our caterers were amazing. For us, we are so thankful to all of our vendors! We selected the perfect companies that worked together to create our best day ever. Our photographer, Heather Kline, kept everything running smoothly and our catering company executed our reception perfectly. If it wasn't for our excellent vendors, our day would not have been as perfect as it was!
Here's their wedding video from TampaniacPictures. Enjoy!
VENDORS
Photographer: Heather Kline Photography
Linens and Coverings: A Linen Valley
DJ: Celebrations 24
Makeup Artist: Danielle Sabatello Makeup Artist, LLC
Dress Store: David's Bridal
Hair Stylist: NV Salon and Spa
Caterer: Olympia Catering & Events
Reception Venue: Sunken Gardens
Cinema and Video: TampaniacPictures
Floral Designer: X Floral Salon