Brides all over the country are currently planning their spring 2017 weddings, and with some of the most beautiful color trends hitting bridal boutique shows everywhere, it's a fun time to do so! We've lined up some of our favorite color palettes that are still going strong in the end of 2016 as well as brand new palettes that are sure to be super popular in the beginning of next year. They are sure to inspire you as you choose your own wedding color palette.
Floral Gold and Cream
Here's a great pick for those who love the elegance of gold and wants something fresh and exciting along with it! Imagine having the richness of metallic gold while keeping the soft and lush colors of your favorite flowers. Pair it with a cream base color and every detail pops out! Dreamy, isn't it? This floral color palette will always have its romantic tone which is perfect for couples who love elegance and simplicity!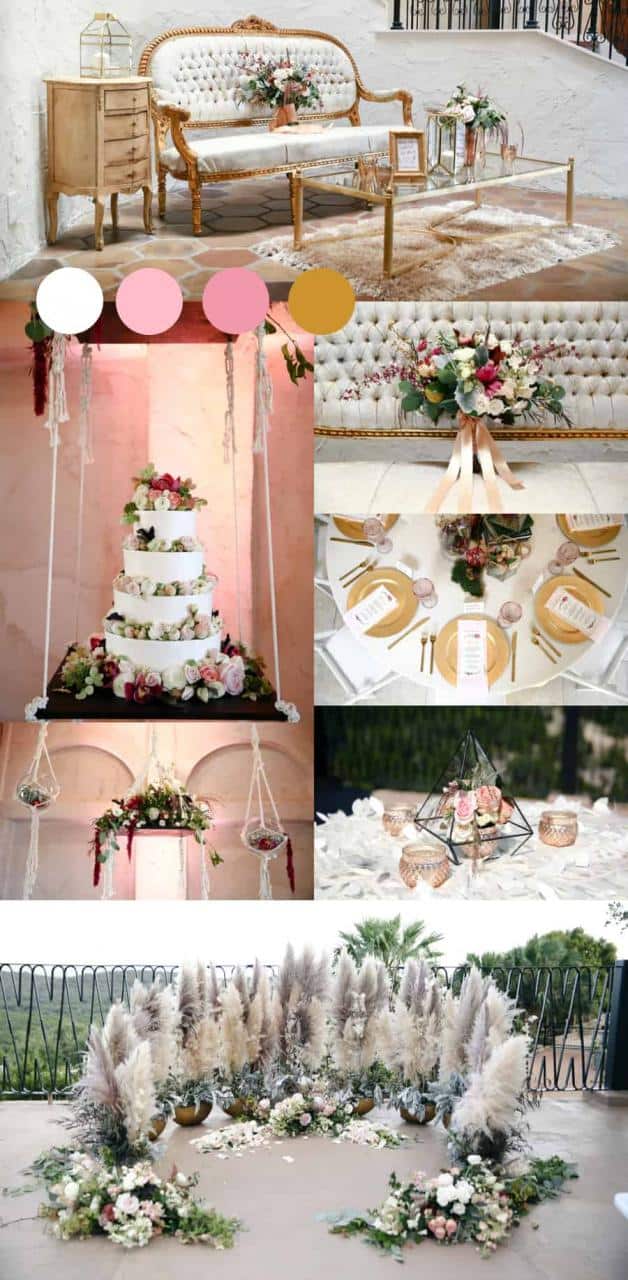 Orange, Fuchsia, and White

Sure, these colors sound wild together, but they actually combine to create a very attractive and fresh look that is perfect for spring 2017. We love how the bride in the photo above utilized varying shades of orange and pink, which worked perfectly. These colors pop when used against a primarily white background. This is the perfect way to keep from over-using these vivid colors and adds an airy feel to the overall look.
Muted Blue, Yellow and Gray
Blue and yellow have been popular wedding colors for a few years now, and this charming palette isn't showing signs of going out of style any time soon. We love how this bride utilized these popular colors, but put her own spin on the look by using muted shades. She also added gray as the perfect accent color, and together they achieved a very romantic, vintage look.
Navy Blue, Ivory, Lavender and Gray
Whether you're a more conservative bride or you enjoy making a  statement, this color palette is perfect. It combines the more serious tone of navy blue with the playful feel of lavender. Those primary colors are then accented with the more neutral shades of gray and ivory. While this palette would work very well for all seasons and themes, we love it for a gorgeous spring wedding.
Gold, Baby Blue and White
Green, Mint, Pink and Ivory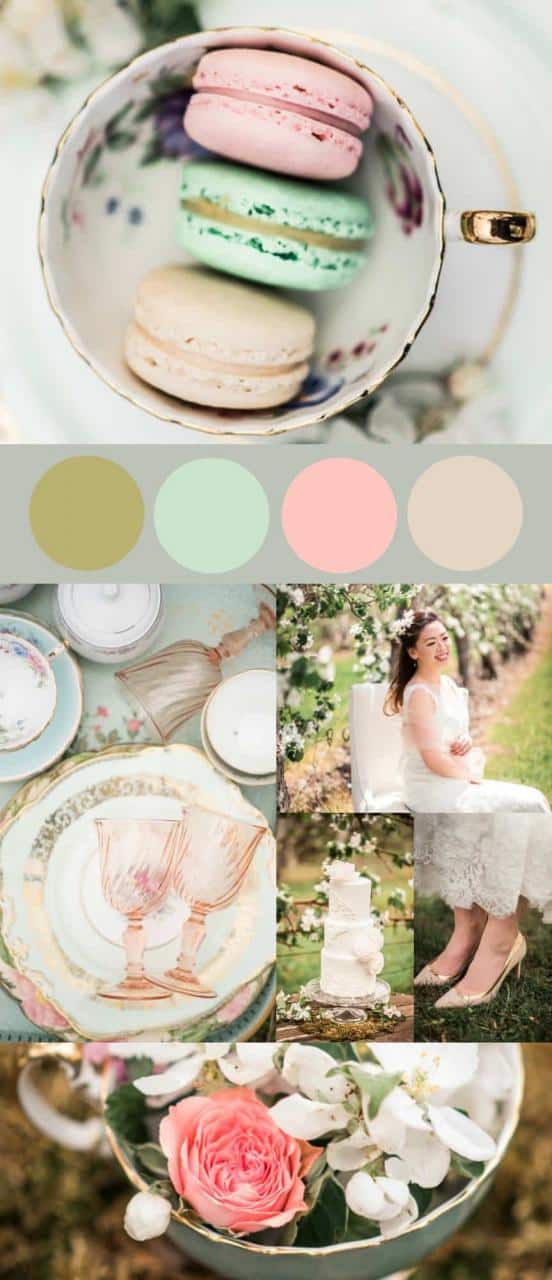 Photographer:  Emily Christine Photography | Cake Designer: Cakeity Cakes | Floral Designer: Country Lane Floral Design and Vintage Rentals | Event Venue: Pine Farms Orchard
While most of the palettes on this list are great for spring, we feel that this one really should be the poster child for the spring 2017 wedding. This palette uses green, mint, pink and ivory with gold that lends it a vintage but timeless feel – something that many brides will adore. We're fans of vintage around here, and truly believe that vintage combined with these soft colors create a magical look.
Which of these color palettes do you love the most? Please share your thoughts on all of these color combinations by using the comment box below.