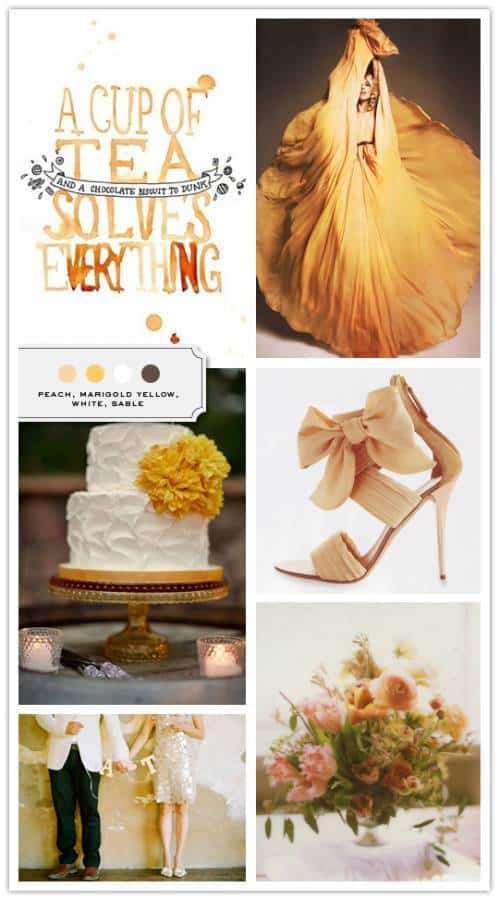 Planning a wedding can be an overwhelming task for a bride, even when you hire help from a professional. There are so many choices to consider: the colors, the inspiration, the flowers, the venue, the dress… and the list goes on and on! My best advice: take a cup of tea (or ice tea, now that the weather keeps getting warmer each day) and relax. Take your time making your decisions and stick to them! The end result will be perfect because you made the right choice. Your perfect match will be with you for the rest of your life and nothing can be better than that! Enjoy!
• • ♥ • •
Color Palette Credits:
Poster, via Tumblr
Dress, via Dress, Design, Decor
Wedding Cake, My Sweet and Saucy
Shoes, via Dress, Design, Decor
Flowers, Kate Murphy Photography
Couple, Jill Thomas Photography
• • ♥ • •
Sofia Ferreira is the co-founder of Brancoprata, a wedding company specialized in design and photography. After graduating from University, Sofia soon realized that her love for interior design and weddings was too powerful to be ignored. She gave up her career as a Mathematics teacher and since then she devotes her time to make dreams come true… at least for her couples! She is currently looking for a place to live and work in the historical part of downtown Porto, where she was born.