From Jessica:
Thanks so much to Maddy for asking me to guest post! The Inspired Bride was a great source of inspiration to me as I planned my recent summer wedding, so I'm honored to be back now as a guest writer.
As summer winds down, I love the idea of a relaxed, intimate backyard wedding with dinner served family style, a dessert buffet of blueberry pies and mint chocolate chip ice cream, and a guitarist playing as the sun sets. For this late summer afternoon, I envision a cool, refreshing palette of lavender and mint green with a floral halo for the bride, an airy violet gown, hand-lettered stationery and lavender lemonade. Together, they have the makings of a perfect afternoon spent with the ones you love.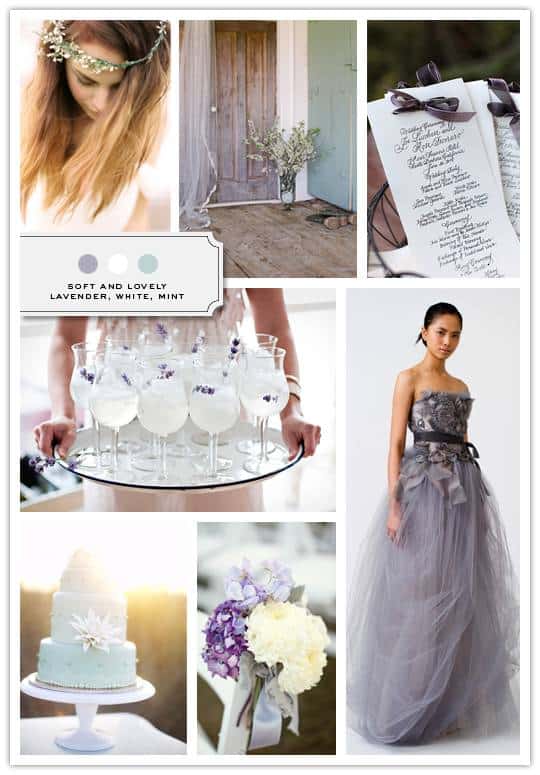 Color Palette Credits:
Bride with Flower Halo, Jose Villa
Porch, Tec Petaja
Programs, Jasmine Star
Lavender Lemonade, Sunday Suppers
Gown, Vera Wang
Cake, Millie Holloman Photography via Style Me Pretty
Aisle Flowers, Sarah Yates via Style Me Pretty
• • ♥ • •
Jessica Edwards Malish is a brand manager at a boutique branding and design agency. She and her husband live and work in New York City. As a recent bride, she fell in love with wedding styling and design and is thrilled to continue the love affair in her guest posts for Inspired Bride.