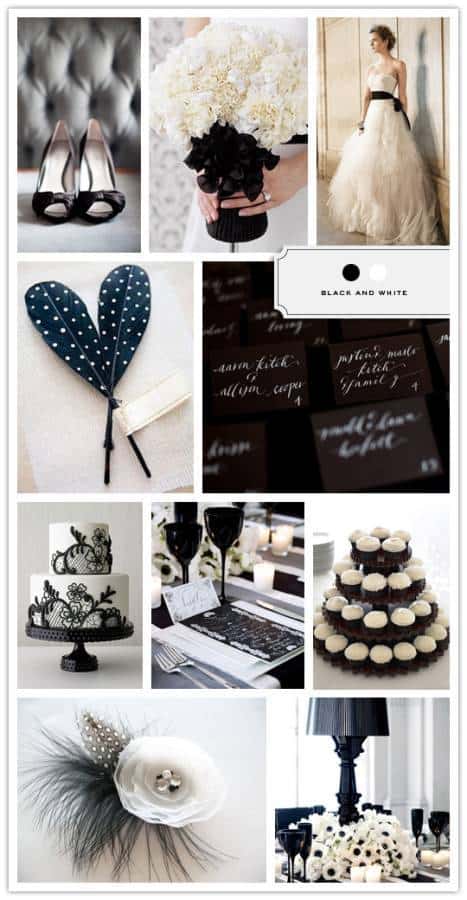 I don't want to jump the gun or anything, but it's getting quite cold up here in the Northeast and my thoughts are already starting to drift towards winter weddings. I know… but it's almost here so why not dive in right? So when I think winter I think white. Inspired by last week's White Wedding post (thanks Jess!) I decided to create a color board by adding black into the palette. There's something about this pairing that's just so beautiful. It's classic yet modern. It's bold but simple at the same time. It screams formal romance and I must admit always gets me giddy. Probably two of my favorite colors, they go with everything and are always so striking when combined. When I was a little girl my dream wedding was always in the evening and was black tie – every time.
Classic black and white is still a trend today and provides the perfect setting for a sparkling formal affair. I love the fact that this palette can further develop by adding almost any hue to it. Sprinkling in your favorite color throughout the décor is a wonderful way to help personalize your event. Another option is offering tints of these shades – deep charcoal, ivory and grey – to soften the contrast and add dimension. Incorporating textures into the mix (just as Jess mentioned) is another way to add richness and warmth to the palette. Finally, looking for ways to add a touch of black into your wardrobe? Think peep-toe heels, a feather hairpiece or satin ribbon sash tied around your gown.
• • ♥ • •
Color Palette Credits:
Shoes, Laura Ivanova Photography
Bouquet, Martha Stewart Weddings
Dress, Vera Wang
Feather Heart Detail, Rebecca Thuss
Escort Cards, Courtney Dudley
Cake, Real Simple
Place Setting, Brides
Cupcakes, Victoria Pearson
Hair Accessory, Bloomin' Cute
Centerpiece, Brides
• • ♥ • •
Katie Murphy is the editor of Aisle Candy, a sparkling new wedding blog offering sweet inspiration for the modern bride. She loves sharing her passion for beautiful photography, pretty paper and unique weddings with others in the industry and modern brides-to-be. She works in Boston as a marketing director and grew up on Cape Cod.