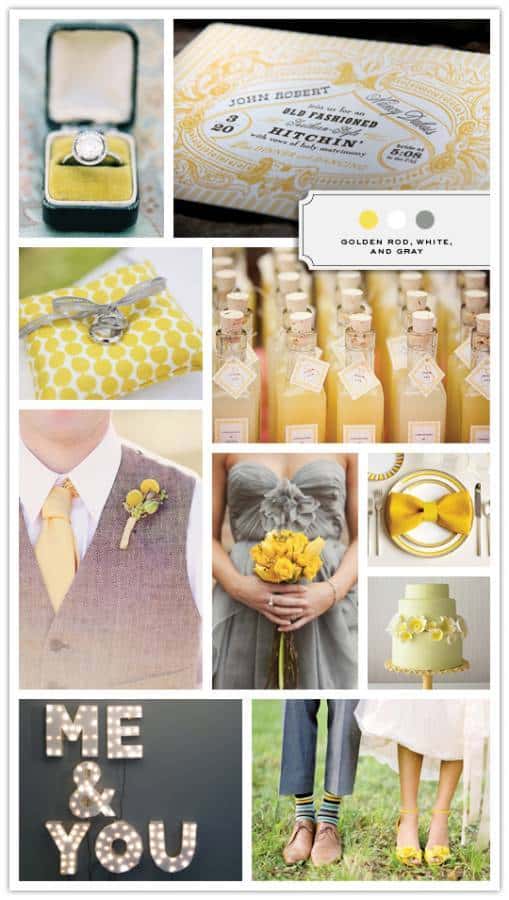 This color board was inspired by a gorgeous image I spotted on Pinterest a few weeks ago. It's the close-up of the gray dress and yellow bouquet pictured above. Beautiful right? I must admit I've never been a huge fan of yellow. Don't get me wrong – I've got nothing against it – it's just not one of my favorite colors. However, featured here combined with classic shades of gray, it creates a soft, whimsical feel perfect for an outdoor summer celebration. There's something playful yet sophisticated about this palette at the same time. Think classic romance meets modern glamor. Soft, feminine, clean and polished. Could it be? I think I'm officially smitten!
• • ♥ • •
Inspiration Board Credits:
Ring, Jose Villa
Invitation, Ptarmak via Invitation Crush
Ring Pillow, Brooklyn Pillow
Bottled Favors, Dia Rao
Boutonniere, Simply Bloom Photography
Bridesmaid, Stephanie Williams Photography
Place Setting, Martha Stewart Weddings
Cake, Real Simple
Lit Signage, Marc Horowitz
Bride's and Groom's Shoes, Jose Villa
• • ♥ • •
Katie Murphy is the editor of Aisle Candy, a sparkling new wedding blog offering sweet inspiration for the modern bride. She loves sharing her passion for beautiful photography, pretty paper and unique weddings with others in the industry and modern brides-to-be. She works in Boston as a marketing director and grew up on Cape Cod.