Rustic and Contemporary — it is how the bride, Lynsey, described her wedding day. The couple didn't really have a single theme; they simply went for clean, but very timeless. Something you'd love to reminisce to and look at over and over again. With all of those criteria, one can never go wrong with blush and khakis – these complement each other effortlessly. Probably it is what inspired them to choose such a motif.
Ryan and Lynsey are also big baseball fans. Since the two wanted to have something more personal to share with their guests, they opted to go for MLB baseball parks as table names. It's a Home Run for these two. Congratulations on getting hitched!
Click image to enlarge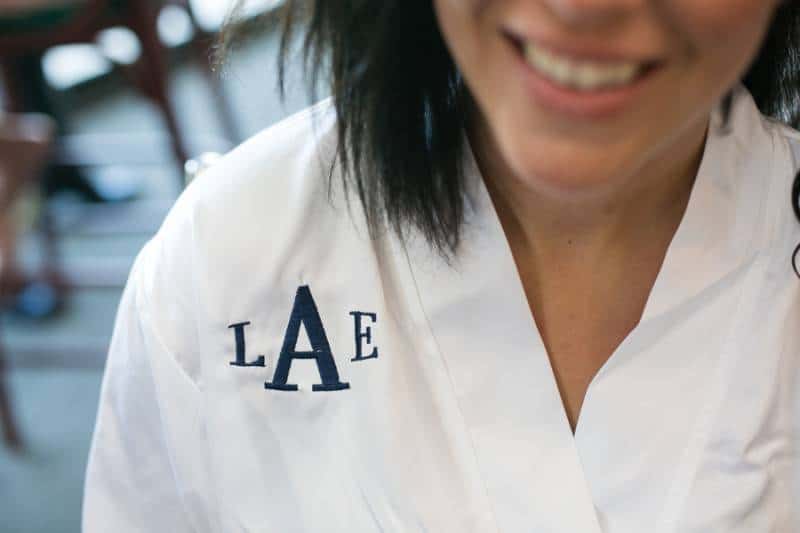 Like. Click to Vote
>
Our Story:
Ryan and I met online via eharmony. It was December on 2012, and I finally gave into online dating. I told myself I would give eharmony a month since it was so expensive. Ryan, who was a sportswriter and worked weekends and nights, essentially said the same thing. Both of us were tired of the "dating scene" and were ready to have something with substance. I actually contacted Ryan the beginning of January, by around the second week we were texting all day long and in February we spoke for the first time. During the first month of communicating, Ryan lost his mother to cancer. At first I was a little weary if a new relationship was something he wanted to have anything to do with, but as time passed I realized it was exactly what he needed.
See, I lost my mother when I was 15, and since her death I can tell you the reason all the important relationships I have in my life and their meaning. I have always said that my five best girlfriends were put into my life for a specific reason and for the first time, I felt I was put into someone else's life for a purpose. Once we finally met in February it didn't take long for me to realize how easy of a man Ryan was to love. We lived about 2 hours away from each other, but figured out a way to see each other at least twice a week, and almost every weekend (I got to spend a lot of time in a newsroom). By March we had decided to date exclusive, and now the rest is history. My only regret is not saying I met someone through eharmony when i cancelled my membership. I was too nervous since we weren't "exclusive" yet and I would have had to give his name. Now I just want to be in a commercial. 🙂
We Are A Perfect Match:
I think our honesty and loyalty. We are both almost loyal to a fault. We have extreme trust in each other and that is hard to find. I think we both can say without a doubt that we know our love is unconditional, and when you can feel that, there is nothing in the world like that. On top of that we both love sports especially baseball. We don't have any mutual teams,so it makes the sports talks interesting in our house. How did he (or you) propose? It was my 30th birthday party, and in front of all my friends (many who he was meeting for the first time) he got down on one knee and popped the question. The most special part was that he proposed with his mother's ring, which is now one of my most prized possessions. I feel absolutely honored that not only Ryan, but his family felt I was worthy of wearing.
The Planning Process:
Around 15 months. I think when you plan over a year it initially feels like it enough, but at the weeks got closer, and so much you can't do till right before…it never feels like enough time. If anything the major bonus of planning that far in advance, was we rarely ran into conflicts with our vendors. All that we wanted were available for our day.
The Best Advice We Received:
Hire a day of coordinator. She was priceless. Even though I am an incredibly organized person, she was able to help me with timelines, and communication with my vendors. On top of work Ryan and I both volunteer coach, so that took up a lot of our summer heading into the wedding. The day of the wedding, to me everything went seamless, you ask her it might be a different story, but that just means she did her job.
Tips & Tricks For Future Bride:
Negotiate, everything in life is negotiable…most vendors will as well as places if you buy bulk.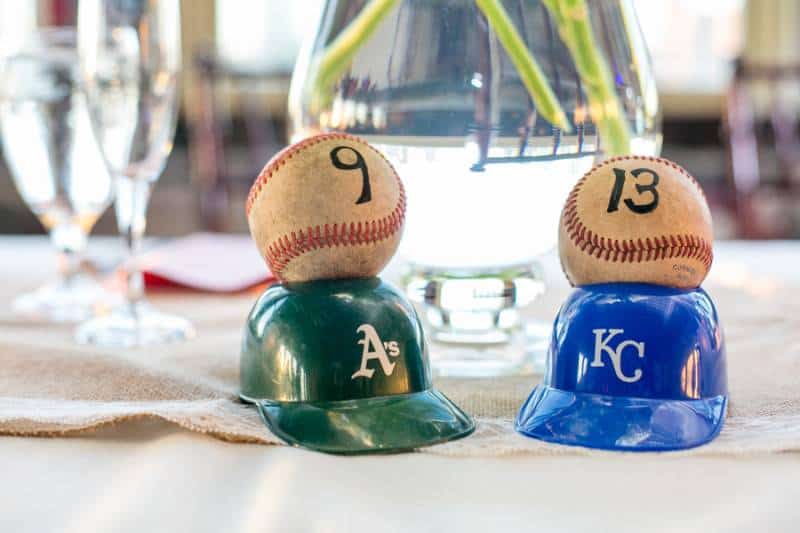 The Challenges We Faced:
Since all but two of my bridesmaids were from out of town, and all of Ryan's groomsmen were just coordinating with all of them. Again, I am very organized so that was a saving grace to keep everyone where they needed to be, when they needed to be there.
Wedding Decor Inspiration:
I am not a huge fan of matchy matchy type decor. I wanted to make the tables personable, so I decorated with family pictures, decorations from each of homes, and named all the tables after MLB baseball parks.
Money Matters:
I made a lot of our decorations, catering, and cake. I didn't need a fancy cake, and I our caterer was able to provide two bite desserts which was what I preferred anyways. The biggest expense is the venue
The Guest List:
We invited around 220, and ended up with around 164.
We really didn't need it. We also tiered it, so we had the absolutely must invite, and then once we started to receive some regrets we sent out a second batch, primarily co-workers & distant relatives.
The Songs:
Ice Castles Theme – Family
Stand by me by Ben E King – bridal party
Kansas City Lights by Ryan Atkinson (he wrote it for me) you can find on sound cloud – brides entrance
Cover Me Up by Jason Isbell – Mothers moment
This Will Be by Natalie Cole – recessional
The Honeymoon:
I actually had to leave for L.A. the following weekend for work, so Ryan met me out there after my conference and we spent a week in Los Angeles. Nothing fancy, but it was nice to get away. What are you most excited about for the future? I think starting a family. We are both ready.
Advice For Couples:
Don't stress, and know each other's strength. If there are things you want (bride) that the groom doesn't care about, do be upset that he doesn't care. Most of the time that's a blessing. And don't be afraid to ask for help. I am one of those people who like to have control, and once I was able to ask for help…so much stress was gone.
Wedding Outfit Inspiration:
I wanted something clean and timeless.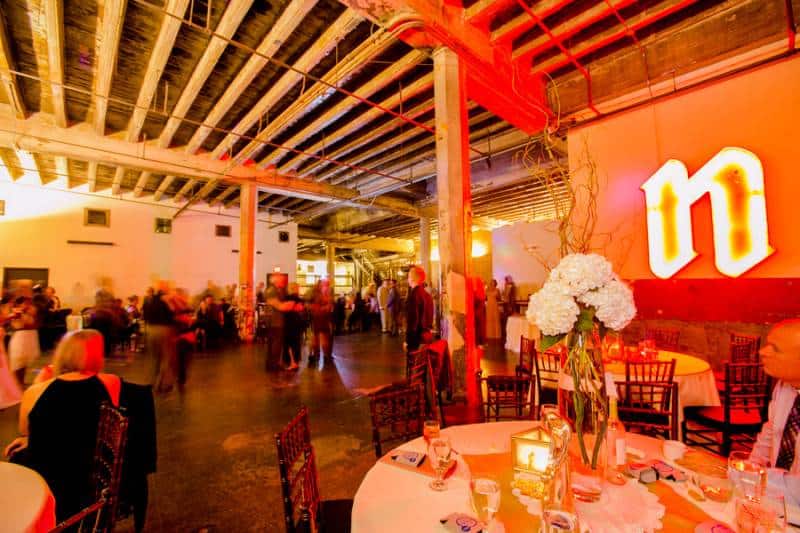 Favorite Part Of The Day:
Walking down to Ryan's song, and our vows. We wrote our own, and they were personal and perfect.
The Do-It-Yourself (DIY) Projects:
I made several, the boys boutonnieres, the name holders, tripod picture candle holders, and the invitations. The invitations were by far the most time intensive.
The Highlights From The Ceremony & Reception:
The bridesmaid's speeches, they were amazing. The boys…eh 🙂
The Theme:
Not really, if I had to call it something, rustic contemporary
Most Memorable Moment:
The actual ceremony. It was incredibly personal and unique. Many guests including several who despise weddings, loved ours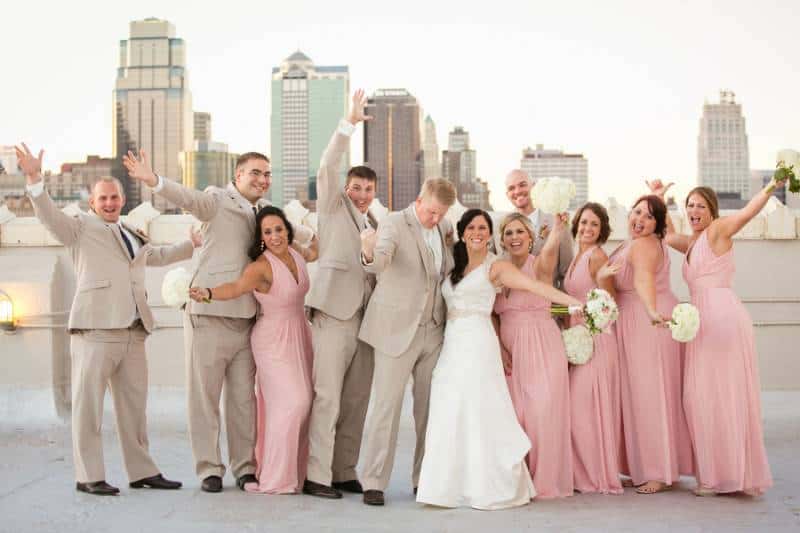 VENDORS
Photographer: M and E Photo Studio
Event Venue: The Firestone Building
Event Planner: The Veil