Click image to enlarge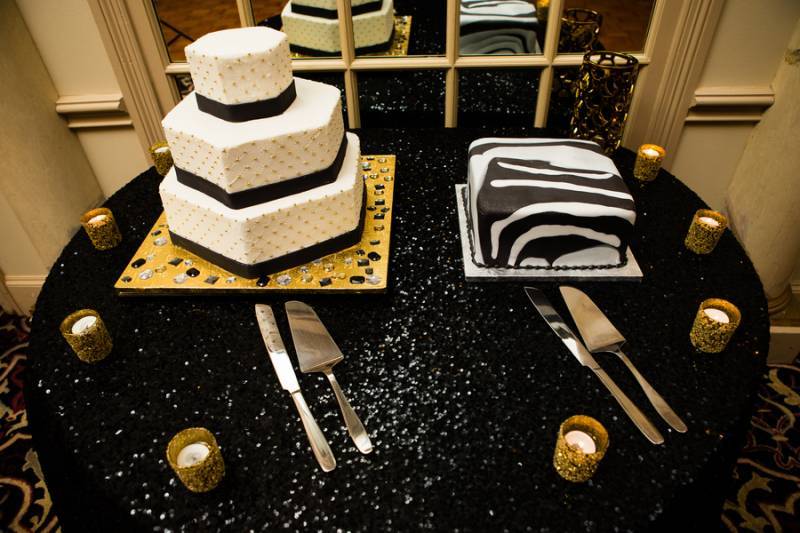 Like. Click to Vote
>
White and black will always bring out the glam and class in any event. Then you add in hints of gold and you've hit jackpot. This wedding, for example, exuded luxurious vibe because the bride and groom used this color scheme deliberately on the details. The black bridesmaid dresses were matched with all white bouquets. The wedding cakes were decorated with b&w patterns. The table setting looked so fancy. I am totally impressed with this wedding's style. It was unconventional but they knew how to pull it off. Congratulations Rayna & Roderick!
Her Story:
How they met: We were set up by our friends, his best friend and a friend of mine (at the time). We all met at On the Border for Happy Hour. He looked well dressed, I didn't. He drank, I didn't. He had a fresh haircut, I had a scarf on. We all chatted and laughed. The night ended and we went our separate ways. No numbers exchanged.
Several Days Later: Numbers were exchanged after our friends intervened…again.
First Date: Movies – We met there. My daughter, Kamryn, came with us.
First Official Hang Out: He came to my housewarming. He met some of my friends, we had a good time.
6 Months Passed: Nothing
6 Months +1 Day (I am being facetious but really): He texted me and asked me if I remembered him. (I did). He asked me if he could take me out to dinner. I agreed. My daughter and I both went (we have always been a packaged deal). We've been together since. That was almost 5 years ago
His Story:
Repeat steps 1, 2, and 3. Add water. Stir. Ditto.
Vendors
Photographer:  Shawna Hinkel Photography
Event Venue:  Addison Event Center
Hair Stylist:  Chrystyle's Salon
Dress Store:  Margo Bridal Alterations
DJ:  Phill Productions
Event Designer:  Studio 82 Events & Design