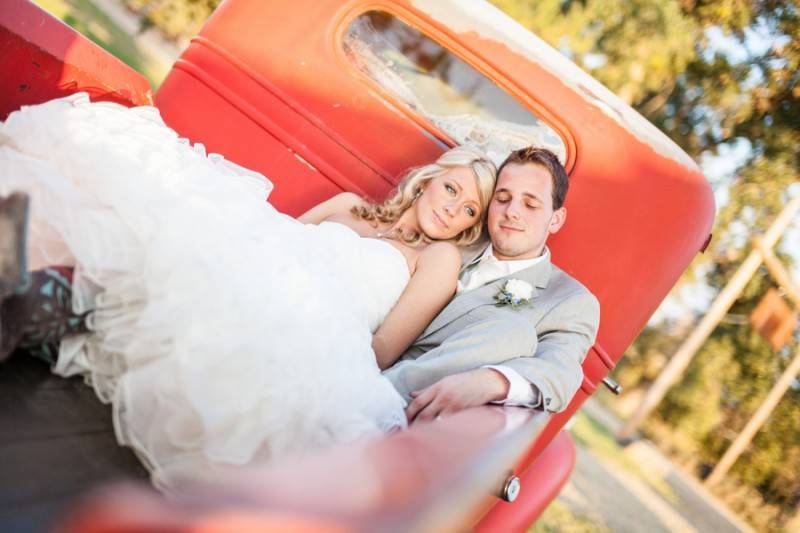 In this country-meets-chic wedding, we love how everything came together beautifully – from the teal bridesmaid dresses, cowboy boots to the big red truck. This event was tastefully done that it didn't matter if it was held in a scenic family farm or an enclosed ballroom area. Case in point, the barn where they had the reception looked so homey and elegant with all the lights illuminating the culmination of our couple's special day. Congratulations Brittany & Russ!
Here's what their photographer had to say in this chic country wedding…
What do you think is the overall story for this album?
This wedding was centered around an historic family farm that has been in Russ's family for centuries. They had their engagement session at the farm. Everybody helped bring this wedding together and added their own personal touches – from grandpa moving hail bails to look just right in his tractor the morning of the wedding, to the aunts and moms making homemade pies for dessert. This wedding felt like home. It felt like family and I think that was what was really important to Brittany and Russ.
What inspired the wedding day outfits?
I think the wedding day outfits were a combination of fashion and function. The reception was in a working barn so there was lots of dirt. All the girls wore cowboy boots probably more out of necessity but it also fit the aesthetic of the wedding. The bride incorporated teal into the outfits to really add a pop of color amongst a more natural palette.
What was your favorite part of the day?
I think my favorite part of the day was the dancing. They turned that barn into a magical dance floor. It reminded me of that town in the movie Big Fish where they are having a town wide dance and everyone is there and bare foot. It was very festive and everyone was having a great time. It felt like a small town gathering like ones that used to happen a long time ago. It was like something out a of movie.
Was there any Do it Yourself (DIY) projects? If so, can you describe them in detail?
There were many DIY projects. I even donated a chandelier made out of wine bottles that I made for my wedding. Russ added two more tiers to it and really made it incredible. All the decor was stuff they found around the farm (i.e. the dear heads, old frames, ect.) They had wine bottles made with their engagement pictures and they made a custom bar out of the horse stall with hand painted signs. They made customized corn hole and hill billy golf to keep people pre-occupied before the reception. They printed pictures of their relationship and hung them throughout the entire reception area using twine and clothespins. The aunts and moms made homemade pies for dessert. They really did a wonderful job at complimenting the natural style of their space with little touches that weren't too hard to gather together.
What were the highlights from the ceremony & reception?
The ceremony looked over their families hay field and had beautiful views of the Rocky Mountains. I think the highlight of the ceremony was the old red truck that they brought in. It belonged to one of Russ's family members and didn't run so they had to tow it into the ceremony. It was really a great focal point when people walked up and provided a great place for people to sign the guest book and drop off gifts. The highlight from the reception were definitely the pies, the decor and lights in the barn and the photo booth. People really got into taking pictures.
Was there a theme for the ceremony and reception?
Country. How could it not with the awesome farm they had it at? They really stuck to the theme too with BBQ for dinner and asking guests to wear cowboy boots.
What part of the ceremonies do you think was the most memorable for the bride and groom? Guests?
I remember their officiant being really funny. He made them laugh a lot and brought a light heartedness to the ceremony. I can't really speak to what the bride and groom most remember as they probably have very different things that were special to them. I know I vividly remember how happy they were after they got married and were coming back down the aisle together. They smiled from ear to ear and the bride just gazed up at her groom like he was her world. It was really precious. I also just remember the awesome love that everyone had for the couple. They had a moment in the ceremony where they all extended hands forward and prayed for the bride and groom. It was a special moment where their faith and their love met. On a more serious note, it was very hot outside so I am sure a lot of people remember the heat too. We were all on high alert because the bride suffers from heat stroke so we wanted to make sure she made it through the ceremony. Everything went smoothly though – no passing out.
Vendors
Photographer:  Grace Combs Photography
Floral Designer:  Audra Rose Floral and Gift, LLC
Dress Store:  Dora Grace
Shoes:  Old Gringo
Caterer:  Smokehouse Grill