The season is changing so fast and we can't wait to give you a spring inspired wedding. Today's enchanting styled wedding will make you want spring to be here right now! The beautiful scenery at this farm in Utah will leave you in awe. Hayley Aiono of Hoopes Events created this charming barn wedding alongside brilliant vendors to give you a visualization of what they can offer you all our lovely brides-to-be. Kudos to the brilliant team for making this typical barn wedding more elegant and soft, with lots and lots of romance and charm!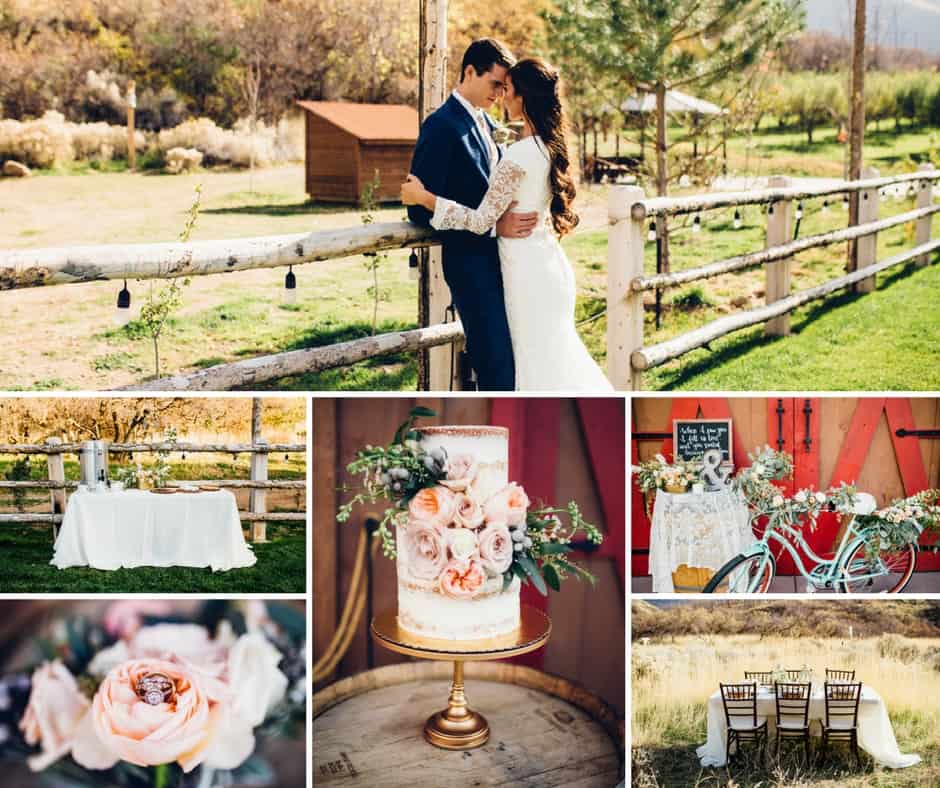 The Decors
I think the key ingredient in this styled wedding is the use of the flora. Flowers can make or break your wedding setup so be wise on picking what kind would best fit your theme. In this case, the subtlety of the pastel roses and peonies created the soft and whimsy feeling.  Hayley wanted to add in a whimsical, fun feel while being absolutely gorgeous so she added a cute bike filled with flowers.
The Wardrobe
The couple was, of course, dressed beautifully and fun! As I've mention flowers were very distinct in this wedding. The bride wore a headdress made of peonies and some hibiscus to keep that organic feel. So to match the floral while staying dapper, the groom, in his navy blue suit, matched the flower theme by wearing a pretty floral tie. I WANT THAT TIE! The stylist did a superb job making these two gorgeous.
The Table Settings
When you aim for charming you gotta be consistent most especially with the table setting. The lantern centerpieces made charming and sweet by filling it with peonies! Also using wood placemats gave it a more rustic touch to keep the barn feel alive. Setting up the table and settings in the wheat field made this shoot something special and highlighted the beauty Utah has to offer.
The Desserts
Nothing says sweet and rustic than a naked cake adorned with real flowers. Simple but enticing — just the way I like it! I can't wait to get married and have my very own naked cake like this (a girl can dream *wink*). So the ckae is undeniable beautiful but Hayley wanted to add another fun factor so she made a Smore's and Hot Cocoa bar. How fun and yummy is that? I would line up for this.
Vendors
Photographer: Kate Olson Photo
Design and Decor: Hayley Aiono
Event Planner: Hoopes Weddings and Events
Bakery: Ava Bakes Cakes
Model: Avery & Brit Harding
Floral Designer: Fleur and Stems
Makeup Artist: Makeup Bailie Jae
Event Venue: Quiet Meadow Farm
Hair Stylist: Rachel P Rodgers
Apparel: Shauna Young