Peter and Kim's wedding is a refresher from the usual neutral and subtle style. Their wedding is an accurate representation of their personality. Teal and green were the perfect color combination to go with for that bright and fresh theme. From their quirky decors down to the fresh motif, it was all well-coordinated. Get inspired as you browse through their wedding gallery and get insights from Kim herself. Kudos for having such fun wedding Peter and Kim. Congratulations on this memorable union!
Click image to enlarge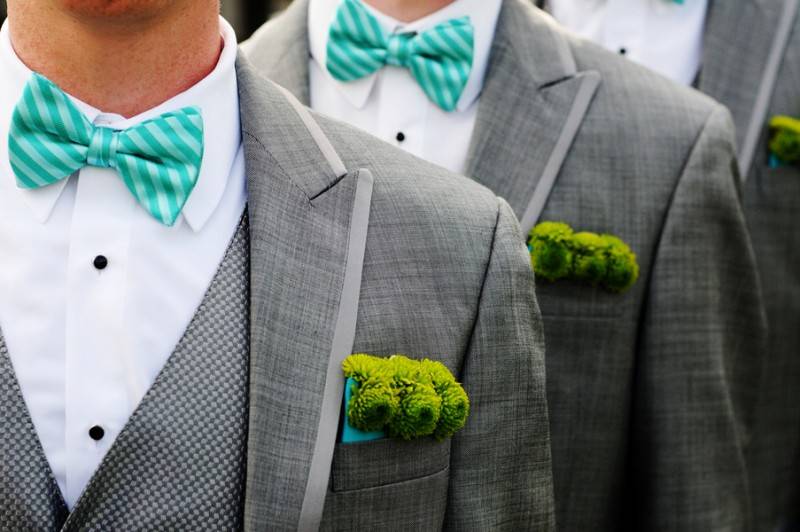 Like. Click to Vote
>
Our Story:
Peter and I met pretty soon after I had moved back to Indiana from San Francisco (where I had been in graduate school). We met at a concert venue/bar in Indianapolis, IN where we both came with mutual friends to see an 80's cover band. We had a blast that night together and Peter slyly asked for my number. From that point on we were pretty much inseparable and it did not take long to fall in love and begin planning our future together.
We Are A Perfect Match:
We have a lot in common, but we can be very different in some ways. It makes things exciting and helps each of us challenge each other. And, of course, we have so much fun together!
The Proposal:
Peter planned an elaborate surprise proposal at my favorite place, the Golden Gate Bridge in San Francisco, CA about a year and a few months after we met. I did not know until the night before that we were going somewhere on an airplane. Once we got to the airport, I found out that we were going to San Francisco. The plane landed in San Francisco, and we immediately took a bus to the Golden Gate Bridge. He got down on one knee and proposed after we had been walking across the bridge for a little while. He even asked a passerby to take photos, so we have pictures of the special moment. We spent the rest of the weekend doing fun touristy things in downtown SF.
The Theme:
50's retro but also a bright, fresh, modern feel.
The Outfit Inspiration:
A retro but modern feel inspired our outfits. From the very beginning I knew I wanted a one-shoulder gown and a birdcage veil. This ended up fitting perfectly with our theme. I also knew I did not want to tuxes to be black. When I saw the gray tuxes, I thought they were perfect with our color scheme and the theme.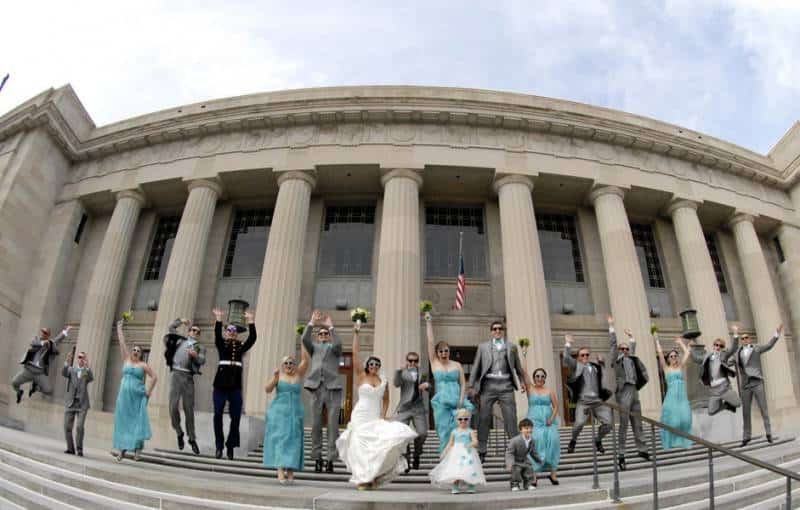 The Planning Process:
We had a long engagement (about a year and four months). It was nice having extra time, but I still felt rushed at certain points. It felt like there were various waves of busy planning times versus down time. I would recommend taking at least a year to plan, if possible. It is funny how many things we still had to do last minute and how fast the time flies by! Looking back I feel like it was the perfect amount of time.
The Best Advice We Received:
I'm not sure if I was advised to do this or not, but the number one best thing we did in the planning process was to hire a wedding planner. They made everything flow perfectly and did all of the fine details that we did not want to have to deal with. It was amazing just having one point person who was then able to call all the vendors and set things up, so I did not have to make all those phone calls. Our wedding planners were very organized, made us feel so much less stressed throughout the process, and made our wedding day pure perfection!
The Wedding Décor Inspiration:
My birdcage veil was the inspiration for the 50's retro theme. We wanted the day to be memorable and just a lot of fun for our friends and family attending. We made choices based on that idea along with the 50's theme. I wanted bright colors and no black. Our color schemed ended up being turquoise, lime green, and white which made a modern feel and went perfectly with the retro theme as well.
The Do-It-Yourself (DIY) Projects:
We had several DIY projects. We handmade the menu cards for each table. My mom was wonderful with helping plan and complete DIY projects. She created the entire table centerpieces. I remember coming over to their house multiple times, and she had a table where she worked on different centerpieces. It probably changed 20 times before we picked the one we used. The centerpieces consisted of lamps from IKEA turned upside down. My dad had to create a special insert to put a light inside of the lamp to illuminate it. We also created decor for the aisle and altar at the church. My dad used PVC pipe to create a stand to hold up another type of IKEA lamp to use as decor on the altar. It was a lot of work but worth every second. All of the small touches we added gave the reception a special feel. I also hand glued rhinestones onto the flower girl's turquoise Chuck Taylor shoes to give them a special look just for her.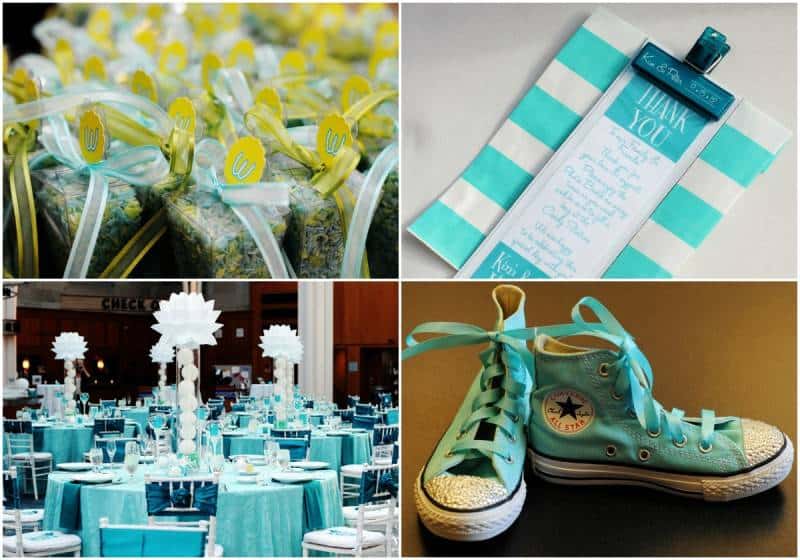 The Guest List:
190 attended, 240-ish invited
Our Honeymoon:
We went on a cruise to the Greek Isles. The cruise left from Venice, Italy. We went a few days early to spend some time in Venice before the cruise left. It was so gorgeous, and we will remember that trip forever!
Excited About:
I am most excited about seeing how we grow together, especially watching our family grow. We have an almost 6-month-old child now and every day is a new adventure. I love watching what a great dad Peter is to our son.
Favorite Part Of The Day:
This is such a hard question because there were so many wonderful parts of the day. I think the best moment was walking down the aisle, seeing Peter, and saying our vows to become husband and wife.
The Highlights From the Ceremony & Reception:
The biggest highlight for me was our getaway car after the ceremony. A highlight of the ceremony was the unique topsy turvy cake as well as the retro-themed candy bar and a photo booth.
VENDORS
Photographer: Erin Hession Photography
Design and Decor: Celeste Stiller
Makeup Artist: Karen Hall and Co
Dress Designer: Maggie Sottero
Equipment Rentals: A Classic Party Rental
Apparel: A Fitting Creation
Floral Designer: bokay florist
Apparel: Brides by Demetrios (Veil)
Specialty Foods: Candy Crate, Inc.
Favors and Gifts: Candy Warehouse
Ceremony Location: Carmel Lutheran Church
Musicians: Dave Helms Project
Tuxedo and Mens Attire: DC Tux
Lighting: Evans Audio Visual
Dance Instructor: Five Star Dance Studio
Rehearsal Dinner Venue: Good Morning Mama
Specialty Foods: Holy Cow Cupcakes
Other: Indy Photo Booths
DJ: Jim Cerone, Inc.
Hair Stylist: Karen Hall and Co
Other: La Dolce Salon & Spa
Transportation: Larry Smith, vintage car
Linens and Coverings: Linen Hero
Location: Marriott North Hospitality Suite
Tuxedo and Mens Attire: Men's Warehouse
Transportation: Miller Transportation
Specialty Foods: Oh! Nuts
Invitation Designer: Oliver Twist
Equipment Rentals: Party Time Rental, Inc.
Officiant: Pastor Daniel Schumm
Other: Petite Chou Bistro & Champagne Bar
Musicians: Rhod Fitzpatrick
Other: Sheraton Indianapolis – hotel rooms
Event Planner: A Touch of Elegance, LLC
Bakery: Classic Cakes of Carmel
Reception Venue: Indianapolis Public Library – Central
Cinema and Video: Jet Kaiser Films