On the morning of March 19th, in the middle of Downtown Los Angeles, a group of intensely talented wedding professionals came together to pull off a great event called The Big Fake Wedding. The venue, 440 Seaton, was a large industrial building i­­­­n the heart of the city surrounded by graffitied walls. From the roof, there was a breathtaking view of the Los Angeles skyline.
Page Beauty created magic with their hairbrushes and makeup brushes on an already beautiful bride and her bridesmaids.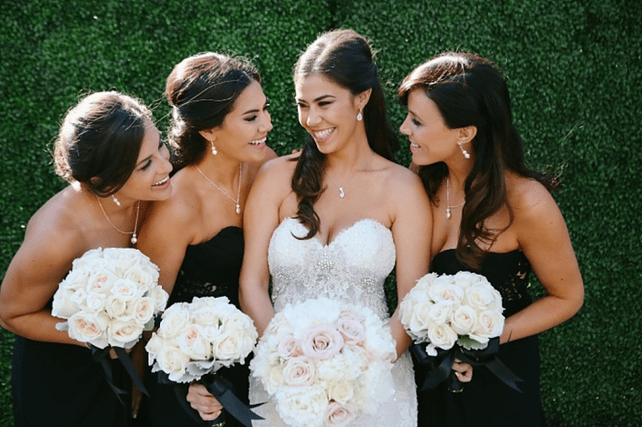 Photo Source: pagebeauty.com
The bridal gown was a stunning affair from Bride, a bridal boutique specializing in organic and eco-friendly gowns. The bridesmaid's dresses were navy and a deep purple from Brideside.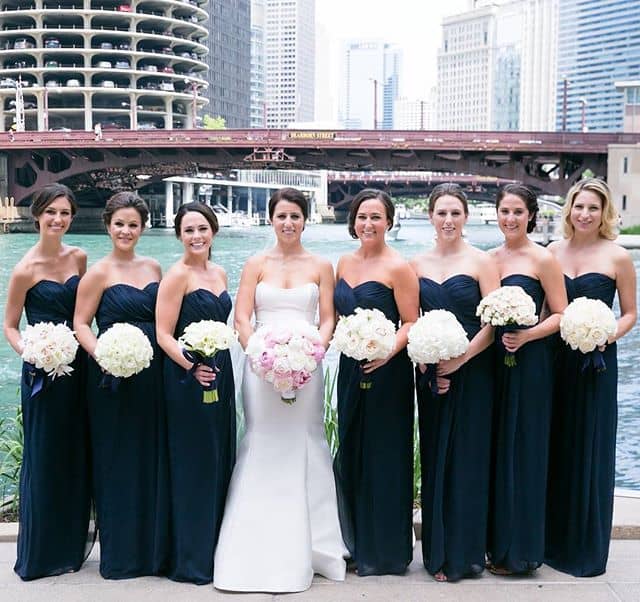 Photo Source: brideside.com
And the gentlemen wore fashionable tuxes from Friar Tux Shop. They laughed and they giggled and they truly enjoyed a great morning. The bride and groom were actually already married and would be renewing their vows at 7pm in front of a crowd that consisted of ladies that would soon be tying their own knot.
The invitation suites were provided by Jasmin Michelle Designs and GubbaGumma with calligraphy by Typecast Lettering.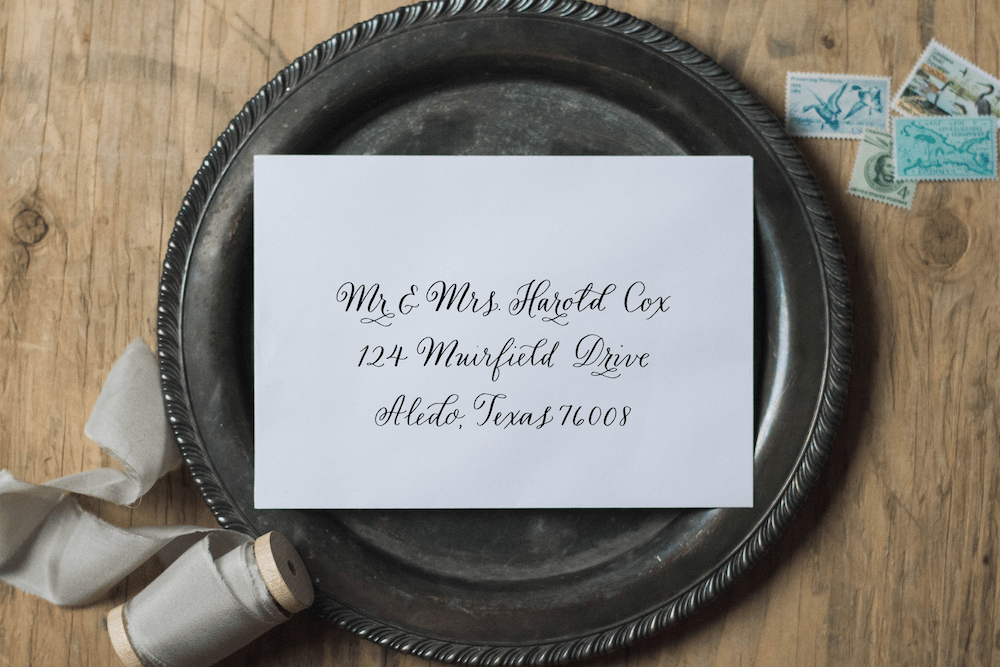 Photo Source: typecastlettering.com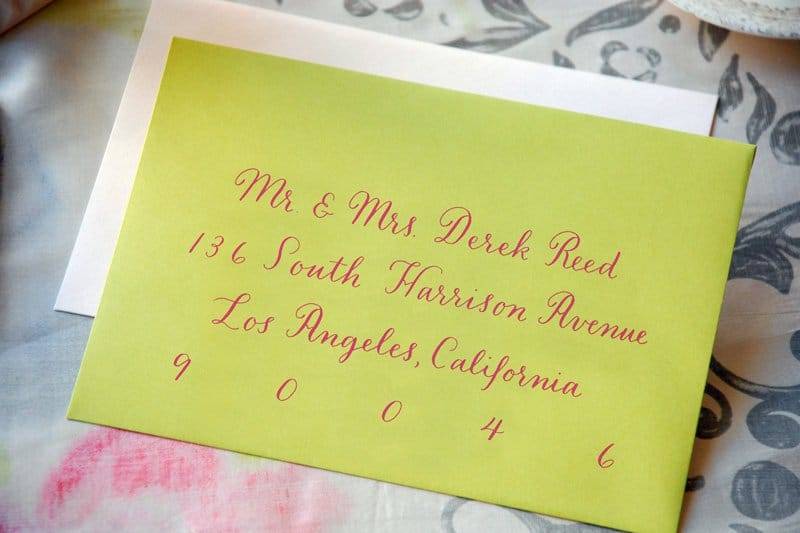 Photo Source: typecastlettering.com
While the ladies and gents got ready for pictures, the designers were hard at work creating stunning masterpieces. The bouquets and boutonnieres were created by Flowers by Ladybuggs.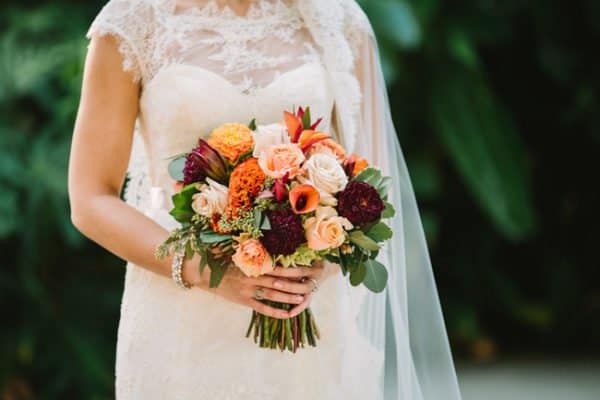 Photo Source: http: flowersbyladybuggs.com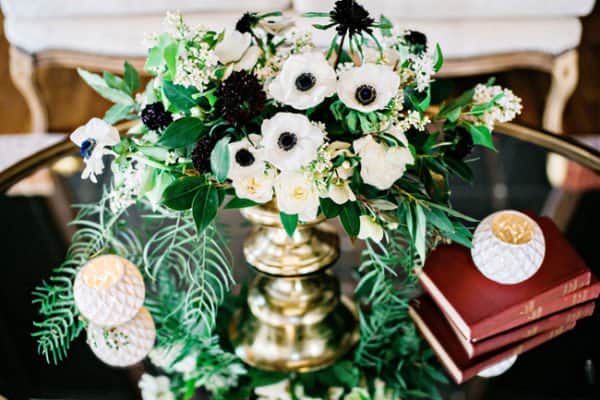 Photo Source: http: flowersbyladybuggs.com
The lounge furniture came from Circa Rentals and provided little niches to get away from the hustle and bustle.
Photo Source: Circa Rentals
Pappas Artisanal was hard at work smoking the meat outside for dinner.
And then it was time. The finishing touches were put on the ladies and they donned their dresses and their jewels from MaeMae Jewelry. The photographers and videographers switched into high gear to capture every little nuance. Designers were hard at work finishing up their art.
As the doors opened and the crowd streamed in, they were greeted by Day and Night Productions with a glass of Ferrari sparkling wine while they took in the beautiful entryway created by Paper Fox LA. They sat down at the ceremony area and gazed at the enormous dream catcher created by Laceroots and frankly.weddings. The lights, provided by Pacific Event Lighting, dimmed as the bridal party walked down the aisle. Travis grinned as Amanda walked down the aisle for a second time to avow her love all over again.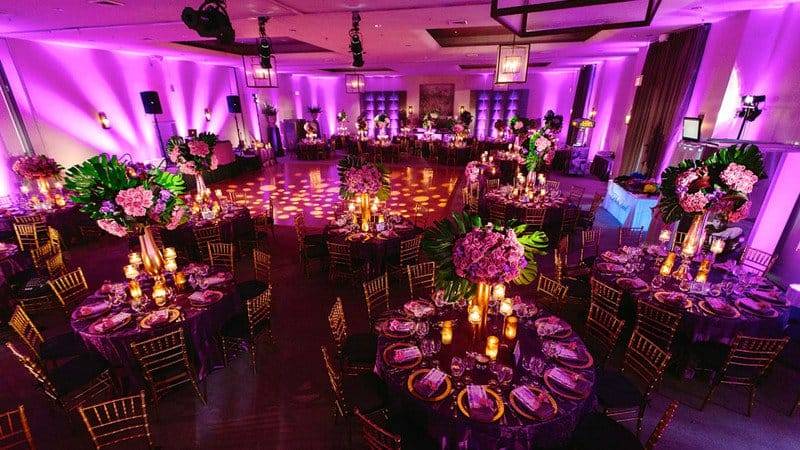 Photo Source: pacificeventlighting.com
They had written their own vows and they went as follows:
 Amanda to Travis:
My heart has been yours since the second I saw you. As a little girl, I would dream of the man I would one day marry. Little did I know, I would find a man who would completely love every single part of me. To this day, my heart still drops when I see you walk into a room. You are more than anything I've ever dreamt of, and I commit myself to you: to being a wife that will listen, that will be patient, that will be a friend, and most importantly, a wife that will love and continue to love you until the day we grow old and wrinkly together. You are my everything baby. And it only gets better from here. I love you.
 Travis to Amanda:
Hey best friend,
I promise to try and live my life in such a way that nothing compares in importance to what you and I are building together.
I promise to do my best to lift you up and encourage you and not bring you down.
I promise that everyday I will do my best to remind myself that you are not mine, but a gift from God whom I get to love and cherish and treat you with honor and respect and love beyond just a feeling.
I promise to do my best to love you when I don't want to love you because that's what love is.
I promise to love you and commit myself to you when you're not so lovable, when you're at your worst, because you are still my best.
I will do my best to be the first to forgive, but I'll mess up, but I won't give up.
I will do my very best to love you without putting expectations on you, without putting pressure on you to perform or earn my love.
I will commit to creating an environment for you to become everything God has created you for.
I will do my best to love you unconditionally
And I dream of creating littles with you
I can't wait until the day you are the mother of our children because it is one of the sexiest things, to see the way you love because no one does it better!
I promise to continue to go through life together, with you, and not on my own.
Creating our journey together.
I want to be your number one supporter in everything you choose to do.  And I can't wait to grow old with you!
And I will never give up on you
And I will never give up on us
I will always be here
I love you!
And then the party began! West Coast Flawless DJs kept the party going all night while guests enjoyed coffee and ice cream from Dripp, popsicles from Popsicle Culture, vegan and gluten free cupcakes by Cup my Cakes, and a photobooth by Petite Pix.   After Travis and Amanda cut the cake and danced with all of their new friends, it was time to say goodbye. They had a great confetti sendoff, what a great idea brides!!! And the night was over. But the fun and inspiration was amazing!! Here's to the Big Fake Wedding Los Angeles!
Check out the articles in the Los Angeles Post, Ruffled – Part 1 and Ruffled – Part 2
And don't forget to check out the video from Anchor Pictures
The Big Fake Wedding Los Angeles – W/O Vendors from Anchor Pictures on Vimeo.