Click image to enlarge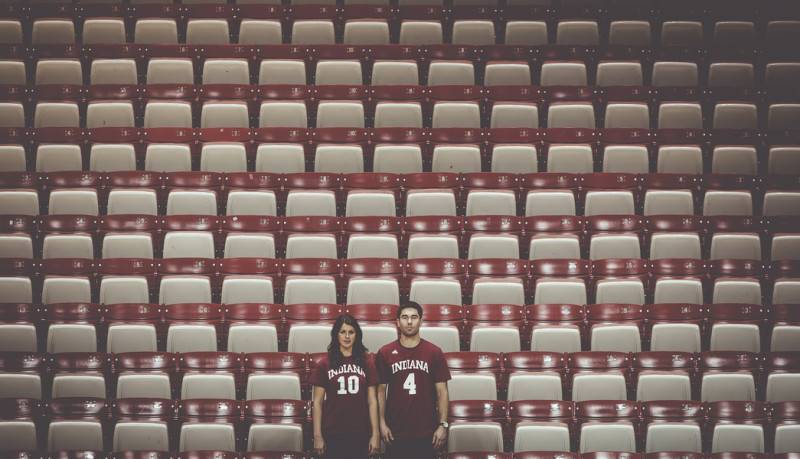 Like. Click to Vote
>
This couple, Lauren & Andy, decided to have their engagement photos taken to where it all began – their alma mater, Indiana University Bloomington. What's cool is the facade of the university was historically beautiful that choosing this location was like hitting two birds in one stone. After which, they moved the shoot to the courts for some school spirit action – they actually reminded me of the High School Musical power couple, Troy and Gabriella. It was so cute. So there you have it, if you and your significant other met in college (or in highschool), why  not try to reminisce those days and have your engagement shoot, or a part of it, where the love began. Congratulations Lauren & Andy!
Photographer
I met Lauren and Andy a couple of months ago. Their wedding planner was actually a guest at an Indy wedding I had shot earlier in the year and they needed a photographer for their big day. As luck would have it we hit it off, they are two wonderful, engaging, and genuine people. They are the kind of couple that you meet and can tell immediately that they are absolutely in love.
They met at Indiana University in Bloomington during college and knew that they wanted to go back there to have their engagement photos after Andy's clever yet sneaky proposal. Lauren and Andy bought a house together . What Lauren didn't know is that Andy had created a faux copy of the mortgage and with some craftiness put into the verbiage the big question. "Will you marry me?" She of course said yes and they signed the real documents. The one Andy made was framed and the first thing hung in their new home.
Going back to IU for their engagement session was a bit of a homecoming Lauren and Andy. One of their favorite things is IU sports and having spent countless time together on campus and growing their love for each other in the land of the Crimson and Cream they knew this would be their only choice.

Vendors
Photographer:  Michael Anthony Photography
Event Venue:  Indiana University