Tiffany ♥ Draper
An engagement session doesn't always have to be cheesy with hugs and kisses. Aside from these poses, there can be so much that you can do to look more natural. That is what Tiffany & Draper braved doing! Guess what, they had a picnic engagement. She wanted an urban and park engagement. Just like these two, these locations are absolutely a perfect combination!
The Love Story
Well, we actually dated for 6 years(from 18 to 24) and broke up for 6.5 years. We rekindled our relationship at 31 to finish what we initially started…just more mature and appreciative of the other. We actually both knew at the first dinner we had together that we would get married. So the engagement essentially was a long time coming. When we dated the first time I begged him to take me on a picnic…and he did..and it was a disaster. So our engagement picnic was a play on the past and how far we had come. I finally got my redo picnic and it was a perfect picnic this go round!
Click image to enlarge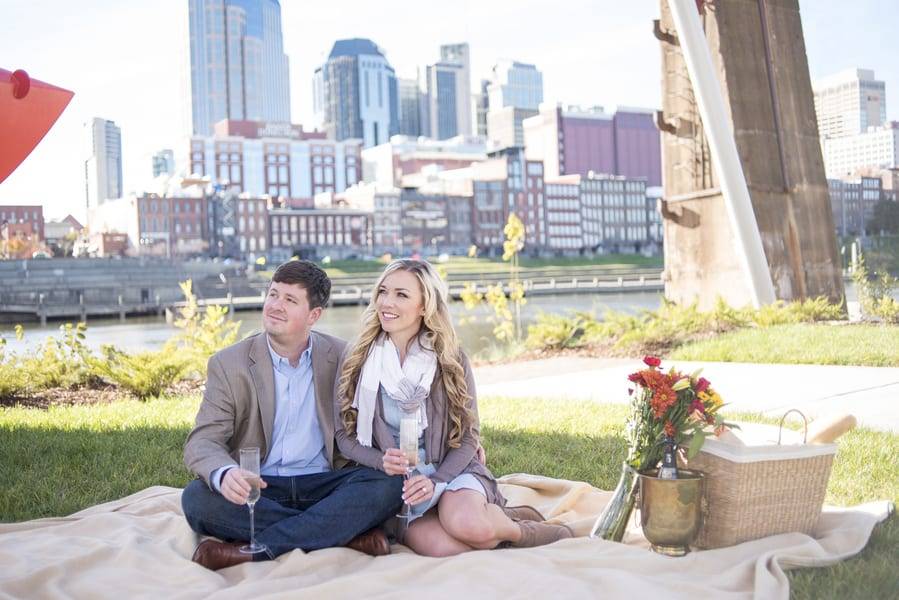 1

Like. Click to Vote
>
Extra Special Details
It's true, mother knows best! Tiffany's mom created this beautiful styled picnic for their engagement. From the flowers to the champagne flutes, it was an elegant and urban picnic in the park.
The locations. The couple loved the little pops of the Nashville skyline in the background. After they left the riverfront, they headed downtown to Broadway St. for a very urban style portion of the engagement. Their favorite was this antique mural on the side of a building off Broadway.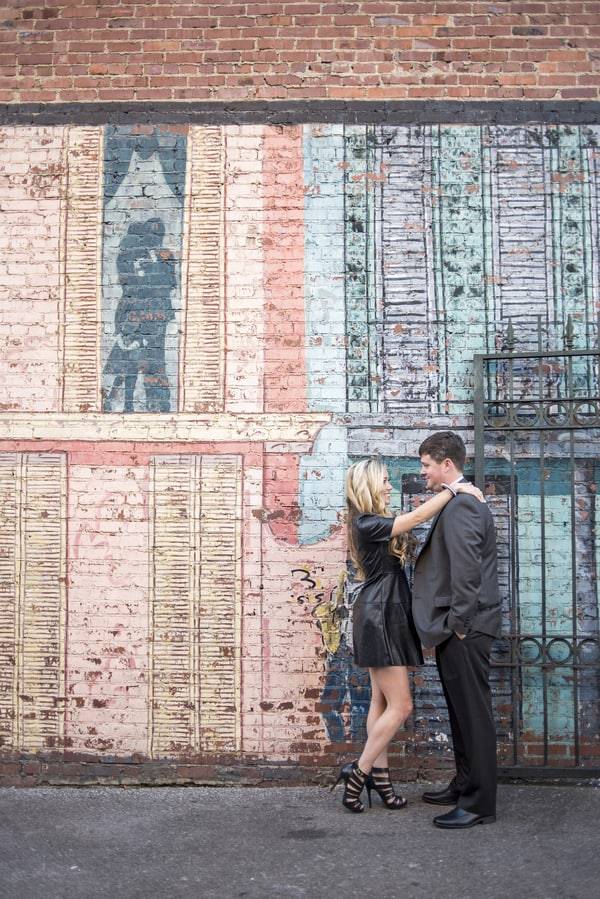 The Bride's Advice
♥ Breathe! Relax! Don't wait until the last minute! Let other people help you! I was really caught up in doing EVERYTHING myself because I believed no one would do  things how I wanted them done. In the end even if something screws up. No one has a clue except you and the expectations you had. It turns out beautiful no matter what and mess ups end up being pretty funny! (And fyi, no one hardly sends in RSVP's. I had 40 people rsvp and 150 were there the day of. I had to call and use Facebook to connect with people to figure out if they were coming!)
—  Tiffany
Money Matters

$10,000 – $20,000

Vendors

Photographer:  Ivory Door Studio
Hair and Makeup: Harper and Olive Salon, Nashville, TN