Click image to enlarge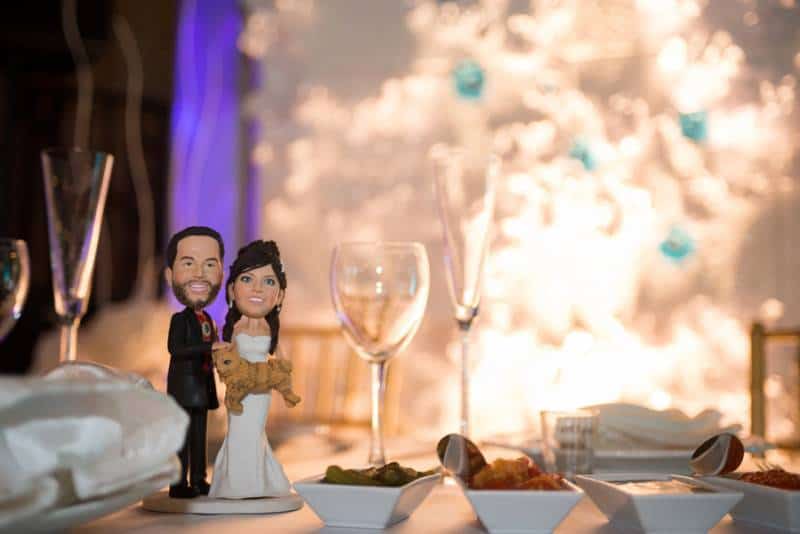 2

Like. Click to Vote
>
Our bride, who does custom made decorations, surely has the eye for design that is not only unique but beautiful as well. Every detail in this wedding is really something to look forward to. And to think she didn't use real flowers at all! The way she recreated flowers through cloths and papers were beautifully done that you wouldn't mind doing the same unusual thing to your own wedding. Unusual but lovely. Anyway, congratulations on your awesome wedding, Rita & Ludwig!
Bride
What is your story as a couple, how did you meet & fall in love?
We met through a mutual friend. I fall in love with him first time I hear him speak. He argued both sides of the coin, being a perfect devil's advocate. I never heard anyone being so articular and make so many good points on both sides of an argument. I was intrigued and impressed. We dated for 5 years prior to getting married.
What makes the two of you a perfect match?
We are a perfect match because we can not live without each other, or at least live happily. In 6 years that we have been together we only spent 21 days apart, and never went for more then 12 hours without talking to each other. We are so different, almost opposites yet both of us have such similar experiences that we went through in life – immigration in our teens, lack of language skills, being an outsider for long time, we both only truly found ourselves in our twenties, and I do not believe did so fully till we found each other. We are each other best friends and partners in crime.
How did he (or you) propose?
He proposed to me at home in our living room. He said he would never want to propose at a place where we only go for special occasions, but rather would want our home, a place where we spend all of our life to become an even more special place. Few months prior to the proposal we had to take in a sick cat that his parents used to owe, and I was the one who nursed it back to life. During his proposal he told me that watching me take care of our cat was a definite deciding factor in his proposal. He said he thought that if I could take care like that of a sick animal who wasn't even mine, he could only imagine how great of a mother and wife I would be. The cat of course was present during the proposal and also became part of our wedding cake topper later on. He is now 13 year old and still healthy and playful, fully recovered.
How long was the planning process? Did you think it was enough time?
We took 14 months to plan our wedding. I think it was good timing, any more and I would have gone completely mad with details that truly would not have mattered.
What was the best advice you received when you were planning your wedding?
The best advice came from my amazing photographer , Theo Kossenas, he said nothing is going to go as you plan, so just try to enjoy it. Being a control freak, I told him he must be out of his mind and I have time lines for each participant, and I will be a complete Bridezilla if they do not follow. Of course, he knew better, having seen it all many times. Nothing went by the schedule, and so many things went crazy wrong, yet it was definitely one of the best days of my life, and no one but me knew how wrong things have gone.
What tips & tricks (can we use "hacks"?) can you share future brides that you yourself have learned during and after your wedding?
Put everything in writing. I don't mean for yourself, I mean for your vendors, your coordinator, your caterer everyone. People look at you and node their head and then go and do ten weddings and completely forgot what you asked them, unless you write it down and make sure they respond. At the very least later on you can get a refund.
What were some challenges you faced while planning your wedding & what did you do to address them?
The biggest challenge was the fact that my husband and my mother-in-law are very prone to allergies and headaches. I wanted to avoid any unnecessary triggers, so flowers were out! I do decorating and styling of weddings and events, so creating centerpieces and bouquets was not a problem. An issue was getting them to the venue and getting everything set up when I had to be the one in the wedding dress, and everyone I trust were in my wedding taking the photos with us instead of setting up the room. I ended up hiring a day of the event coordinator and she turned out truly great!
What inspired your wedding décor? Why did you choose the things that you did?
Originally we wanted to do a Tiffany wedding because that's simply what I always accosted weddings with, when I realized I will not be using real flowers that was just more of an inspiration to me, we ended up using many shades of blue actually to make it more expensive looking, however that was the color of our wedding not the theme. The theme of our wedding truly was happiness. All we wanted was for our guests to be happy, enjoy themselves and for our wedding not is super official, super serious, super normal – it turned out awesome. Most guests danced non-stop and many people actually send us thank you cards! Mentioning that this was the best wedding they been to!

What was the wedding budget?
Wedding Budget was $45,000 , we went over by $15,000.
Where did you save the most money?
We saved tons of money on not getting real flowers, Things that I liked would have cost close to $10,000 from the quotes I got, I was able to do my whole wedding décor under $3,000.
What was the biggest expense?
Biggest expense was our band the Empyreal Strings from New York – they were worth every penny!
How many guests were invited in your wedding and what was the final guest count?
230 Invited; 193 attended
How did you narrow down your list?
We did not.
Where did you go on your honeymoon?
We are still trying to go. After our wedding my business really took a turn and I got slammed with orders, since everything I do is handmade I was not able to take a vacation. We took 3 days to go to San Francisco, but agreed this was pre-honeymoon. We would like to go to Greece Spring 2015.
What are you most excited about for the future?
We are excited for our family to grow and kind of happy that while we did it, the wedding day and all of its spending and nerves are behind us now.
Do you have advice for couples still in the planning process?
Make sure to hire vendors who you like. Not only their product, but their attitude and personality. If you do not mash well with someone, no matter how great and professional they are the day of the wedding you will regret hiring them. One of my best and most favorite vendors was my make-up artist Jordan Winn, was amazing, she was such a little sunshine, making me, the girls and mothers feel comfortable, getting everyone done on time without ever hurrying anyone along.
What is the overall story for this album?
I believe the story for the album should be that two people from different countries and backgrounds found each other and fall in love, and became an American Dream. My husband is Russian/Armenian/Georgian from Uzbekistan. I am a Jew from Ukraine.
What inspired the wedding day outfits?
I wanted my dress to be one of a kind, like nothing I seen on TV or could find in magazines and it was. I could not choose just one so I picked two, a long one to make our more traditional mothers happy and a short one that I could dance the night away in.
What was your favorite part of the day?
My favorite part had to be the dancing, it was easy to feel and see that everyone from young to old truly enjoyed themselves.
Was there any Do it Yourself (DIY) projects? If so, can you describe them in detail?
I did everything myself. I started by making our own save-the-date , since we send them before Christmas I made them in the form of the Christmas ornament with little magnet so people could hang them on their fridge. I than printed and cut all of our invitations. They were in a form of a booklet with a ribbon tie and our initials. I also made envelopes for them. Later on I made our backdrop with paper flowers, all of our centerpieces which consisted of cylinder vase filled with flower balls and three flower spheres with handing crystals, our programs, and all four ( mine and girls) bouquets.
What were the highlights from the ceremony & reception?
The ceremony was really so fast (13 minutes all together) the only thing I can remember is how proud my father looked and how teary eyed my husband got when they saw me.

Vendors
Photographer:  Theo Kossenas
Cake Designer:  Fluffy Thoughts Cakes
Hair Stylist:  Jordan K. Winn & co.
Dress Store:  Posh Bridal
Design and Decor:  Rituska Inc
Reception Venue:  St. Francis Hall