A highly personalized wedding happened one fall afternoon. Elaine, the bride spent countless hours to fabricate ingenious wedding decors of golds, purples, reds, oranges, and ivories. Be inspired, and shower yourself with great tips and pieces of advice from the bride herself! Take some good ol' tour in Elaine and Andrew's DIY- inspired wedding by reading further. Meanwhile, here's a round of applause for the couple! Yahoo!
Click image to enlarge
Like. Click to Vote
>
The Album Story
Andrew and Elaine met after college while working at a frozen yogurt shop. After three years of dating Andrew surprised Elaine with a very creative and romantic proposal while they were visiting his family in New Mexico for the Albuquerque Balloon Fiesta. She had never been in a hot air balloon and with some sneaky planning and behind the scenes coordination Andrew and Elaine ended up in the hot air balloon alone since the rest of the family "came down with food poisoning".
Elaine had no idea that anything was going to happen while they were in the hot air balloon so when Andrew pulled out a deck of playing cards to do a magic trick in mid air she thought it was odd but not that unusual since Andrew used to do magic tricks for her when they first started dating. He had her pick a card from the deck and when she did it revealed a ring box tucked into the deck of cards underneath. He then went down on one knee and asked her to marry him. This carefully planned surprise proposal inspired the theme of the wedding to incorporate hot air balloons in the decor, invitations, and overall theme.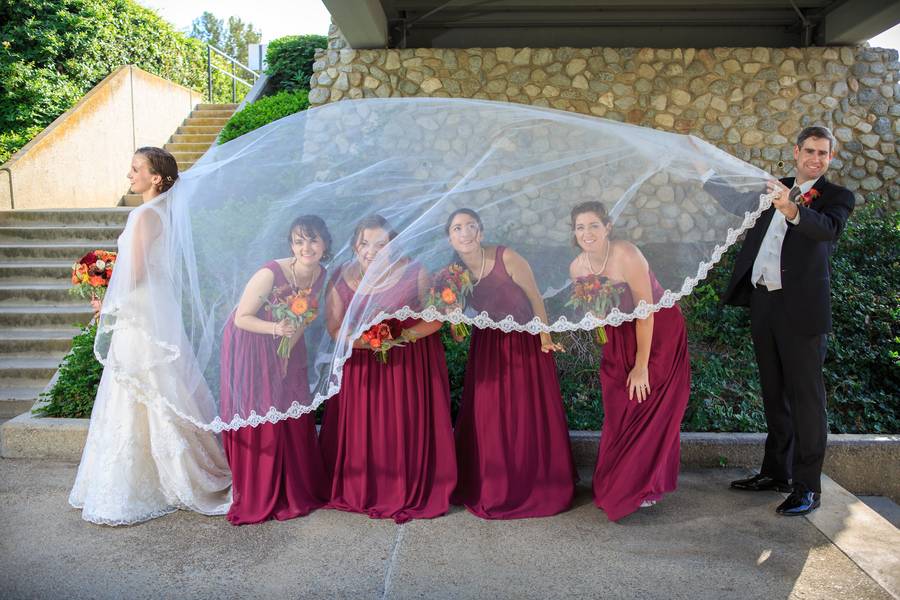 The Theme
The ceremony was very traditional. The theme for the reception was romantic and elegant with a whimsical twist by adding in the hot air balloon imagery to the decor to reflect the couple's proposal.
Wedding Outfit Inspiration
Elaine wanted fall colors since it is her favorite season, but both her and Andrew didn't want the colors to be too dark or dull so they opted for the brighter shades in the palette which included the rich raspberry color for the bridesmaid dresses. Elaine chose gold, orange and shades of red and magenta to complete her vibrant fall palette.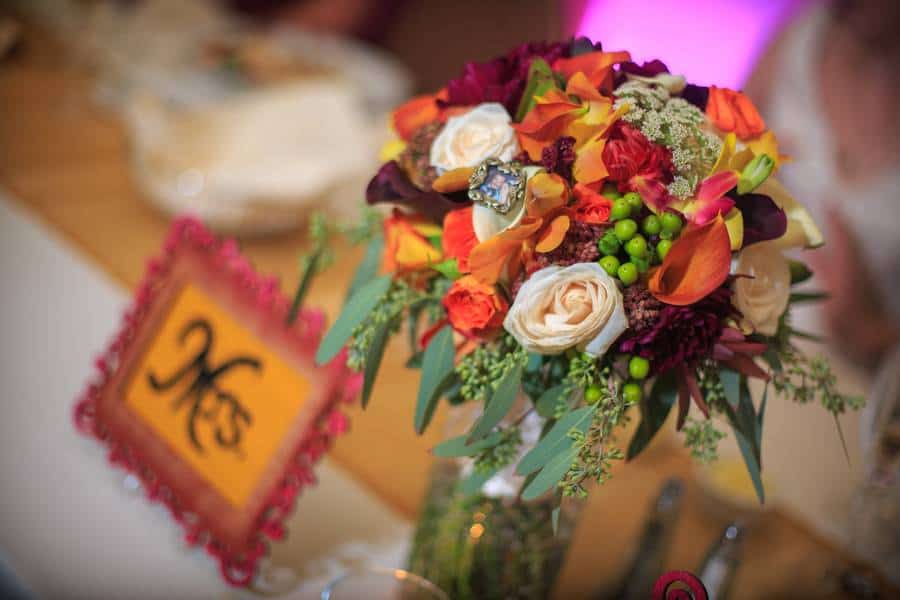 Favorite Part of the Day
I knew that Elaine had been working tirelessly on a variety of DIY items for her big day and it was a lot of fun to see it all come together for this couple.
The Do-It-Yourself (DIY) Projects
I tried to capture all of the unique handmade elements that contributed to their event including Elaine's handmade paper mache balloon cake topper, wooden balloon table numbers which were part of the centerpieces, three-tiered card box, and the painted frames and canvases that showcased her creative crafty side and really customized the event to reflect the two of them.
Elaine's mother helped sew the gold square overlays on the tables, and her entire family pitched in the make the Italian wedding cookies which were provided for dessert and for guests to take home. The invitations, matching signage, and candle favor labels were designed by Elaine's bridesmaid and best friend Laura. Even Elaine says that she lost count of how many hours of effort were spent on creating all of the DIY items for her wedding day.
I have never seen so many DIY elements at a wedding and I am still very impressed that Elaine found the time to make all of the elements that she did. Although it was stressful at times, she says that she really enjoyed embracing her crafty side during the process.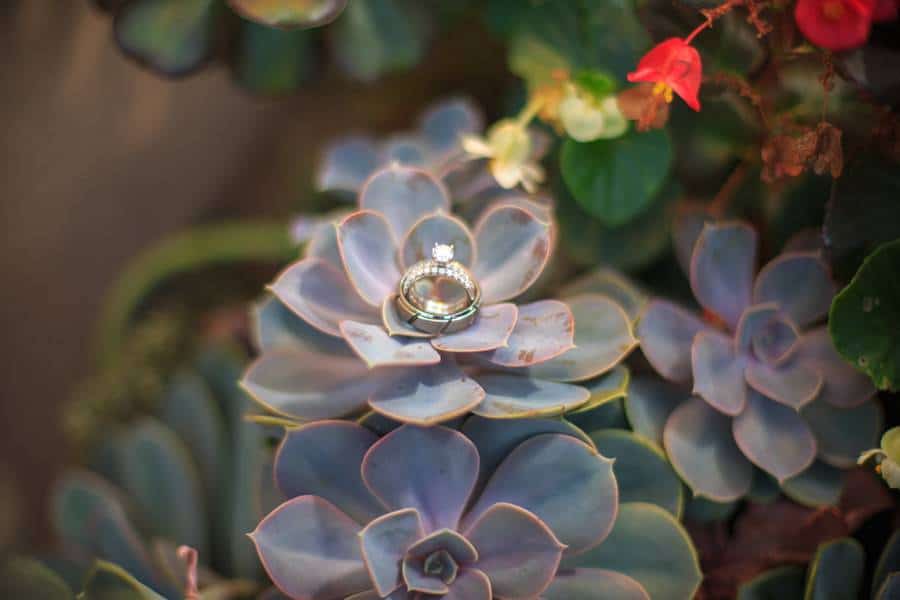 Highlights From the Ceremony and the Reception
The ceremony was held in a beautiful catholic church in Irvine California. The reception was held in Aliso Viejo and the highlights included a DJ that played movie soundtrack music during dinner to pay homage to both Elaine and Andrew's film school background – both Elaine and Andrew attended Chapman University but they didn't meet until after college. The groom and his brother having a dance-off to encourage guests to join them on the dance floor was also very memorable.
A Memorable Moment
The bride and groom chose to speak their vows which was both very touching and emotional for them.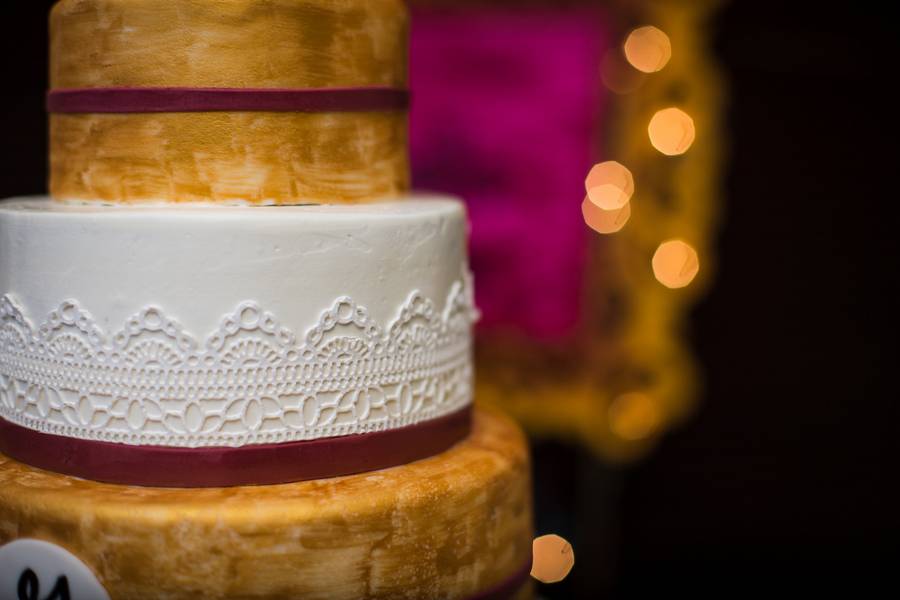 VENDORS
Photographer:  Taylored Photo Memories
Dress Store: Alfred Angelo Bridal
Reception Venue: Aliso Viejo Conference Center
Floral Designer: desdemonia gilbert
Lighting: DIY Up Lighting
Tuxedo and Mens Attire: Friar Tux Shop
DJ: Jeremy Dela Cuadra
Other: Magician
Officiant: Msgr. Rev. Joseph V. Brennan
Cake Designer: Twinfully Sweet
Shoes: Vigotti