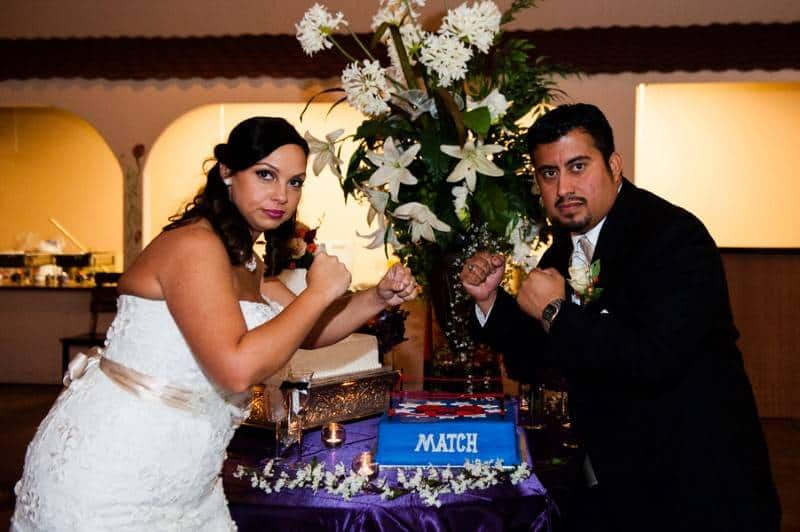 Amanda & Pedro's wedding day will sure knock you out! They are both huge Rocky fans so they thought it would make the perfect wedding theme. They had a boxing ring themed wedding cake beautifully made by a very talented family member. They chose plum, champagne & a touch of orange for their color palette to complement their fall wedding. It was also the couple's favorite colors! They had ordered customized shot glasses & filled it up with personalized M&Ms with their wedding colors, wrapped it up with tulle & handed it out as guest favors.  This two has a long way to go into their new chapter being husband & wife. But as long as they remain each other's tag teams, we're pretty sure their happily ever after will last for a lifetime! Cheers Amanda & Pedro!
 What is your story as a couple, how did you meet & fall in love?
We met in 2006 via MySpace. From our first date we had an immediate connection, but it neither of us were looking to get married at the time. We both fell for each other very fast and hard. We had a lot in common and had so much fun together.
What makes the two of you a perfect match?
We are both very responsible adults, yet can be silly and have similar interests, yet different enough to teach each other things. We get each other and accept each other for who we are.
What was the best advice you received when you were planning your wedding?
Make it your own! Don't worry about traditions, just what the two of you want. It is your day so make it a reflection of who you both and what your love represents.
What inspired your wedding decor? Why did you choose the things that you did?
We are huge Rocky fans! We love the passion and determination featured in the films. Pedro surprised me with a trip to Philadelphia for my birthday. I just thought it was a trip to see his beloved St. Louis Cardinals, but it turns out he took me to the there to propose. We were sightseeing and once we arrived at the Philadelphia Museum of Art (aka The Rocky Steps he runs up in the movie). Pedro got on one knee and proposed. So we decided to have a "Rocky" themed save the date and grooms cake. We have an extremely talented family member who created it for us. We went with plum, champagne with at touch of orange for the wedding colors since it was a fall wedding and all my favorite colors.
Do you have advice for couples still in the planning process?
Tag team it. We had an excel spreadsheet we filled out and assigned different wedding party members to tasks and due dates. This way we shared the experience with everyone and it was less stressful.
Was there a theme for the ceremony and reception?
Rocky theme.
What were some challenges you faced planning your wedding & what would you have done differently to avoid them?
Our main challenge was just figuring out what we wanted. Once we nailed that down , we realized we had less than six months to plan this wedding. Finding an affordable reception venue available on the date we selected was difficult. I wouldn't change a thing, it was a great day!
What was the wedding budget?
We had a very modest budget of less than $10,000 for the entire wedding. It sounds like a lot until you start pricing everything and it adds up quickly.
Where did you save the most money?
We saved a ton by being fortunate enough to have talented family members design our save the dates and invitations. We ordered all the paper online, printed them out and assembled them ourselves. My maid of honor also was able to get us the personalized shot glass favors at cost, so this again saved us.
Was there any Do it Yourself (DIY) projects? If so, can you describe them in detail?
We ordered shot glasses with our names and wedding dates on it. We then ordered personalized M&Ms with our pictures on them in the wedding colors and filled the shot glasses with them. We tied tulle around it and handed them out as wedding favors.
Can you share some tips or tricks that you learned along the way leading up to the wedding or after?
Don't over think it. Look at lots of pictures of the color combinations you want to see how they photograph.
Where did you go on your honeymoon?
We went to Las Vegas for our honeymoon. It was something short and sweet that allowed us to pamper ourselves a few days away from home.
What are you most excited about for the future?
Everything! We are both very blessed to have found each other and I know whatever God has in store for us will be what we need.
How many guests were invited in your wedding and what was the final guest count?
150 guest were invited, 172 RSVP, we ended up with 100 actually arriving.
Was it difficult to narrow down your guest list?
Yes, we tried to invite those closest to us and family only.
What would you say, the overall story for this album?
Love.
What inspired the wedding day outfits?
Our favorite things, the fall colors.
What was your favorite part of the day?
Our wedding at the church was very traditional so I loved it.
What were the highlights from the ceremony & reception?
Our wedding dance was a montage of 4 songs, we had taken dance lessons for months and really surprised everyone.
Vendors
Photographer:  Shawna Hinkel Photography
Cake Designer: Candy Haven
Ceremony Location: St. Michael the Archangel Catholic Church
DJ: StarzUp Ent.
Reception Venue: Victoria Hall