If you're looking for a theme inspiration for a perfect purple wedding — this is it! At first, Alesha & Shane had a hard time with the wedding planning, especially when it came to choosing the color theme. But finally agreed on using purple since Shane was also a huge Minnesota Vikings fan. Everything eventually came into place perfectly. There were surely a lot of glittered details used on this wedding – from the bride's shoes & gown, the table centerpieces, the wedding cake, & the jeweled champagne glasses for the ladies' pre-wedding drinks. I think Alesha beautifully sparkled in her wedding dress from beginning to end.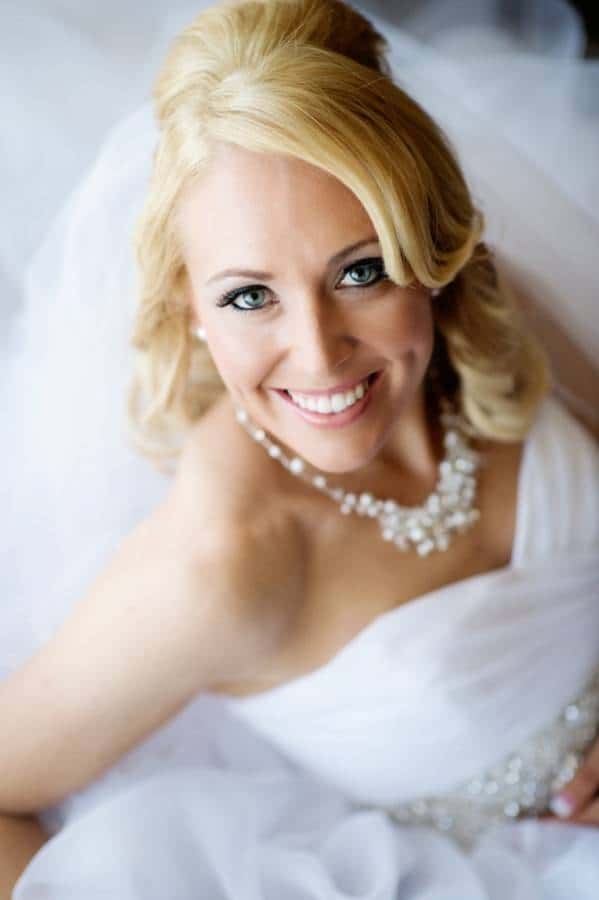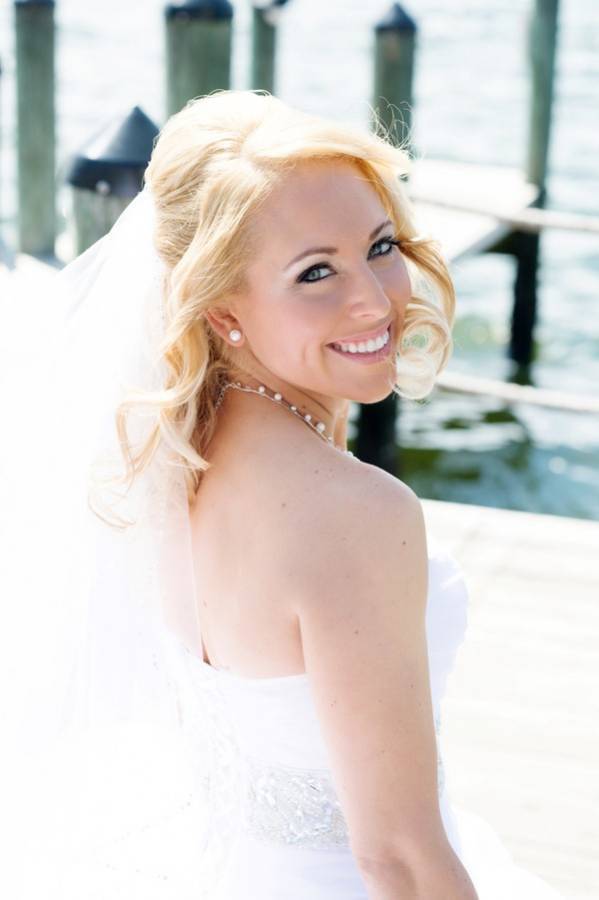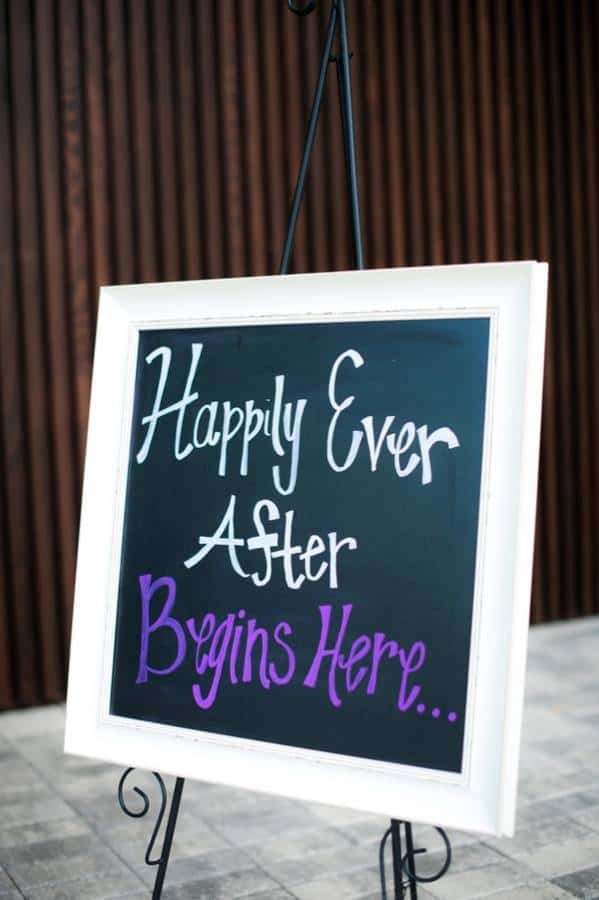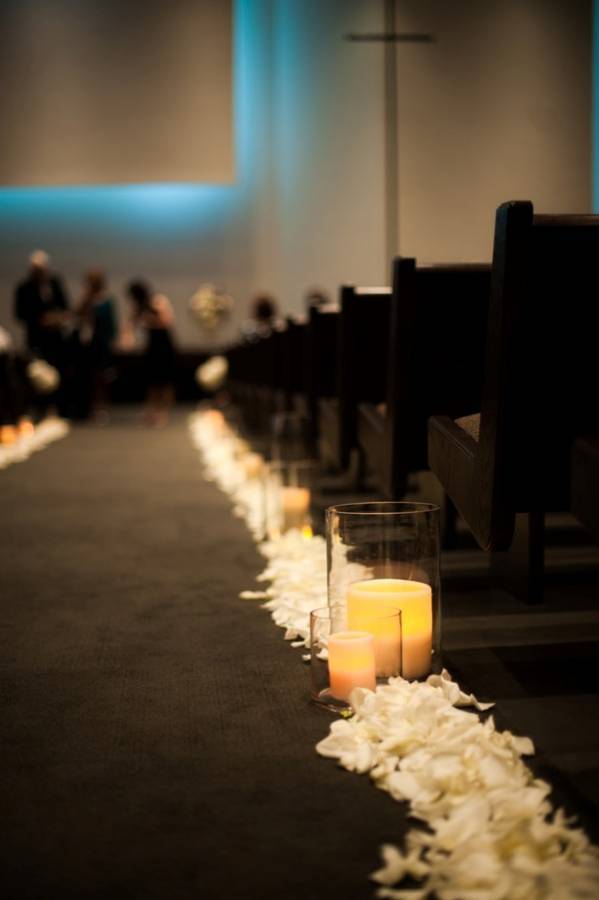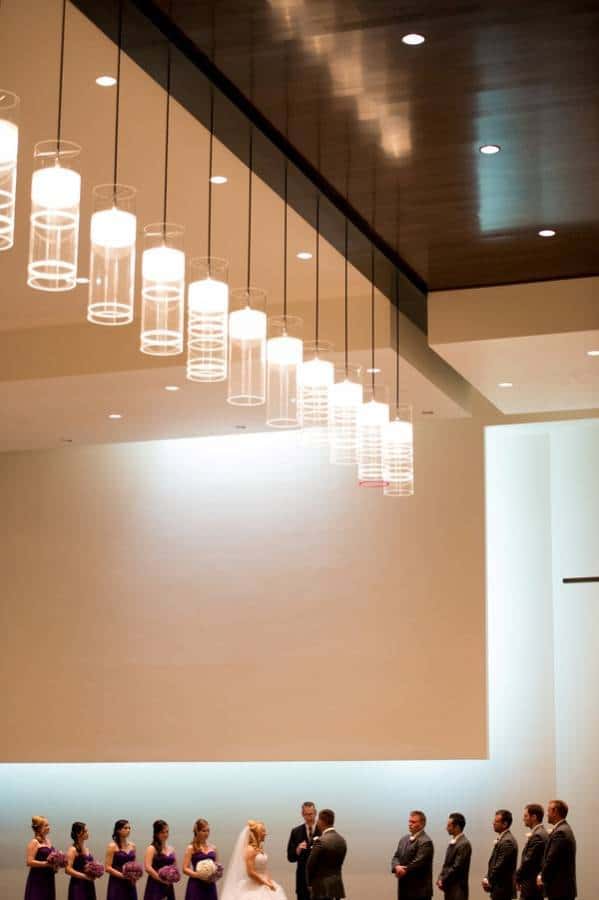 What inspired the wedding day outfits? It was spring so I wanted the girls to wear something light, flowy, comfortable and the neckline to be the same as mine. We had a hard time choosing the mens' tie and and the ladies dress colors. How am I supposed to pick one color for the biggest day of our lives?? Every time I picked a color I quickly changed it or my husband, Shane, didn't like it, so I told him to pick. Problem solved, he picked a color we both enjoyed and he was able to have some 'say' in the planning. I asked him how he came up with the color, and I should have known. His response was "I bleed purple!" My husband is a huge Minnesota Vikings fan since that is where he is from so it was perfect!
Was there any Do it Yourself (DIY) projects? If so, can you describe them in detail?
Oh yes of course, what's a wedding without the personal touch of the bride and her friends? We had quite a few DIY projects but I can't take credit for all of it, my wedding designer did most of the work and I had some wonderful friends giving up their time to help. One of the bridesmaids moms, Verna, handmade both of the flowergirl dresses and they came out so cute! Jamie, a bridesmaid, did the entire candy buffet, from the painted letters to the purple and pearl sprinkled marshmallows, this was beautiful!  My Jessica, my sister/maid of honor, painted, jeweled, and wrote out the chalk board signs. I had a few friends over that were actually my "day of" girls that helped me with some of the bridesmaids gifts. I had a craft day at my house and we all pitched in to make the "Cards" birdcage, one of my favorite DIY projects and lots of other little things…I just remember a lot of glitter that day!
What were the highlights from the ceremony & reception?
The highlight from the ceremony was probably when my pastor, Eric Meyer, who I grew up with, told the guests during the ceremony (referring to our arms) that I have guns and Shane has cannons. Ha! CrossFit is a big part of our relationship and is very important to us, we train together and I am also a coach at CrossFit Fenrir. Alot of the guests were CrossFitters and the others knew how much we are involved so everyone had a good laugh. God is also a big part of our relationship so putting those two topics together in a tasteful manner was just the perfect ceremony for us! For the reception there were so many highlights that it's hard to choose but it wouldn't have been right if we had a ceremony about CrossFit and not the reception, so right after Shane decided to smash my whole face with cake, don't worry I got him back good, we had a WOD (Workout Of the Day). Yes that's right — we worked out at our wedding. Since our big day was on 3/22/14 the workout was 3 rounds of 22 Air Squats and 14 Kettlebell Swings. Shane and I took our places and began the workout after the DJ said "3-2-1-GO!" The guests loved it as they cheered for either the bride or groom to win and the coordinator said he even got in on the cheering and he'd never seen anything like it but would never forget it! Shane won but only because I was wearing an 18lb ballgown.  Also, the speeches from the maid of honor, best man, and my dad were sweet, hilarious, and a little embarrassing (in a good way).
What was your favorite part of the day?
Other than the moment my favorite person in the world became my husband, I would say our first dance was my favorite part. A good friend of ours that teaches ballroom dance offered to make a dance routine to Michael Buble's "Close Your Eyes" and have lessons once a week for a couple months. I took ballet for 23 years but my husband (I thought) had two left feet, until we really started practicing. I was pleasantly surprised that he was actually pretty good! No one knew what we had planned except for our friend, not even our parents. The beginning started off like any other first dance, swaying back and forth. Then when we went to our places and everyone was cheering and howling, it was so exciting. I thought at first that I wouldn't be able to enjoy the moment because it was a routine and I would be thinking about steps and not Shane, but I was wrong. We had so much fun, we laughed, he sang to me a little, and we couldn't stop staring into each other's eyes! It was definitely my favorite moment!

Was there a theme for the ceremony and reception?
Besides the Minnesota Vikings purple, and the CrossFit wedding theme, I was going for a Romantic, Glitzy, and just plain Fabulous theme. In the end it was exactly what I envisioned, thanks to my family and friends support and most importantly it turned out to be the best day of my life!

Vendors
Photographer:  Marie Still Photography
Florist/Wedding Designer: A&E Events llc
DJ: DJ Eddie
Stationary: Invitation Galleria
Bridal Dress: Robin Lynne Bridal & Formal Wear
Wedding Cake: Betty Cakes
Hair & Makeup: Destiny & Light