If it is in your hands to plan your bridal shower, don't worry, here is a piece of good news, we've got several beautiful bridal shower decoration ideas. Set the tone perfect for bridal shower with these decoration ideas. It's great that the bride-to-be must be getting a lot of love and gifts but the feeling comes only when the tone for the event is set perfectly, do it by arranging photo props and ring balloons all around.
Shop for the best bridal shower decorations if you are in charge of managing this event, even if you are the mother of the bride or maid of honor. Effortless and adorable bridal shower decoration – from bridal shower welcome signs to cake toppers, everything to the best of your style.
Colorful decoration pieces always bring fun and vibrancy to your celebration and this is a much better idea for today's bridal shower event decorations. Rainbow-hued confetti, a trendy neon sign that'll light up your celebration and even a bright flower backdrop perfect for your guests to click some snaps. Below listed are 25 adorable and affordable decoration ideas for your bridal shower event, get inspired with some ideas for your event too, just keep on reading for all sort of stuff you want.
Fiesta Bridal Shower Sign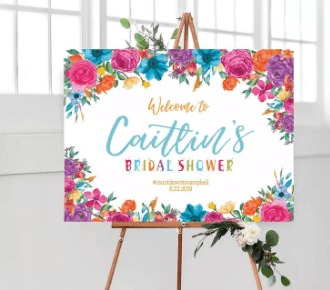 This is the first thing that your guests must notice as a warm welcome to your bridal shower event. Customize this according to your way of decoration or even add a hashtag that your guests can take on their social media.
Bridal Shower Decoration Kit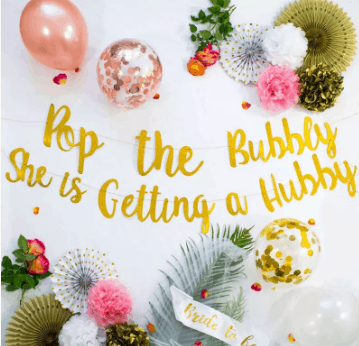 For all sorts of decoration focus on getting this kit, include and packed with balloons, paper fans, banner, a sash that says "Bride-to-be" and even pompoms. This kit is a complete package for your bridal shower event decoration.
Personalized Mrs Balloon
Unique bridal shower decoration is what the bride's love the most and this is a very unique way of showing love. Bride holding a balloon printed with her new last name – unique and romantic.
Floral Hoop Wreaths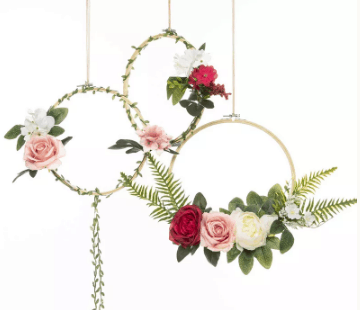 Hang these trio's of gorgeous floral wreaths and this will add a bohemian vibe to your bridal shower event. Plus it can set the mood and is affordable as well.
Gauze Table Runner
This is a gauzy table runner with a great no. of texture, a huge amount of color options and that can add a rustic charm to your bridal shower event. Choose a color from a large variety that matches the other decorations of your event.
All You Need Is Love Neon Sign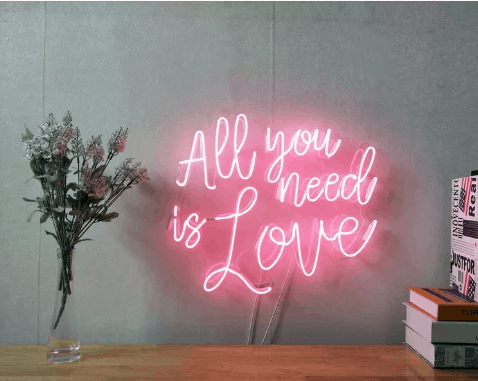 A neon sign that says "All You Need Is Love" is the best trendy decoration for your bridal shower event. This decoration is what will take all of the attractions.
From Miss to Mrs Bridal Shower Guest Book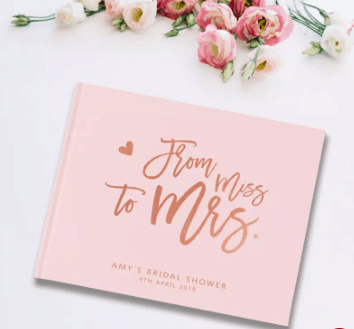 Just to make sure that you remember every single family member and friend, get this bridal shower guest book that will help you to record all your guest's name with their wishes and good messages for the bride.
Mimosa Bar Sign, Banner, and Tags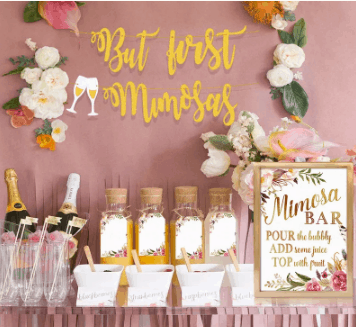 Get a party pack that will help you to set up your bar at your bridal shower event. It has all the necessary equipment you need for setting up a bar from banner to labels and from tags to signs.
Personalized Drinking Glasses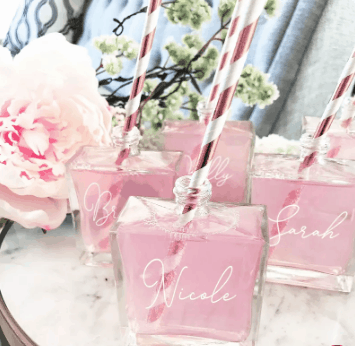 Serve your sweet drinks in these customized as well as personalized drinkware. You can even serve them as favors with a sweet sip filled in.
Diamond Confetti
Use this diamond-shaped confetti perfectly matched with the bride's ring. You could even customize these confetti colors to match your other event decorations.
Balloon Garland Kit
Balloons are not necessary for children's party but they can also be a fun-loving decoration for your bridal shower event. Using this balloon garland kit you can easily create an attractive balloon garland or an arch with a variety of colors.
Gilded Agate Card Holder
For a more formal and classy look arrange these agate cardholders that will take your guests to their allotted seats. Plus they will serve as a trendy decoration too.
From Miss To Mrs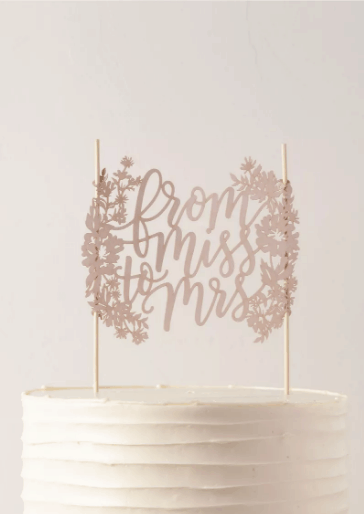 Decorate your perfect bridal shower event cake with a top decoration that says "From Miss to Mrs." And this can serve as a celebration love desert.
Diamond Ring Toppers
Let your desserts throw the vibe of your bridal shower event. Decorate your desserts by adding a diamond ring dessert toppers perfect for donuts, cupcakes, etc.
Paper Flower Backdrop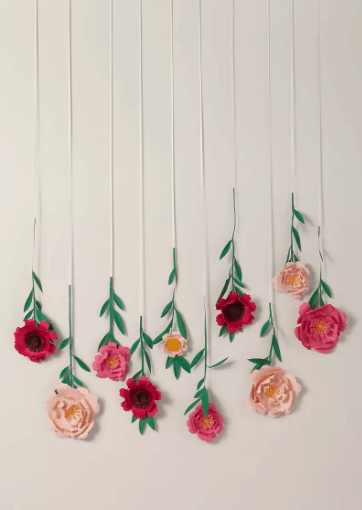 Set up a paper flower backdrop with various vibrant colors. Make it the perfect setting for Instagram pics too.
Pressed Flower Table Numbers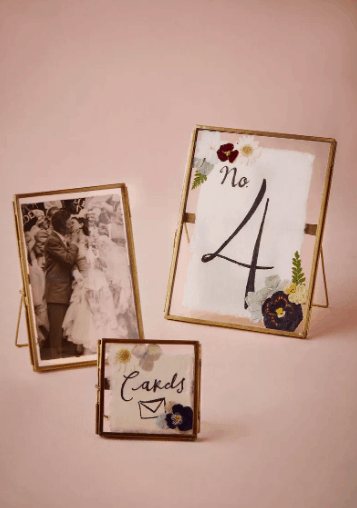 These pretty looking frames come with pressed flowers in them. Use them either to display table numbers or your photographs with a vintage feel.
Bride-to-Be Floral Veil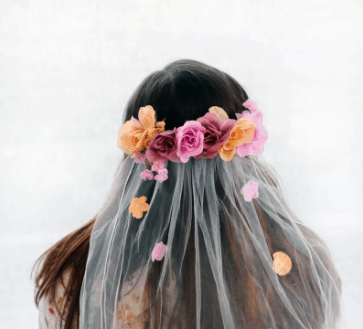 Give your bride this floral veil to make her feel special and she can even reuse it in her bachelorette party.
Bridal Shower Photo Booth Frame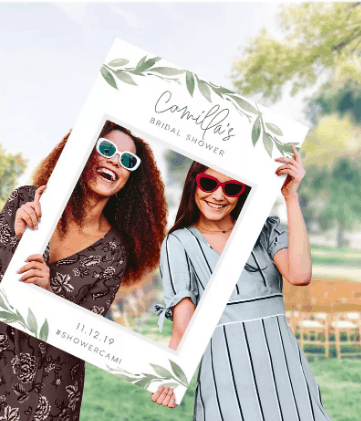 Guests love props or decorations that they could interact with. Set up this frame perfect for guests' photos and your celebration.
Cards and Gifts Wedding Sign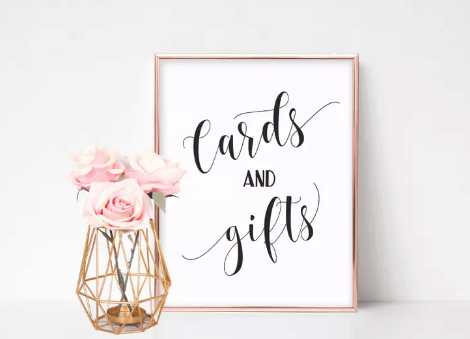 Arrange a corner with these pretty stuff where guests can keep their gifts and cards they come with.
Blink Napkins
Don't leave a single thing behind. Customize even your napkins or use these scalloped napkins that are pretty and could be fun-loving while having cocktails.
Mirabella Wall Hanging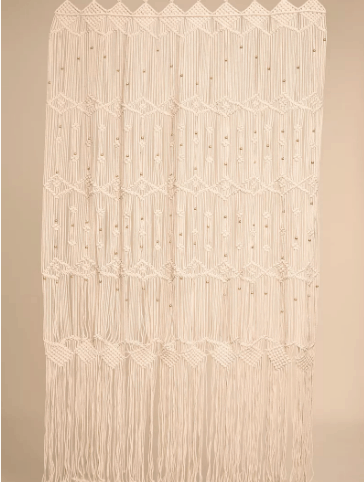 This Macrame wall hanger is perfect for everyone's photo background. Your guests will surely get attracted to have some snaps for their Instagram accounts.
Botanical Party Fans
You must use these party fans with a variety of colors, patterns, and textures to perfectly match your bridal shower event theme.
Advice for the Bride Bridal Shower Decorations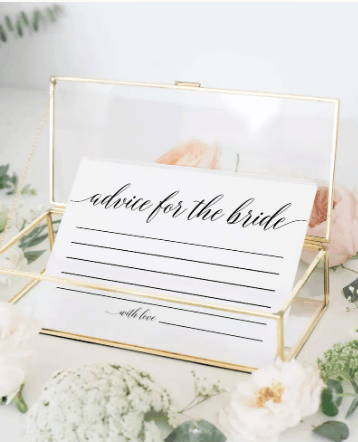 These printable decorations are great attractions where your guests can write what they feel, how they feel and some advice for the bride-to-be as to start a new life.
Something Blue Bridal Shower and Bachelorette Hair Ties Party Favors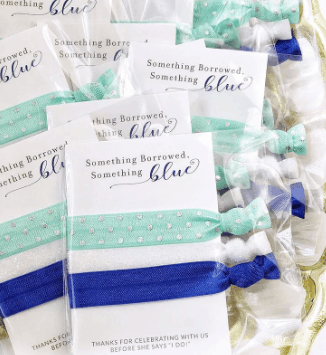 Bridal shower favors are important too. Serve your guests with these stunning hair ties loved and appreciated by all.
Diamond Engagement Ring Balloon
Do something unique, think out of the box. Arrange a big ring balloon, have some snaps with it and this is what that makes your celebration even more unique and impressive.