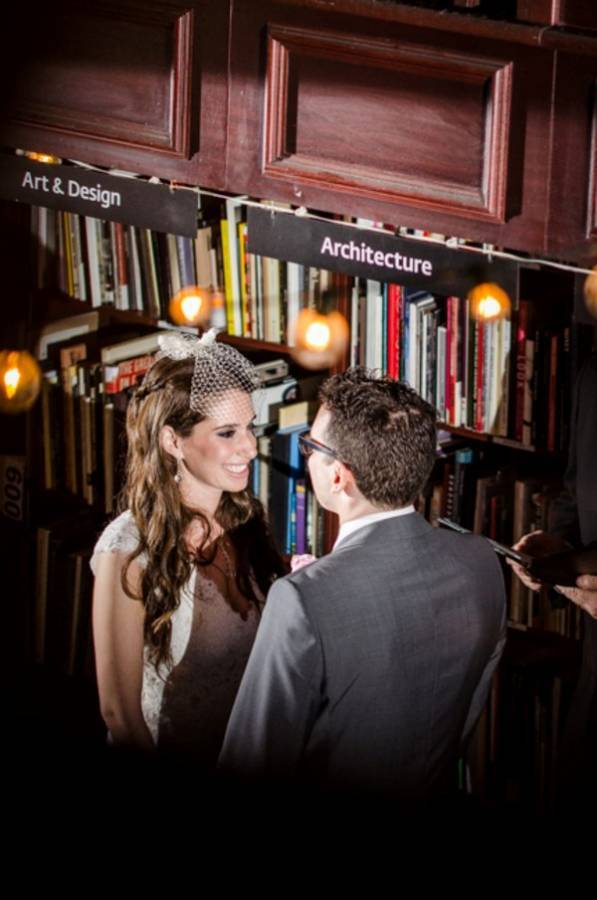 This is the perfect wedding theme for all the bookworm lovers out there! I myself became a big fan of this couple's wedding theme. It was a sure dream come true seeing how they came up with this concept of getting married in a local bookstore. This is definitely one unique way of tying the knot. Cheers to this very charming couple!

What is your story as a couple, how did you meet & fall in love?
We met and started dating seriously within a few months. Everything happened pretty quickly, which felt natural. It actually felt like we were meant to be together, and like we had been together forever. We started spending days at a time together, and I knew it was meant to be when I never got sick of him. Then we started taking weekend trips together, it just all kind of happened from there.
What makes the two of you a perfect match?
We have very similar personalities and in a way we are the same person, but we're also very different: I'm very hyper and have (self diagnosed) OCD and ADD, I'm always cleaning or working or doing SOMETHING, and he is very calm and relaxed, so we balance each other out really well. We also know how to laugh with, and at each other and ourselves so we never take anything too seriously.
What inspired the wedding day outfits?
I went with a vintage theme with my outfit. Jason had no idea what I was wearing, but he knocked it out of the park with his suit!
What was the best advice you received when you were planning your wedding?
Do whatever makes us happy! Any wedding is meant to be a celebration of the couple, and not what mom or dad, or anyone else wants. It was important to us from the beginning that we throw the perfect party for us, and that's definitely what we did!
What inspired your wedding decor? Why did you choose the things that you did?
We knew from the beginning we wanted to do something different than a traditional wedding. Since we both love books, we decided to have our ceremony and reception at Housing Works Bookstore. The great thing about the book store was all the decor was built in. We didn't have to spend much on flowers or decorations.
Do you have advice for couples still in the planning process?
Do what makes you happy! I know it's easier said than done, but everyone around you will have an opinionabout what you should do, but most importantly is what you as a couple want. It's your day, and you only get one wedding so you might as well do it how you like!
What were some challenges you faced planning your wedding & what would you have done differently to avoid them?
Family was definitely a challenge for both of us, since we come from divorced families. We decide against a traditional wedding with a sit down dinner, and opted for a cocktail style party where guests could mingle with whoever they liked. Seating arrangements with divorced families can be a nightmare, and we just wanted to simplify everything as much as possible.
What was the wedding budget? And where did you save the most money?
$20,000 – $25,000. Because we opted for a cocktail party instead of a full sit down dinner, we saved a lot there. We also made and designed the invitations ourselves, my friend is a pastry chef who made the cake and cupcakes, and my photographer friend set up the entire photo booth for us. Jason's student played the harp, and we got a great deal on the band. You just have to be willing to ask favors and stick to your prices and bargain for what you want.
Can you share some tips or tricks that you learned along the way leading up to the wedding or after?
Ask for help from friends, and keep it simple! Also, definitely hire a day of coordinator. It's too much to take on yourself, and it's not fair to ask a friend or relative to help. If you want things to go without a hitch, you need a professional!
Where did you go on your honeymoon?
Rarotonga, in the Cook Islands
What are you most excited about for the future?
Our entire lives together! We love to travel, so we are looking forward to taking some pretty great trips in the near future. It's nice to have a permanent travel buddy 🙂
How many guests were invited in your wedding and what was the final guest count? Was it difficult to narrow down your guest list?
We invited about 180 and our final count was 122. Yes, and no. My family is very small so that was easy, but the hard part was deciding what friends to invite and which to leave off.
What songs did you use during the ceremony?
We just had a harp player who played when the guests entered, we didn't have any music playing during the ceremony.
What was your favorite part of the day?
We each had surprises planned for one another during the wedding. He surprised me with an AMAZING mac and cheese bar and a cotton candy machine. I surprised him with the Waffles and Dinges food truck, which he had tried to book after I already did. He thought they couldn't do it because of zoning, so he was definitely shocked when they were there!
Was there a theme for the ceremony and reception?
No theme really, just kept it classic, vintage
Vendors
Photographer:  Priyanca Rao Photography
Event Planner: Big Juicy Events
Shoes: Chinese Laundry
Reception Venue: Housing Works Bookstore Cafe
Tuxedo and Mens Attire: Hugo Boss
Dress Designer: Maggie Sottero, Dynasty Dress
Band: Sean Smith Bass Comp