Traditional has a certain charm to it that makes it truly elegant. Although it can only go so many ways, a traditional theme can still be played up a bit by adding some whimsical details. Marco and Maribel did just that with their big red barn wedding. They combined the Southern rustic character of the barn with playful elements like the Coca-Cola crates and bottles, the candy corner, and a Wild West typeface on the signs. The reception area inside the barn was gorgeous – the lights, the table setting, everything. Who knew a big red barn could look like that on the inside? Browse through the gallery and read on to sneak a peek into Marco and Maribel's wedding through the eyes of their photographer.
Click image to enlarge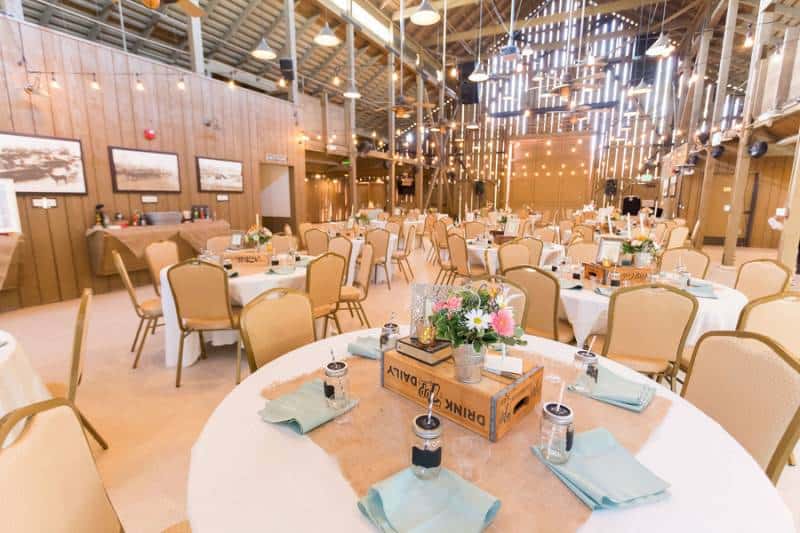 Like. Click to Vote
>
What is the overall story for this album?
The overall story is that Marco and Maribel, two young and inspiring people found each other and told their story through their wedding. They blended the elegance of Camarillo Ranches main house, with the rustic feel of one of the oldest big red barns in Ventura County.
What inspired the wedding day outfits?
The outfits were traditional. I believe that it was mostly in keeping with the strong Hispanic traditionalism in each of their families.
What was your favorite part of the day?
My favorite part of the day was when Marco and Maribel stepped into the barn for the first time to see all of their ideas finally come to life. They spent a long time on all of the small details, trying to seamlessly blend an elegant estate wedding ceremony with a rustic barn feel for the reception.
Was there any Do it Yourself (DIY) projects? If so, can you describe them in detail?
I believe that most of the decorations inside the reception location were DIY but I can't be for sure.
What were the highlights from the ceremony & reception?
The highlight from the ceremony was Marco seeing Maribel for the first time. They tried really hard to avoid each other before the ceremony, and balancing getting shots of the groomsmen and bridesmaid was tough in such an open air airy environment. But Maribel's face absolutely lit up when she saw Marco for the first time, and she seemed to float down the aisle as she walked towards him.
What part of the ceremonies do you think was the most memorable for the bride and groom?
I think the most memorable was the first dance. Their first dance was in the center of the barn, surrounded by family and friends, and they just seemed to be in their own little world, laughing and holding each other as though they were in the room all by themselves.
VENDORS
Photographer: Chris Ellis Photography
Event Planner: Coastal Events
Reception Venue: Camarillo Ranch