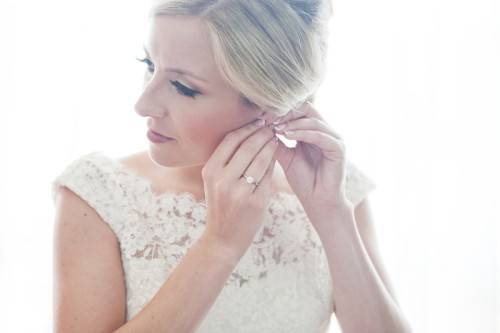 Your wedding day is SUCH an important day in your life. It signifies the beginning of a new chapter of your life, the chapter of marriage, where you will be spending the rest of your life with the one you love, together. This monumental day deserves to be documented, from start to finish, and speaking as a professional wedding photographer, I can tell you the first MOMENT your wedding day truly begins is when you are getting ready! I am talking about getting ready photos! Some of you may be thinking "What are getting ready photos?" And I'm happy to answer that! Getting ready photos is when the photographer captures the bride and groom (in separate locations) getting ready to begin their wedding day. It's the time where make up is applied, hair is put in up-dos, wedding outfits are put on, and the morning is spent with the Bride and Groom being SO excited to get married!
Some brides and grooms do not see getting ready shots as a vital aspect of their wedding day. They do not see the need to have that time documented, but I am here to tell you the benefits of having your getting ready photos documented, and why you won't regret it if you do!
1. It's an EXCITING time Filled with Many Precious Moments!
In my experience, I find some of the BEST candid photos are taken during the getting ready shots. That true excitement your feeling that you are FINALLY getting married just makes you GLOW and that excitement and beauty really shows in your photos. There are also so many key moments that happen during the getting ready time such as your Mom or Dad seeing you all done up for the first time as a Bride or Groom, ready to be wed. Even the moments when some Brides see themselves for the first time makes for great photos, as well as when the bridesmaids see the bride all done up for the first time! For the Groom ,the photos tend to be more relaxed with drinking, or some significant ritual done with his buddies! During getting ready shots, everyone in attendance is genuinely excited and happy for you and how amazing you look, and it makes for wonderful photos, that you otherwise wouldn't have if you do not do getting ready photos. Take a look at Sarah and Ryan's Wedding on my blog to see just how amazingly emotional Sarah's family was when seeing her all done up as a Bride!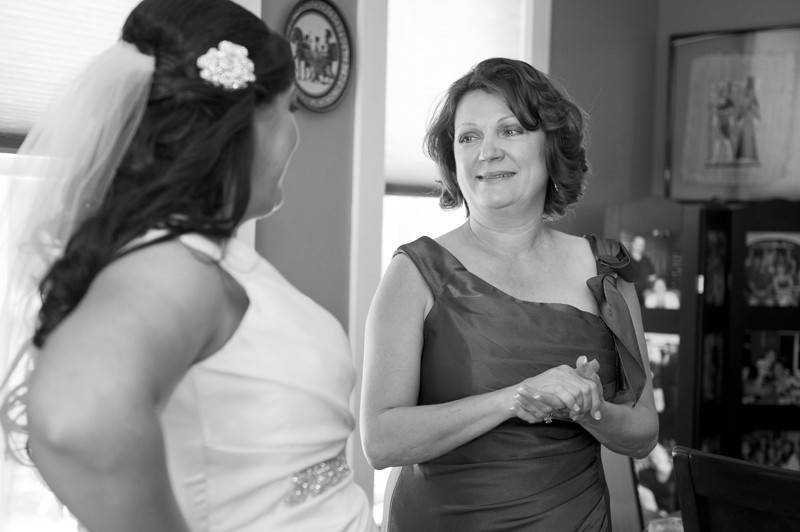 Sarah's Mom just couldn't hold in her emotions after seeing her beautiful daughter as a Bride! – Photo by: Julia Seiler Photography
2. It's the BEST Time to Capture your Details!
I am that photographer that is in LOVE with taking detail shots at weddings. All those details and decisions you've made to create your big day, say a lot about you and your wedding and many of those details can only be captured at their best during your getting ready photos. Arguably one of the most important details for the Bride is the wedding dress. When I discuss the getting ready photo timeline with my clients, I always advise that they plan for me to arrive when they are almost done getting their hair and make-up done. Why? Because after hair and make-up is when the bride puts on her dress, and if she has it on before I get there, I cannot take great photos of it! Typically, I hang the dress in an interesting location such as outside on a tree, or inside on a curtain rod in front of a window. This time allows me to capture all the details of the dress that make it beautiful! TIP: To add even more of a special touch to your wedding dress photos you can order a special hanger that says Bride, your soon-to-be wed last name, or whatever you like! Check out these gorgeous hangers created by Lieu Creations! Aside from the dress, many more important details can be photographed during the getting ready photo time such as all accessories (shoes, the rings, the bouquets, etc.) Take a look at this gorgeous wedding, complete with getting ready and detail photos featured on InspiredBride.net! Getting ready time is crucial if you want to make sure all of your important details are captured in beautiful images. Check out Andrea and Mark's Wedding on my blog to see just how BEAUTIFUL Andrea's getting ready detail photos turned out! 
3. Getting Ready Photos Make Your Wedding Album BETTER
When I design a wedding album for my clients, I think of the process as making a movie. You need a beginning ,middle and end to have success, and that same formula applies to a wedding day! The getting ready shots are the BEGINNING of your wedding day, so without them, your wedding album is only partly telling the story of your wedding day. Trust me, wedding albums that include getting ready photos are much more beautiful and successful at telling your wedding day story than ones that don't! Your getting ready photos are a crucial part to having a beautiful wedding album that you can use to share the story of your wedding day with others in the most effective way! If they were not there at your wedding,  then they will feel like they were after seeing photos of your entire wedding day unfold, from start to finish. Many Photographers offer wedding albums in their packages. Check to see which Photographers are in your area on InspiredBride.net! 
So if you weren't thinking of having getting ready photos taken already, I hope you are now! They are truly a great addition to your wedding day photos and you won't regret having this special time captured in photo memories you can cherish for years to come!
– Julia Seiler