Click image to enlarge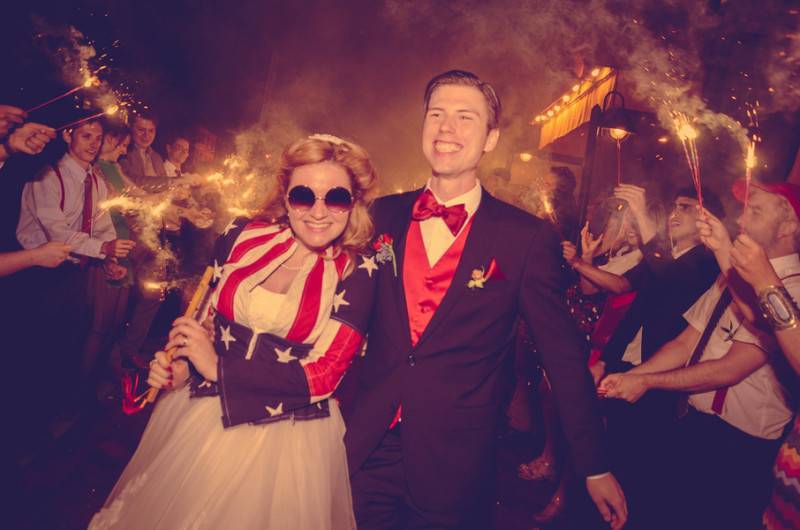 1

Like. Click to Vote
>
As a photo centered blog, we don't usually find the appeal in filtered or post-processed photos. We want them as raw as we can because we want the details and the colors to stand out. But this wedding feature is an exception because the edits actually added more charm to the photos – which is saying something because this wedding is super awesome! Our couple's special day coincided with 4th of July so what better way to show their patriotism than have blue, red, and white as their wedding's color theme. Sticking true to this idea, they also embraced all-American details and decors such as stars and stripes. If you're ever planning on having your wedding on the same date as this one's, then this is the perfect guide for you! Congratulations to our couple, Anna & Jon!

Groom
The inspiration for our wedding originated the first time we learned about the history of St. Paul's church in Newburyport, Massachusetts, our ceremony site, where Anna's [bride] father has served as the assistant pastor for the past five years. Before you ask, no, he did not marry us! We had a good and trusted old friend get a one-day officiate license from the Commonwealth of Massachusetts, and he conducted the ceremony in a very personalized, original, and non-denominational format that suited us perfectly but still felt old-fashioned and family-oriented.
That being said, Saint Paul's is a truly progressive church on the North Shore of Massachusetts that has two beautiful sanctuaries. The main church is large, bright, stark, and colonial, and seats well over 400 people, but the smaller Saint Anna's chapel, which seats 110, is filled with impressive period stained glass windows, dark oak pews, a gorgeous vintage organ, and a large brass chandelier, all which lend it an ethereal and romantic atmosphere. Saint Paul's parish was first founded in the year 1711, and in addition to being a community center in Newburyport for the past 300+ years, the lectern in the sanctuary (not to be confused with the pulpit, where sermons are given) was the site of the first public reading of the signed declaration of independence before it was shipped off to England in 1776.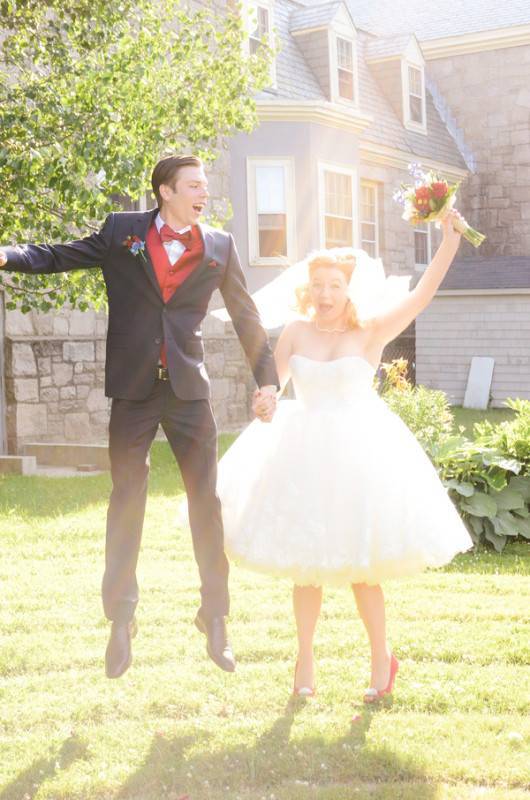 Bride
Although Jon and I are not religious, we feel a strong cultural connection to the history of the American Revolution. When we decided we would be conducting our ceremony at Saint Paul's, it touched off an unrealized streak of true patriotism in both of us. We found the bold colors of red, white, and blue refreshing in the context of a New England seaside Fourth of July weekend summer wedding, and we loved using stars and stripes to decorate our printed materials and our reception venue. Plus, it felt like the whole town was decorated to match our theme! We played it cool on the color scheme, often deferring to more muted ivories, dark and light reds, and a wide palette of blues, yellows and gold to keep the look modern, but we also touched on classic Americana themes, decorating our gift, favor, and cake tables with props provided by our awesome coordinator who included details such as a vintage wooden Coca-Cola crate, excellent signage, hand-painted woodblocks, a vintage typewriter and cameras, calico ribbons, and other charming Americana touches that really completed the overall look and feel of the reception. For the reception hall, we wanted a really fun and relaxed atmosphere that still kept the holiday spirit alive, so we punched it up with dozens of hanging star lanterns that had LED lights in them, bold table settings, as well as mason jars with apple-pie scented candles and raffia ribbon for center pieces.
The reception venue we chose is also a world-class restaurant, so the food was terrific and fresh, and the bar arranged to serve up a signature cocktail in personalized mason jar mugs that guests could bring home. We included seasonal candy favors at every place setting, as well as a late night cookie and milk shooter to stave off any lingering hunger guests might have. Based on our guest count, we happened to have 13 tables including our own sweetheart table, so we got the idea to name our tables after the 13 original colonies to tie the seating into the theme while being egalitarian. From getting ready to spending time with our friends, to dancing into the night, I had so much fun at my wedding, but my favorite moment by far was seeing my wonderful future husband waiting for me at the altar under an arch he specially constructed for the occasion – it felt like a dream come true!
If I could give 2 pieces advice to other DIY brides, they would be:
Do not under-estimate the value of hiring a coordinator for your wedding day! This day flies by so fast, and you do no want to be worrying about late vendors, payments, transporting sound equipment, or pretty much anything other than focusing on the importance of friends and family being together. Day-of coordinators are great if you have a big vision on a tight budget. My coordinator Megan made the day infinitely more enjoyable and served as a neutral source of information, general time-keeper and logistical support, and also brought so much extra creativity and energy to the day overall. Hiring her was the best choice I made to enjoy my wedding!
No matter what people tell you about planning your own wedding, go with your gut. Maybe something sounds cheesy (or too bold, or too understated, or what-have-you) to someone else, but you feel it is right for your special day. In the long run, this event, more than anything else, should be an expression of the two of you as a loving couple having the time of your lives together!

Vendors
Photography:  Dragonfly Shots Photography
Design & Planning:  The Bride & Family
Ceremony Site:  Saint Anna's Chapel at Saint Paul's Episcopal Church
Reception Venue & Catering:  Steeple Hall at The Mission Oak Grill
Ceremony Music:  Arrangements by the Bride's Mother performed by Organist Mark Meyer
Wedding Day Coordinator & Decorative Consultant:  Memorable Moments:  Events by Megan
Flowers:  Beach Plum Too
Invitations & Programs:  Designed by the Bride and printed by Vistaprint
Reception Music:  DJ Eric Chute
Cake:  Jenny's Wedding Cakes
Hair:  Tobi Cutler of Vivid Salon
Make-Up:  "The Make-up Girl" Caryl Sindoni
Star lanterns:  Purchased as Spectrum India and Ikea
Favors:  Designed by the Bride & printed by Discount Mugs
Bride's Dress:  Maggie Sottero purchased at Pure Bliss Bridal Boutique
Bride's Shoes:  Badgley Mischka
Groom's Suit:  Hugo by Hugo Boss purchased at the Men's Shop at Nordstrom
Groom's Shoes:  To Boot New York
Rings:  Brilliant Earth Jewelry