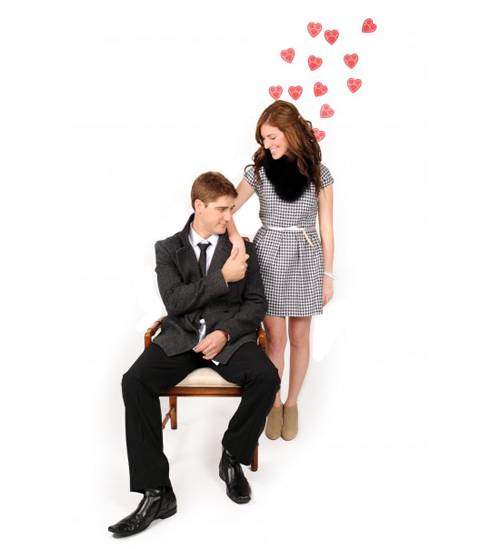 One of our readers, Anna, sent in her engagement session to me the other day (aren't they so cute?) and when I stumbled across the above photo, I thought it was a good example of a discussion I've been having with my Nonpareil Magazine partner, Kristen of Paper Crave. If you've never seen me talk about engagement session on the blog before, it's because I haven't come across one that has ever really stopped me in my tracks because they all look so similar nowadays. So many of them just drop the couple into an empty industrial area or field with maybe a few props and not much else. Now, I love great post processing as much as the next blogger, but these shots shouldn't hinge on just that in my humble opinion. What I love about Anna's shot, though, is how graphic it is – but it still has a whimsical element to it that infuses a ton of personality, and all they needed were a few heart shaped doilies!
If you think about it, an engagement session is the perfect opportunity to get really creative, as a photographer or as the couple. There's been a lot of talk on the blogosphere about over-styling your wedding (which I'm totally cool with as long as you don't loose sight of what the wedding is ultimately about), but why don't we talk about taking the time to really thoroughly style an engagement shoot? After all, there are no guests or time constraints to worry about, and both the photographer and couple can both really enjoy and have fun with it.
Here are some thoughts to get your mind going:
Think Outside the Location. A really dynamic set can be a great alternative (what about a flat wall with interesting wallpaper and props, or even something more abstract?). When used strategically, as Anna did, it can really make for an amazingly graphic shot that would be perfect for a save the date. If you do go to a location, find something with a lot of architectural interest or visual style that matches who you both are as a couple – and the more unexpected and unused, the better.
Rock the (Appropriate and Unexpected) Props. Balloons have been done and done. What's the next big thing? I'd love to see crepe paper pinwheels, over sized metal letters, spray painted vintage frames, mid-century modern furniture, and vintage cameras and film or Polaroid prints (pinned up one the wall behind the couple perhaps?).
Brainstorm a Concept. Taking a lot of pictures can be awkward sometimes if you're not a camera ham, so come up with a concept you and your spouse to be can get comfortable with. Whether it's playing a game or playing dress up (and not just in the "wearing nicer than average clothing" kind of way), find a way to get loose in front of the camera – or at least "otherwise occupied" enough that you don't shoot too stiff.
Do Your Research, and Collaborate. Take a look at what's been done before, and what's been done and done and done before. Brainstorm with your photographer, as well. Both paths may spark an idea you might not have considered before and might be perfect for your shots.
Are you having an e-session? What are you doing to make it unique?
Image from Meredith Mashburn Photography.