Today's featured couple had a different take on a classic movie that graced everyone's televisions – Wizard Of Oz. These two are TV producers, thus explaining their interest. The setting was at the Land of Oz in Beech Mountain, North Carolina. Their photos were complete with storyline sequence from sepias then to the post-hurricane colored scenes.  The couple's outfits had a sweet and edgy look. Jane had a lacy dress on, topped with a leather jacket. And her SHOES! The famous ruby slippers turned into a glittery pair of oxblood pumps — talk about edgy!
Follow their walk down yellow brick road by browsing through the gallery. Congratulations to this lovely couple and to their expert photographer!
Click image to enlarge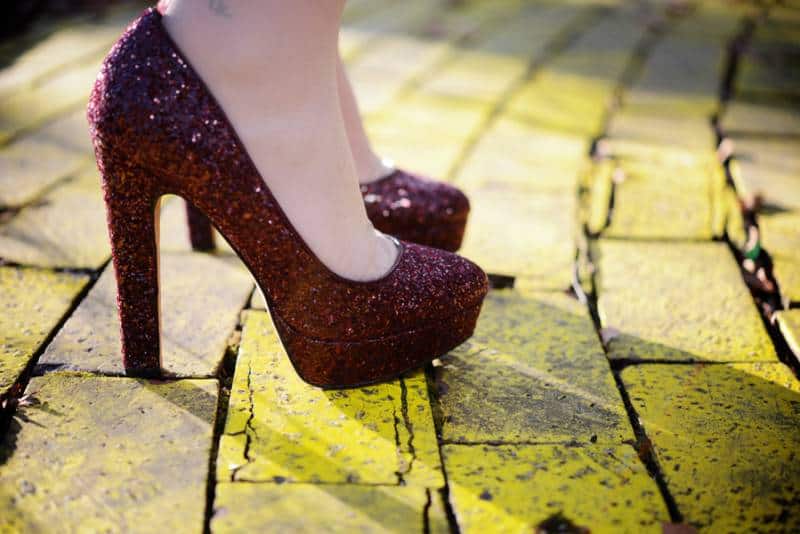 1

Like. Click to Vote
>
The Album Story:
The engagement shoot was meant to portray a story laced with the innocence of love, the intimacy of true romance, the ultimate trust in each other, and most importantly the journey of the most beautiful love story ever told: our own. It's all about the quest for love and the wonderful, yet sometimes scary places it takes you. But when you find it, there's nothing more spectacular.
The Location:
Easy! The Wizard of Oz is my favorite movie and it also holds a special place in the heart of Jay, the groom. Going to the Land of Oz in Beech Mountain, North Carolina was almost like a religious pilgrimage for me. I always imagined Oz as the heaven I would go to one day. And yet here it is… right here on earth. It truly felt like a magical land, to all of us — even the photographer Veronica who is an Oz nut as well.
Engagement Outfit Inspiration:
We wanted to wear outfits that could go from "rustic farm elegance" to "Ozian glam" fairly easily. I am a big fan of mixing dainty pieces with edgy pieces, so a light lacy dress with a leather jacket seemed like the way to go! For Jay (the groom), we added suspenders to a suit so that he kept a simple yet elegant look. But his long "Sons of Anarchy" hair matched with the edgy leather jacket look as well.
A Hint For the Wedding Day:
Jay and I are both television producers so there will be some thematic elements in that vein on the big day. One giveaway, there will be a Mad Hatter's tea party!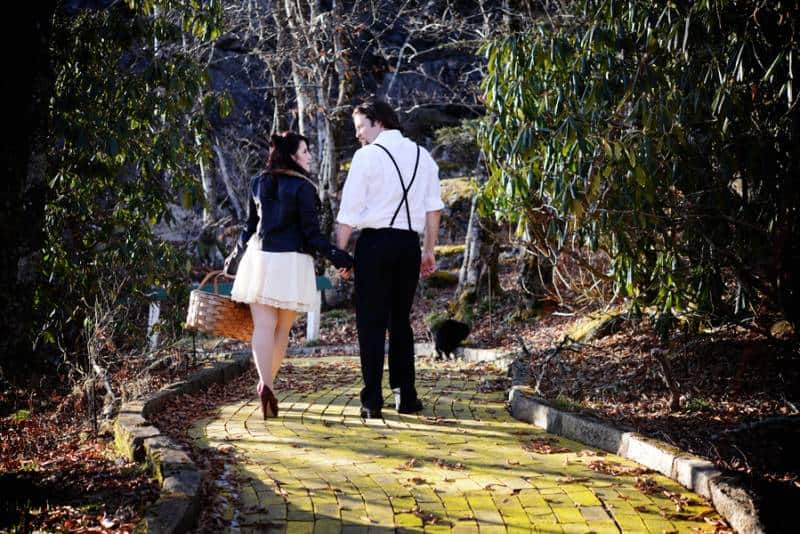 Our Engagement Session Experience:
Veronica was the perfect mix of visionary director and "best friend". We spent the weekend together so we got to know her (long story!). I told her of my insecurities and she assured me we could shoot around them. She was direct as well which actually put me at ease. Some of the shots are candid shots where she just let Jay and I hang for a while, but some are very posed. On the posed ones, she did a great job of taking charge and pushing our limits (it was 36 degrees, but she wouldn't let us give up!). Even when my dress caught on fire, we put it out and she said, "No time for tears. I have photoshop and you have a yellow brick road to walk. Come on, next scene!"
On Posing For the Shoot:
As far as helping other couples relax, just trust your photographer. For women, wear something that makes you feel like the most fun, glamorous or "you" version of yourself. And get your hair and make-up done — that's really fun.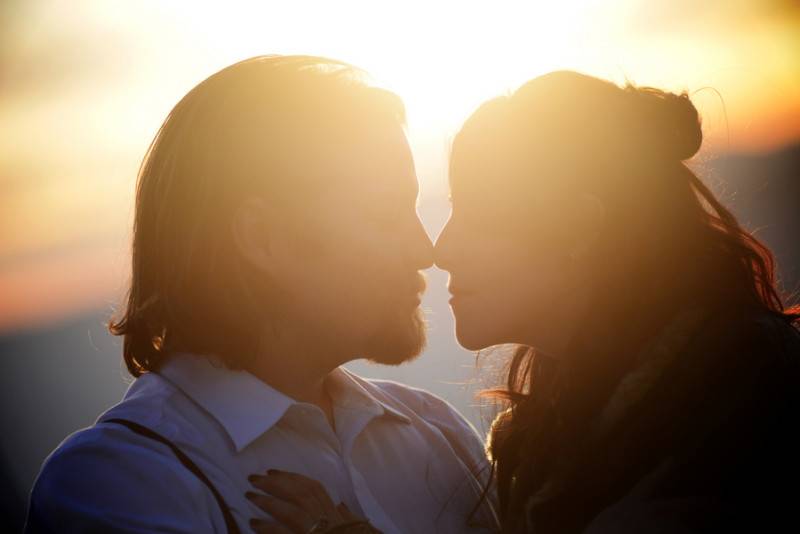 VENDORS
Photographer: VeroLuce Photography