If you're planning your upcoming nuptials, you probably already realize that many elements of the prep process are stressful. But there's one part that's nothing but fun: finding the perfect dress to make you feel like a princess. Whether you bring along an entire gaggle of bridesmaids or try on dresses with just one close friend or family member, it's a special time when the reality of your wedding, and your marriage, really starts to set in.
If you want to make sure that your wedding dress is totally unique from any other bride you know, the easy way to ensure this is to head to a trunk show. A trunk show is a showcase of a designer's new line, typically held at a bridal boutique. Are you new to the trunk show game? Then you'll need a quick crash course in how it works. Here are six things you should know before you head to your first trunk show!
1. Time to Chat with Designers
Other than the products being sold, you could liken a trunk show to a farmers' market. At a farmers' market, you get to interact directly with the people who grow your food — they're the experts. You can ask them any questions you have about their process. At a trunk show, you have direct access to the designer who created the gowns. This makes it easy to get quick answers to inquiries about their materials, altering options and anything else that comes to mind.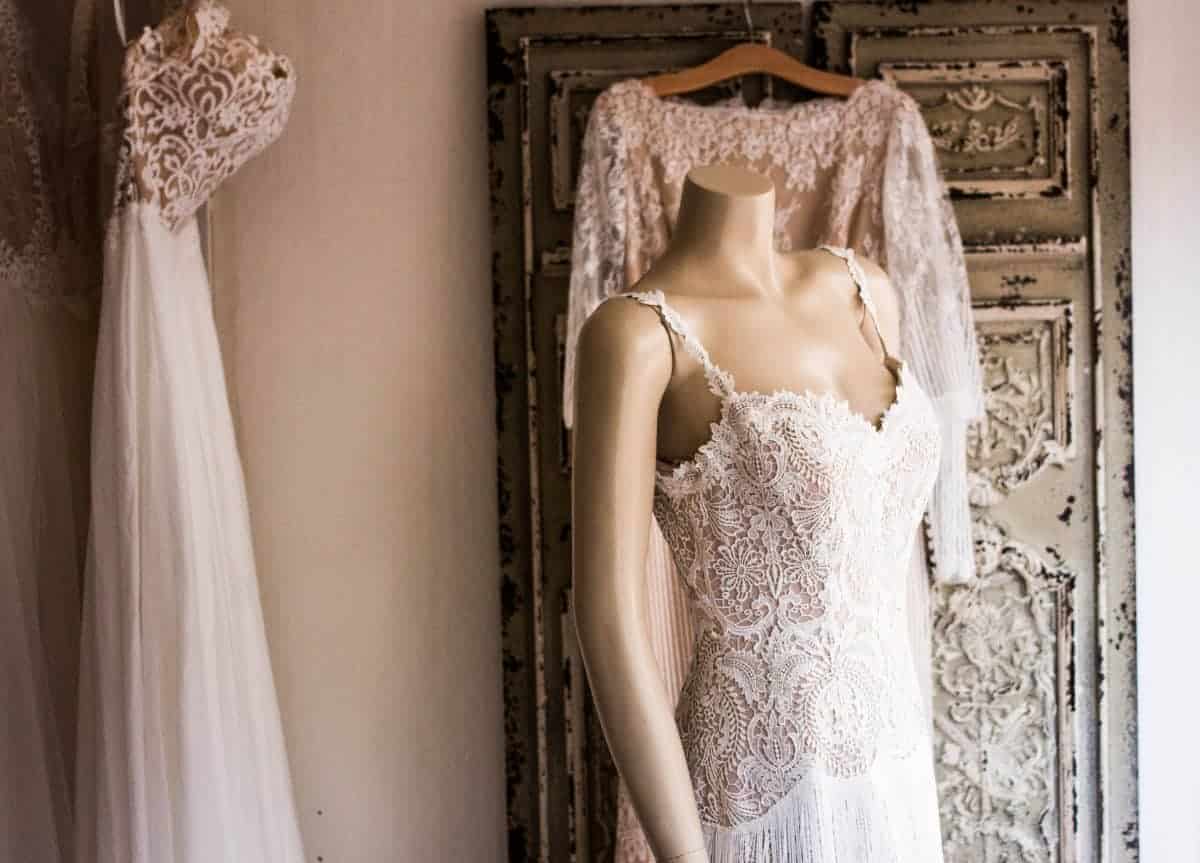 2. Individualized Attention, Low-Pressure Setting
When you make a typical appointment at a bridal boutique, you might feel like all eyes are on you — and that's because they are. While some brides appreciate the special attention, other brides might like the low-key alternative that trunk shows present. When you make an appointment for a trunk show, you'll get personalized help from store associates and designers, but since other brides are on-hand, it's not as high-pressure. That's a win-win situation.
3. Potential Deals and Discounts
A trunk show isn't the same thing as a warehouse sale, so don't confuse the two. It's simply a chance for a designer to get some feedback on a new line of dresses and to treat a handful of women to a sneak peek at the collection. That being said, many trunk shows do offer discounts when you buy something on the spot. Keep in mind that this often comes with stipulations, like no returns or refunds, so make sure you feel confident about your choice before paying.
4. Insider Look at Upcoming Trends
The problem that many brides encounter when buying a dress is that they choose a gown they love early on, and then by the time the wedding rolls around, it's no longer in style. That's not a problem when you shop at a trunk show because these pieces are essentially predicting upcoming trends in bridal design. So even if your wedding is a year away, your dress will still be in style, no matter how contemporary or trendy your chosen gown may be.
5. First Glimpse at New Accessories
It's not just the gown that you can buy at a trunk show. The inventory also includes an array of up-and-coming accessories. Still looking for the perfect veil? Considering a bejeweled headpiece? Need the right sash to accentuate your waist? Chances are you'll be able to find the perfect fit for your style and the vibe of your wedding when you check out a trunk show. And, again, you'll have access to these accessories before any other brides, so you can count on a unique piece.
6. How to Find a Show Near You
Now that you know all the ins and outs of a bridal trunk show, there's just one question left to ask: how do you find one? The answer is simple. First, find a designer or a bridal boutique that you like. Then head to their site and search for upcoming trunk shows. Most retailers make it easy to locate a nearby trunk show by providing a tool that allows you to search by address or by date. While you're on the site, browse for favorite styles so you go to the show with some ideas.
With all this knowledge in your arsenal, you should feel confident and comfortable when you visit your first trunk show. If you do a bit of recon work online before heading to the shop, you should easily find the dress of your dreams. And if you don't, at least you have an expert on hand (the designers themselves) to help you come up with a plan B. So, find a trunk show near you and set the date to find the gown you'll wear when you say, "I do"!