Alex and Lisa thought what better way to celebrate their love for travel and exploration than having a travel-themed wedding. A vintage map, a suitcase, and a globe were present as a wrapper, a card box, and guest book respectively. The antique vibe of the reception gave an additional character and appealed to their wedding. The best part is Alex and Lisa are fans of DIY and got some on their big day. Read more to get the crafty details!
Click image to enlarge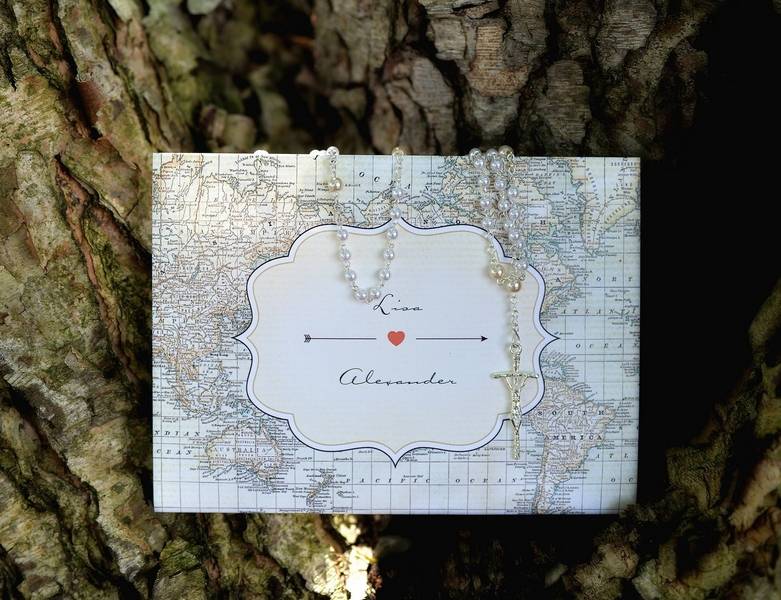 Like. Click to Vote
>
Our Story:
Alex and I met while I was living in Virginia and he was stationed in Delaware in the Air Force. We were set up by a mutual friend and grew very close through email while he was deployed to Afghanistan. A few months after he came back from Afghanistan, he received orders to be stationed in Japan. We decided to stay together even with the distance.
We Are A Perfect Match:
Alex is very calm and steady in every situation. He is always looking at the big picture, and I take care of the details. We love to travel and explore new places and we love being outdoors.
The Proposal:
I visited Alex in Japan in October 2013. We went to a beautiful temple just outside Tokyo, where he proposed right in front of the temple.
The Theme:
Vintage Travel
The Do-It-Yourself (DIY) Projects:
Our wedding was filled with DIY projects. To save money, we did not pay for chair covers, but wanted to do something to make the chairs less plain, so tied tool and silk sunflowers around the backs of half of the chairs in an effort to camouflage the purple chairs. Our card box was a set of three old suitcases that were given to me by my mom's friend. They were sitting in her attic for decades and were in very poor condition. I refurbished the outside of all three suitcases and cleaned up and decorated the inside of one of the suitcases. We brought Japanese candy back to NY with us and put them into small boxes with a map print on them. We tied a luggage tag to the boxes with a "postal stamp" that had our names and date of the wedding.
The Wedding Décor Inspiration:
I took a lot of inspiration from the venue of the ceremony and reception. Both were held in a 100-year-old country club that had a lot of characters and European elegance. I lived in Europe in college, and Alex and I live in Japan now, so it felt natural to have a travel theme to our wedding. Our wedding was on the last day of summer, so we chose dark teal and yellow as our colors and had sunflowers because they were in season.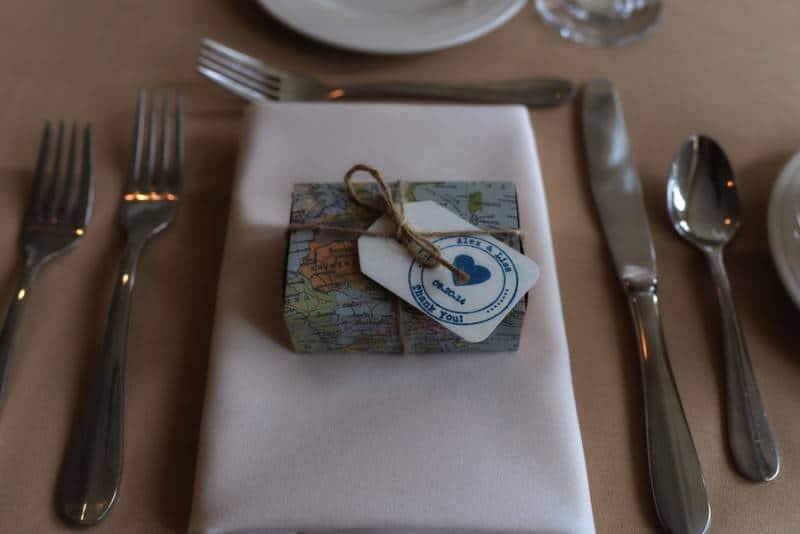 The Planning  Process:
We had just under one year to plan the "big wedding", but we actually were legally married three months after getting engaged.
Best Advice We Received:
The best advice I received while planning my wedding was to make sure all of my decisions were what Alex, and I wanted, not to let people sway us in other directions. I often found while I was planning the wedding that I was leaning towards decisions that would make other people happy, not me.
The Challenges We Faced:
The main challenge I faced while planning my wedding was that I had already moved to Tokyo and had to make plans with vendors and the venue in New York. Tokyo is 13 hours ahead of the east coast so it was a lot of late night phone calls to reach people during business hours in NY. I had a lot of help from my mom in the planning process. She met with vendors for me and passed along the information for me to make decisions. I could not have planned my wedding without her help.
Money Matters:
$20,000 was the budget
We saved the most money with our venue. We had everything there and they took care of food and drinks, as well as had two wedding planners help us with the entire day.
Of course, while we saved a lot of money going to the venue we chose because it included our ceremony, cocktail hour, and reception; it was our biggest expense.
Wedding Day Outfit Inspiration:
Alex wanted to be comfortable on the day of the wedding so he and his groomsmen wore gray suits from Macy's with no vests. I absolutely love everything lace, so that was the one requirement for my dress. I wanted an all lace dress.
The Guest List:
We invited 205 guests and only 108 came. This is because Alex is from Oregon and the wedding was in New York. Many of his extended family members could not make the trip across the country.
We invited our entire families and many of our friends. We knew that a lot of Alex's side would not be able to make it, so we did not try to narrow our list.
The Songs:
Planning Advice For Couples:
Communicate and discuss what your wedding vision is early on in the planning process so that there are no surprises right before the big day.
Favorite Part of The Day:
My favorite part of the day was the first look that Alex and I did. It was just the two of us (plus our photographers) and it was very intimate and just a sweet moment for us. We didn't have a moment alone for the rest of the day so it made this special. I'm very glad I did a "first look".
The Highlights From The Ceremony & Reception:
For the ceremony, one of my oldest friends married us. That was very special to me. We also had my sister and one of his sisters give readings. Our reception was a lot of fun and there were so many great moments. One of the unplanned moments was that the venue had recently installed a fire pit on the back patio and they lit it for us. People really enjoyed sitting around it and chatting with family and friends.
 
VENDORS
Photographer: Kelley Elizabeth Photography
Dress Designer: Allure Gown
Event Venue: Bellevue Country Club