The five words that fashioned this wedding — simple, elegant classy, fun, and party. And yes, Molly and Bhishma achieved every single word they wanted with the help of their amazing team! There are so many things to see in this wedding — from their timeless color scheme of black, ivory, and blush to all their DIY perks. Trust me, you've got to check their list and be inspired. Read along their story and see their happiness through their eyes. A toast to Molly and Bhishma, guys!
Click image to enlarge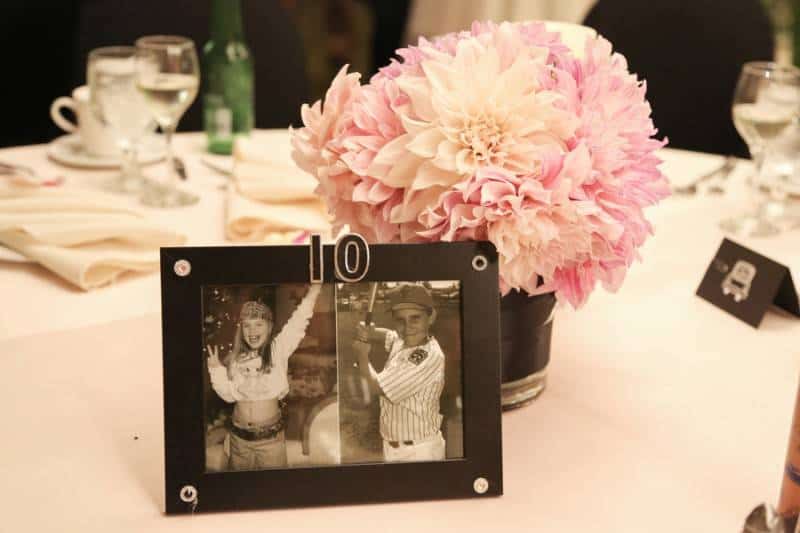 3

Like. Click to Vote
>
The Album Story
We wanted to celebrate our love with our friends and family by having a wedding that reflected who we are as a couple. We love to travel, laugh, be silly, have fun, and just enjoy each day together. We feel so lucky to have found one another.
The whole goal of our wedding was to have people walk away and say they had a great time and that our wedding was so "Molly and Bhishma", meaning you got who we were and the kind of couple we are from all the things we did. I'm pretty sure we accomplished that!
The Theme
There was no specific theme, but as I mentioned, I knew I wanted an elegant and classy wedding. One of my friends suggested that I pick five words or less that I would want to describe my wedding with. I said I wanted a simple, elegant, classy, fun, party. If what we were looking at or planning did not match one of those words, then we did not incorporate that into our wedding. It was a nice little guideline that helped when making decisions.
I chose black, ivory, and blush as my colors because to me those colors are elegant, classy, and timeless. We chose to add elements of fun with the accessories and photo booth and by giving away the gift bags and fun favors. We really wanted our guests to enjoy themselves, and they really seemed to do just that. There were a few hiccups throughout the process, but overall, our wedding truly was a beautiful day and I am so grateful to have had that experience.
Wedding Outfit Inspiration
I knew I wanted to have a simple, elegant, and fun wedding. I didn't want to look back years from now and say what was I thinking? So, I decided to go with Black and Ivory with Blush as my accent color. For my wedding dress, I decided on a princess ballgown style. It just felt right and besides, what other time in your life can you wear a ballgown? The dress was ivory in color. It was a strapless sweetheart neckline. There was rhinestones and beading around the waist of my dress. It was simple, elegant, classic, and beautiful. It was everything I wanted.
For the bridesmaids dresses, we went to White House Black Market. The dress we picked was a black dress with ivory on top with black lace over that. It was a short A-line dress with pockets and was flattering on all shapes. The bridesmaids did not have to wear special under garments and it was comfortable for the whole day. It looked classy and elegant and went well with the style of my dress.
For the Groomsmen, we decided we wanted to have them wear tuxes. We went to Men's Warehouse and went with the Vera Wang Black line. The groomsmen wore black tuxes with a long black tie and ivory shirts. The Groom wore a black tux with a bow tie, black and silver buttons, and a black vest. We wanted Bhishma to stand out a little bit so we varied his look from the groomsmen. They all looked great.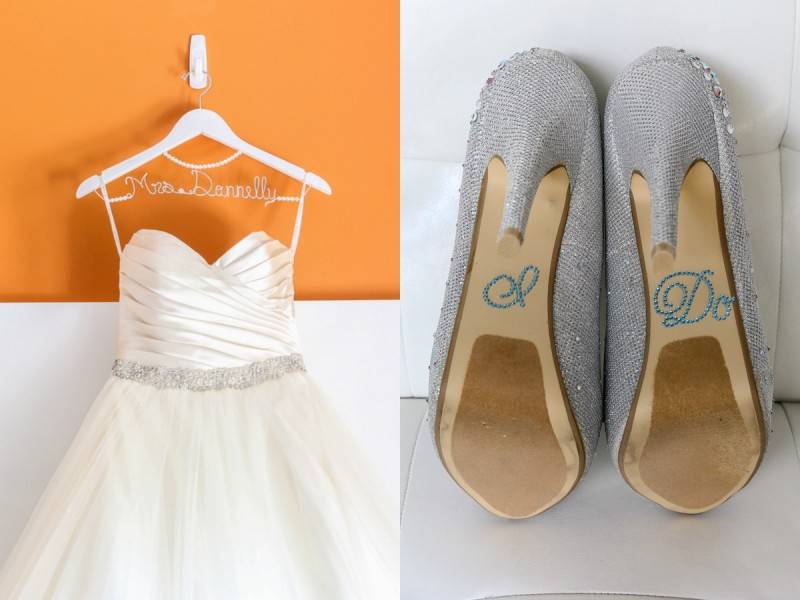 Our Do-It-Yourself (DIY) Projects
We did our own invitations. We went to Michael's craft store and found a black and white damask pattern invitation kit that went well with our color scheme. We were able to make it personal to us and what we liked and we also added humor for our reply cards. We got a blush colored card that we printed directions on. The invitations looked way more expensive than they were and they turned out wonderful. It took a lot of time, but was well worth it. We got a ton of compliments on them.
My maid of honor hand-sewed a line from my first dances with Bhishma and my Dad at the bottom of my dress underneath the layers. When you lifted up the many layers, it read "Together we're Invincible" Love, B and "You are So Beautiful to Me" Love, Dad. It was a personal and beautiful touch that she surprised me with the morning of the wedding. It made me cry.
We made door hangers for our guest's hotel rooms that said, "Please do not disturb, we partied all night at Molly and Bhishma's wedding".
We put together gift bags when people checked into their hotel rooms. We filled them with lots of our favorite treats, as well as water, Gatorade and packets of Advil just in case they needed it from partying too much.
We made a weekend program that we included in the gift bag that gave our guests ideas of things to do in the area and the schedule for the whole weekend.
We set up a hospitality room that was in a poolside room in the hotel that we stocked with drinks and snacks for the whole weekend for our guests. (This was a big hit!) We decorated it with flowers, lanterns, balloons, and signs.
We gave sunglasses as our favors since we were in sunny California and the ceremony was outdoors.
We gave flip flops to the women so they could change out of their uncomfortable shoes.
My sister-in-law made our seating cards. We bought the cards and printed the labels, but she hand stamped each one with a custom stamp. There was a stamp of a bride and groom silhouette on the bottom corner of the front of the card and then a stamp of a little car that had a "Just Married" sign on it on the back of the card.
Our table numbers were black picture frames with black and white pictures of us that corresponded to the age we were at for that table number. I went to Kinko's and copied and re-sized the pictures so they would fit in the frames. I decorated each frame with small rhinestones in the 4 corners.
We gave out light up accessories for our guests to wear at the reception.
We had a photo booth for guests to take silly pictures and they could keep one and then one went in a photo book for us to keep.
The night before the wedding, after our rehearsal dinner, we hired an Irish band to come and play since we are both Irish and I used to Irish dance. It was awesome. My friend and I did an Irish dance together.
My other friend and I have a two woman sketch comedy show that my family from the east coast never got to see, so we also performed that for them.
Lastly, we hosted a brunch the morning after the wedding for all of our guests that stayed at the hotel.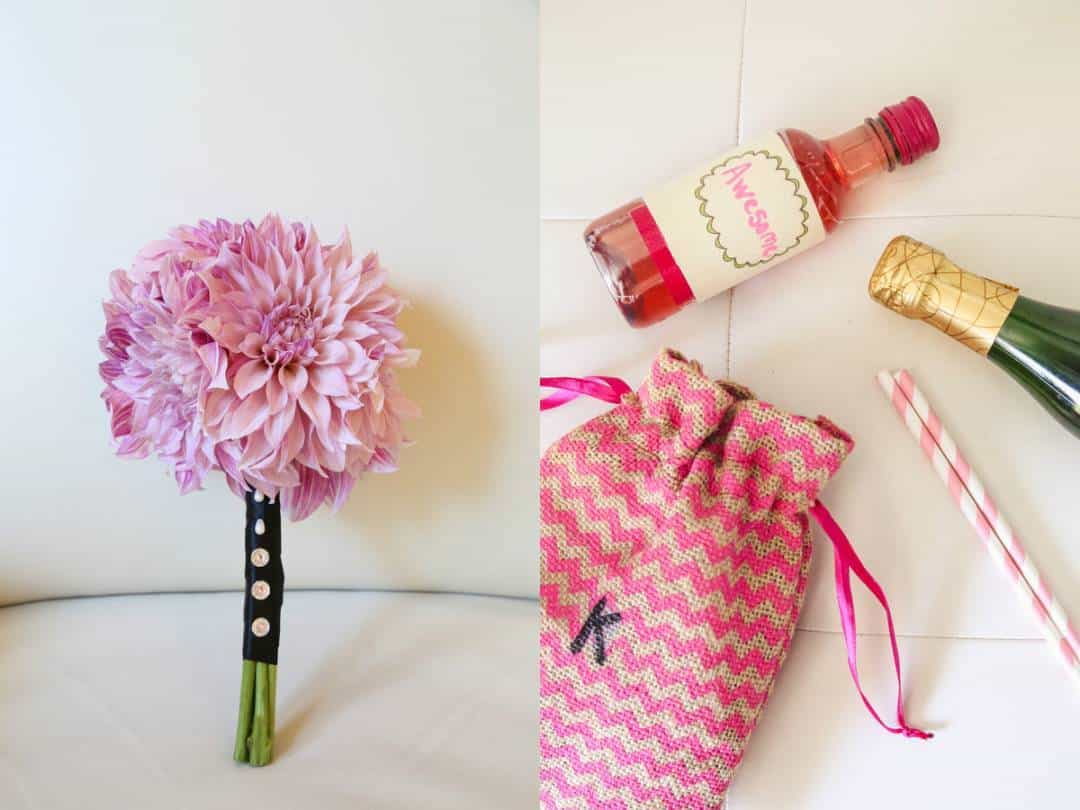 The Songs
I walked down the aisle to a string version of Muse's "Starlight". (Both Bhishma and I are fans of Muse.) We walked down the aisle as Mr. and Mrs. to "Best Day Of My Life" by American Authors.
At the reception, each pair in our bridal party walked into the room to a special song we picked for that specific pair. We walked into "I'm On Top Of The World" by Imagine Dragons.
Our first dance was to "Invincible" by Muse. We always say to one another "Together we're invincible" which is from that song. (We even said it in our vows and didn't know that each other was going to say it because we didn't share them before the big day.)
My Dad and I danced to "You Are So Beautiful" by Joe Cocker and Bhishma and his mom danced to "Unforgettable" be Nat King Cole.
Highlights from the Ceremony and the Reception
For the ceremony, my oldest brother was our officiant. He did an amazing job and had the right amount of humor and heart.
I had my friend read a Bruce Springsteen song as a poem. It's the song called, "If I Should Fall Behind". It was perfect. My other friend played acoustic guitar and sang Ingrid Michaelson's song, "Take Me The Way I Am" during our ceremony.
We wrote our own vows to one another.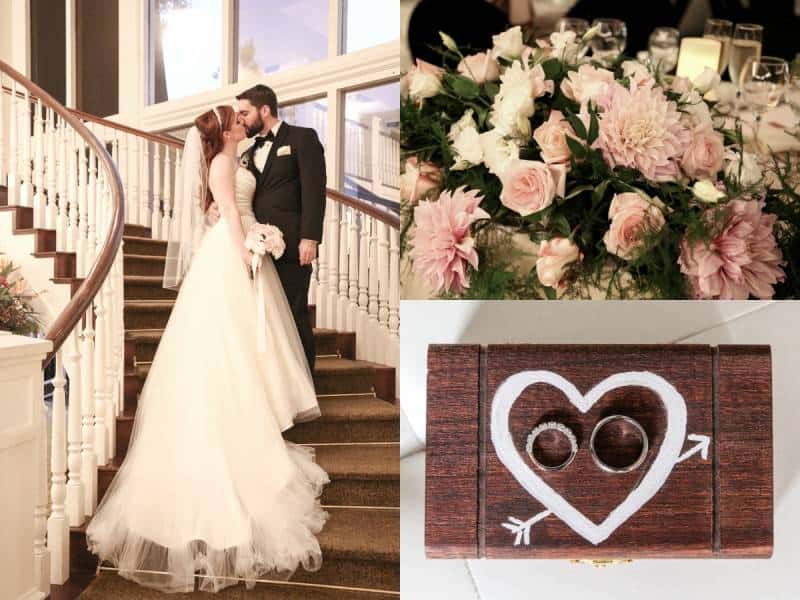 Favorite Part of the Day
Though I loved my whole wedding, my favorite part of the day was the ceremony. It was so personal because we incorporated our family and friends. We also wrote our own vows, and that was a very special moment. I could not believe how amazing his vows were to me. He did a wonderful job. I felt so present and so blissfully happy throughout the whole ceremony. It is a moment that I will never forget.
A Memorable Moment
I think when Molly walked down the aisle that the most memorable part. She looked absolutely beautiful and Bhishma was so happy. You could see it in his eyes. It was so lovely and you can just feel all the love for the two of them.
VENDORS
Photographer:  Elizabeth Burgi Photography
DJ: DJ Andrew Korn
Beauty: Melissa Ortega Make-up Artist
Floral Designer: Mulberry Row
Dress Designer: Winnie Couture
Reception Venue: Sportsmen's Lodge Event Center