Click image to enlarge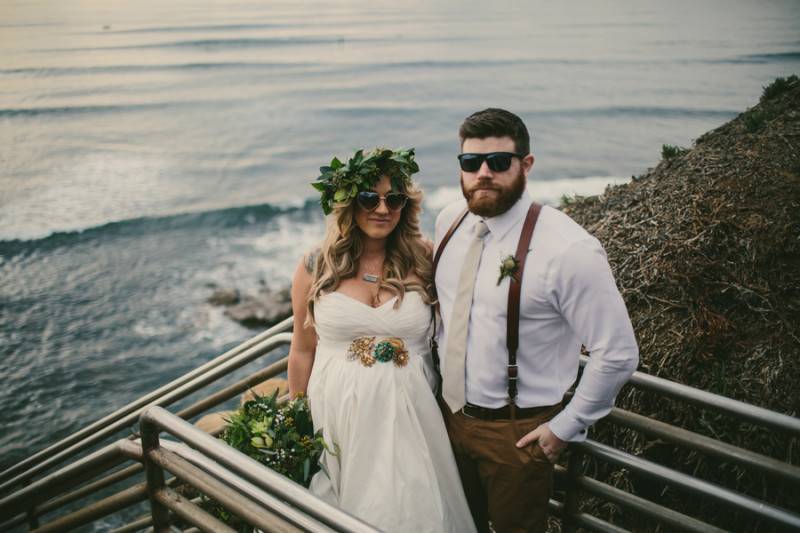 Like. Click to Vote
>
They say that a woman looks her most beautiful during certain notable events in her life – when she's a bride and when she becomes a mom, hence the terms glowing bride and pregnancy glow. So it is undeniable that our bride, who is a new mom of an amazing baby boy, is radiantly perfect during her special day. And I love how they let their surroundings decorate their wedding – no more fuss over niceties. The Pacific Ocean view was majestic, the sunset setting added a nice dramatic lighting, and the rest of the day was just picturesque. There may not be much when it comes to details, but trust me, this wedding is still one for the books. And if you're really looking for something noteworthy, then you'll like our bride's "no flower" bouquet. Anyway, congratulations Lacey & Logan!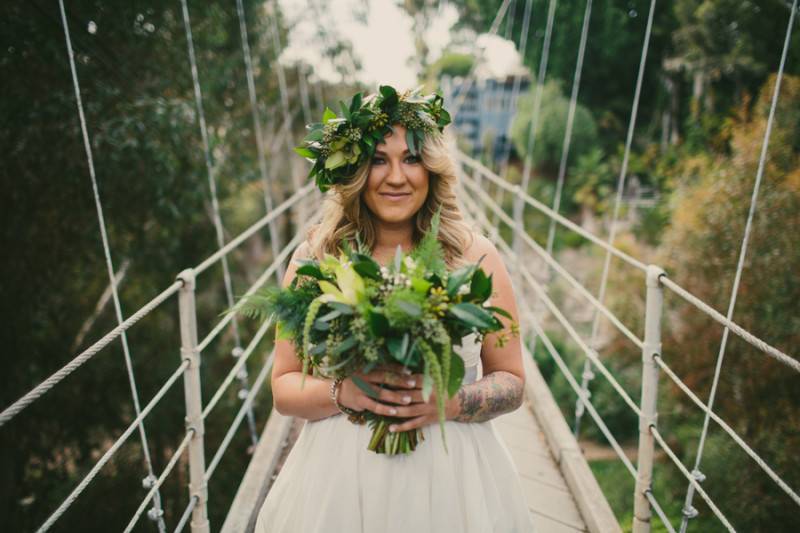 Photographer:
While nearly nine months pregnant with their first child, Lacey & Logan decided to elope rather than waste any more time on the details of a big wedding . They chose the most beautiful location, Sunset Cliffs in San Diego, to say "I do". They had an intimate ceremony as the sun was setting, overlooking the Pacific Ocean. It was a moment full of sincerity and love. It was an amazing honor for us to experience something so pure and beautiful. These two have so much love for each other and their baby boy, Hutch. We spent nearly five hours capturing their special day in their favorite spots around San Diego, completely free from stress or pressure.
Bride:
What made my wedding day so special was the ease and simplicity. It was everything I ever wanted not to mention, drama free! Whenever we talked about our wedding it was, "Well we can't do it there… so and so won't be able to make it, or we can't do it then because this is happening…" I realized those excuses had nothing to do with Logan and I and how silly it all was. We were expecting our beautiful baby boy and just decided to have a special day between the two of us before life as we knew it forever changed. I was in love with the idea! I had a month to put together my dream wedding. I had always envisioned a green wedding with absolutely no flowers and I achieved that with my amazing bouquet and head piece made of ferns, eucalyptus, ruscus, luecadendron, kale, and Mexican babies breath. The pins on my belt belonged from my grandmother and I added to them with vintage pins found at thrift stores. Our ceremony was held at Sunset Cliffs which is also were Logan and I had an incredible first date exploring caves and examining sea life. My number one concern for eloping was documenting and capturing the day perfectly and Yes, Dear. Studio exceeded my expectations!

Vendors
Photographer:  Yes, Dear. Studio
Hair Stylist:  Carlton Hair UTC
Dress Store:  Davids Bridal
Floral Designer:  Green Fresh Florals
Makeup Artist:  Shelby McElroy
Other Location:  Sunset Cliffs Natural Parki