From Trisha: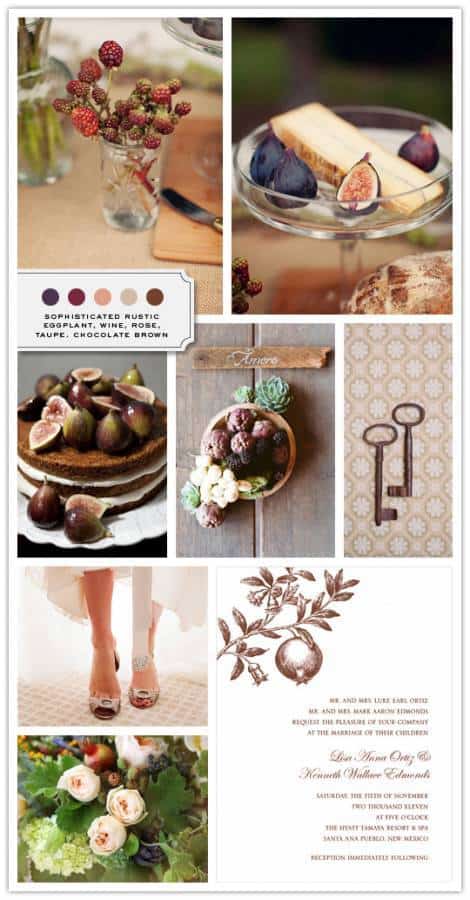 I adore food. If I could, I would eat out every single night and enjoy every bite. My waistband would probably not agree but hey – I love food – the waistband would have to deal. So, because of this love of food thing, it's a bit hard for me to wrap my head around using food as decor, but I think I found myself some ideas below even too stunning for me to dream about snacking on.
Everything about the images I pulled together for this collection feels warm to me. There is a bit of vintage, a hint of sparkle, a touch of home, and flowers full of rich colors. I can't get over the pomegranate, artichoke, berry, green bean situation in the flowers. How could food create such a lush gorgeous display? And the almost naked fig cake? Minimal frosting never looked so darn pretty!
I love how none of the food is trying too hard and wooden accents are able to keep the vibe natural. Berries add just the right pop in perfect places, and the artichokes bring texture into play. I wanted to add a bit of shine with vintage gold shoes, softness with the lace, a rustic edge with the keys, and I am loving the balance. Hopefully you do too!
• • ♥ • •
Inspiration Board Credits:
Berries in Jar, Jodi Miller via Snippet and Ink
Figs and Cheese, Jodi Miller via Snippet and Ink
Fig Cake, A Cup of Jo
Wooden Bowl, Elizabeth Messina
Keys, Elizabeth Messina
Shoes, Elizabeth Messina
Centerpiece, Florali
Invitation, Invitation Consultants
• • ♥ • •
Trisha Dean is a wedding and event planner in the San Francisco Bay Area. A background in graphic design and corporate event planning led to her love of designing and planning weddings. She is the author of Adore and a contributing blogger to Bay Area Bride Guide in addition to the Inspired Bride. She lives in Walnut Creek, California with her husband, daughter, and two cats.