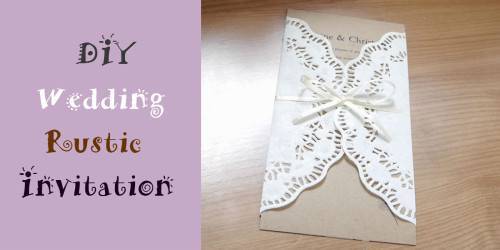 Wedding invitations have huge impact on your guests and give them a hint about the theme of your celebration. If you want your invitation to have that personal touch you really adore, then you can do it yourself. If you have spare some time or you have friends willing to help you, then this would be easy. This tutorial teaches you how to make a simple and pretty DIY rustic-themed wedding invitation.
You need:
printed invitation
ribbon
scissors
double-sided tape
paper doillie
The brown card give the invitation the rustic feel while the doillie has that fascinating effect. Print your invitation on the card before we do this tutorial. You can use a different size for the card but ensure the width of the doillie is two times wider. Once done, prepare the materials. First, lay the paper doillie and place the card at the center. Fold the paper in both sides sealing the paper inside.
Remove the card. Get the double-sided tape. Cut pieces to be placed on every corner of the middle part of the doillie. Then, again, place the card at the center and smooth it down the doillie to secure. If necessary, cut the excess paper over the edges for a smooth finish.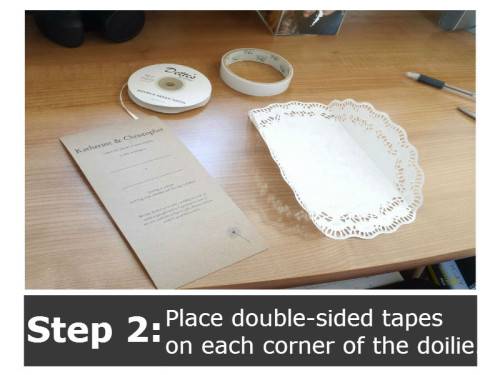 Get the ribbon. To measure the length, just get it around the invitation. Cut it long enough that you can tie the both ends to a bow. Cut a small piece of double-sided tape and place it at the center of the back of the doillie. Carefully, place the middle of the ribbon on the tape.
Turn over the invitation and put tiny pieces of double-sided tape on the edges of the doillie's folds. Put the ribbon over the tape. If the ribbon is secured, tie the both ends creating a bow. If needed, cut the excess ribbon. And, that's it! You have a beautiful rustic wedding invitation.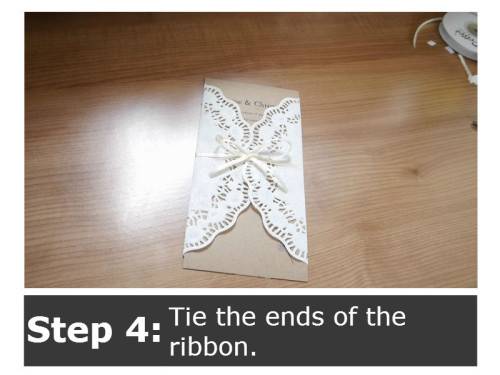 Watch How it is Done
Pin a Bookmarklet with All the Steps Above