Caribbean dancers got grooving down the hall after the wedding ceremony to Lesley- ann and Glen's reception entourage. Since Lesley- ann is from Trinidad, she made sure that her customs are incorporated in her wedding day and goodness, it got everyone hustlin' and bustlin'! Vibrant chandeliers rained down from the high ceiling of the hall that made the entire banquet luxurious. Perked up with ivory blooms, gold cutleries, and pretty little black boxes for their wedding favors are my personal favorite, and it's a surprise of what's inside. Their urban Toronto was perfect in every way. Way to go, Les and Glen! 😉
Click image to enlarge
1

Like. Click to Vote
>
The Album Story
Lesley-Ann & Glen's urban Toronto wedding was a true blending of families, as they each already had beautiful children when they met and fell in love. It was so lovely to see how the happy couple incorporated their children into the wedding day festivities. Every tiny detail was carefully planned by Lesley-Ann & Glen, and the ivory & gold touches everywhere were just perfection! My favorite part of the day as the photographer had to be the Caribbean dancers (a salute to Lesley-Ann's Trinidadian background) as they escorted the newlyweds into their reception and got the party started!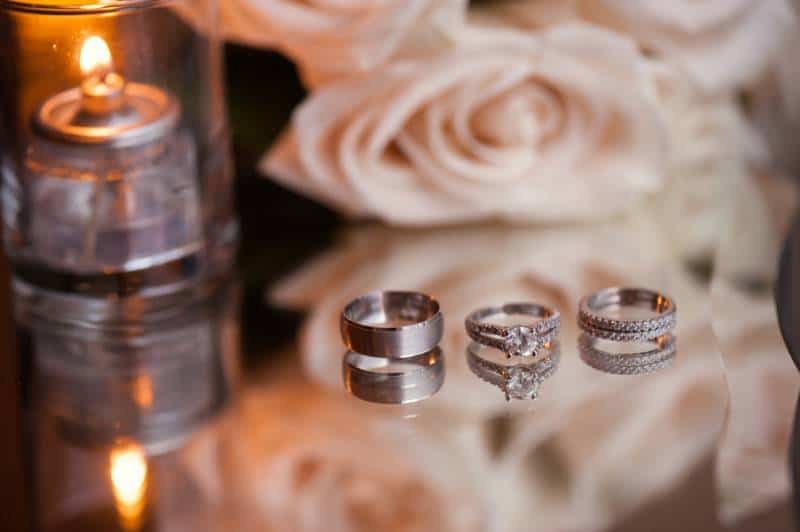 The Theme
A strong incorporation of the couple's children was seen throughout the wedding day. As for colors, gold, black and white were common themes.
Wedding Outfit Inspiration
Lesley-Ann chose her dress based on a vintage art deco style. She fell in love with her dress the moment she saw it. During the getting ready part of the day, the bride wore a beautiful white dashiki that she and her then Fiance bought on a trip to Dubai together. She knew she wanted to be photographed in it on her wedding day.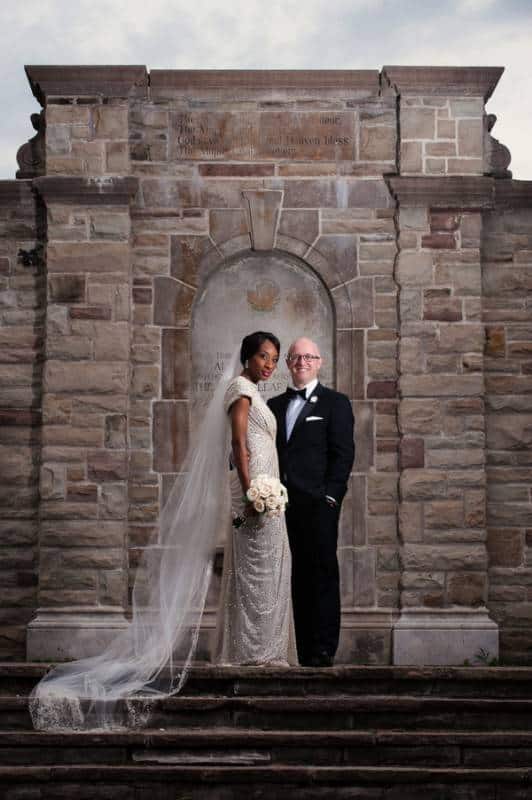 Highlights From the Ceremony and the Reception
The ceremony was a true union of families. Lesley-Ann's daughter was the flower girl and accompanied her mom as she walked down the aisle. There was a lovely blessing of the rings, and everyone present at the ceremony 'warmed' the rings and blessed them for Lesley-Ann & Glen. The family's own minister (from their church) came out especially for Lesley-Ann & Glen to officiate the ceremony.
Favorite Part of the Day
The Caribbean dancers! The colors and vibe they brought was amazing! Totally got the party started and gave me lots of fun moments to capture.
A Memorable Moment
The ring blessing by their parents & children, and having their minister there to marry them.
VENDORS
Photographer:  Lisa Mark Photography
Other: Bloomingdale's
Other: 1987
Event Planner: Fab Fete Event Planning
Floral Designer: Flower Parade
Linens and Coverings: Fos Decor
Makeup Artist: Melanie Sivitilli
DJ: Team Bravo Sound Crew
Bakery: The Cake Box
Restaurant: The Rosewater