Who would've thought that in just four months of planning, Jinhee and Andy's fairy tale looked like it was planned long-term! With the elegance, intimacy, and harmony of all the elements, I'd say their vendors seized what the couple wanted for their wedding. What's cute is how the bridesmaids made their own bouquet the night before the wedding, which turned out like it was professionally arranged by a florist! And when you have a wedding where Frank Sinatra's voice is all over, with the chandeliers and tall windows, then you know you must be in the right place at the right time. Congratulations, Jinhee and Andy!
Click image to enlarge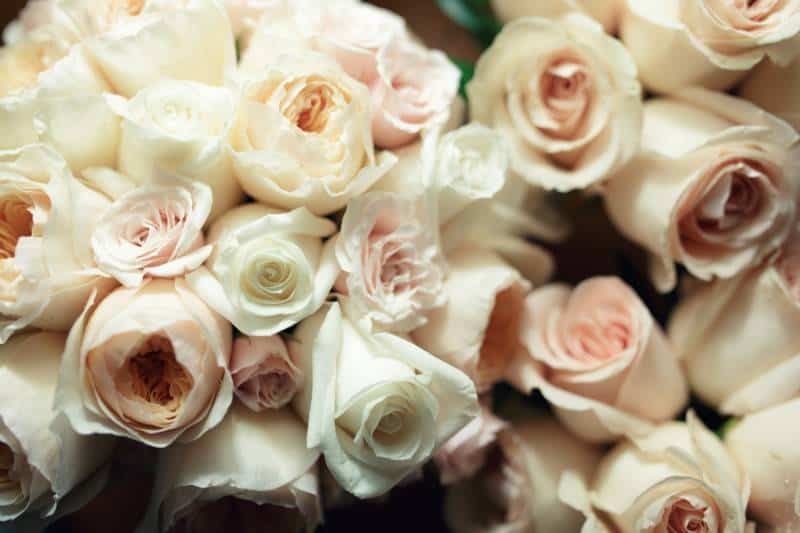 Like. Click to Vote
>
Our Story
Jong and I met 4 years ago, at a Christmas gathering at my house. It wasn't a magical moment for sure. He thought I was nerdy. I thought he was super shy. However, I do remember wondering if we would be friends and what kind of relationship we might have in the future. It was odd that I thought that. 3 years later, Jong proposed to me on Valentine's Day! We had really become each other's best friend by then.
We Are A Perfect Match
Day to day, we are incredibly happy because we look over each other's weaknesses, without keeping count. I also think how perfect we are together because our values and goals in life are really one. We agree in how we use our money and how we interact with others. It seems that we have the same vision for our future. He encourages me to be consistently more generous, more forgiving, and more grateful.
The Proposal
On Valentine's Day, Jong bought me a box of Godiva chocolates. We chose one to share. After sharing one, he commented that tea would go well with chocolate. I agreed and went off to make some tea for us. When I came back, we settled to have another piece of chocolate.
When I opened the box, there was a little box inside where the first chocolate had been. Confused, I pulled it out and there was a ring inside! (Meanwhile, a consistent autoshooting camera (which he had purchased for this occasion) was going off, adding to the confusion of the moment!) He told me something I cannot remember and asked me to marry him!
The Planning Process
We got engaged February 2014 and married in June that same year! Planning was 4 months long. It was enough time for me because I am very simple, but I can see why such a time window would make many brides anxious.
The Best Advice We Received
To enjoy the moment and not sweat the small stuff. I might have taken this too far, making many friends around me worried for my sake!
Tips & Tricks For Future Brides
One of the favorite parts of my wedding was the night before. My bridesmaids spent the night over at my house and we created our bouquets and the boutonnieres for the next day. We had a lot of fun doing this and soon they were exclaiming, "My bouquet is awesome!" It made the bouquets so much more meaningful to the event, and it saved us so much money!
The Challenges We Faced
The biggest task on the list is to find a venue. Being in New York City, some weddings quoted to me were over $50,000. Even so, when I saw photos of the gorgeous One if By Land restaurant, I did not hesitate to reach out to them. I am so glad I didn't!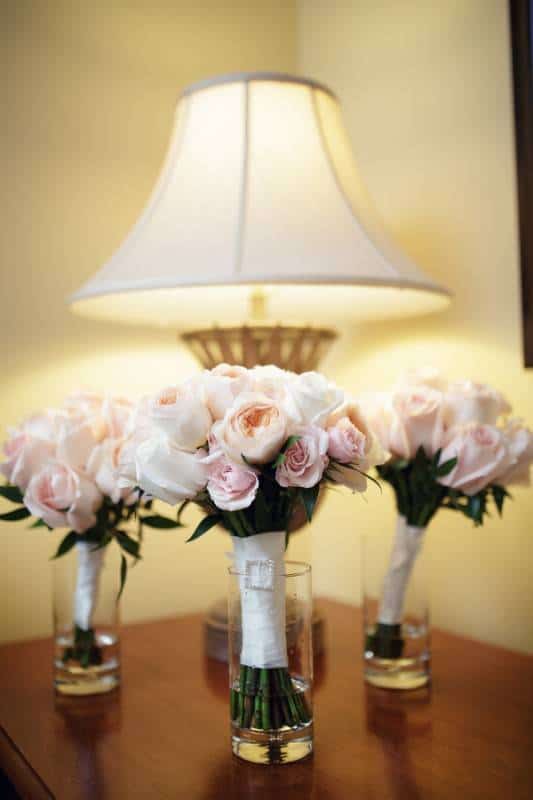 Wedding Decor Inspiration
I knew that I wanted to have a different kind of wedding, one that wasn't grand (ex. banquet halls with columns and marble floors), but something that was elegant, intimate, and lovely. The amazing location of our wedding itself was enough to have an instant gorgeous wedding! The chandeliers, brick walls, tall windows, and garden outside of them set such a beautiful, rustic mood. I didn't have to provide any decorations.
Wedding Outfit Inspiration
It was very hard for me to find my dress. I thought that perhaps I would not find that perfect dress, especially since I'm not a dress-wearer by nature. I was looking for a dress that was simple- very simple- but elegant and lovely at the same time. When I found this Marisa dress, I felt it was just that! Without fancy embellishments, it still is so lovely just by the quality of its material and the softness of its design.
ASH Italia shoes are comfortable, stable, and beautiful. These suede shoes are a favorite of mine. Jong purchased a Theory suit with a black slim tie from J.Crew. Bridesmaids and groomsmen were asked to purchase (or choose) a dress/suit that were in a range of color scheme provided. I enjoy the look of mismatched dresses that complement one another. I think the final look was perfect!
Our Do-It-Yourself (DIY) Projects
I wanted a simple veil without embellishments, which was hard to find. In the end, I bought tulle and with the help of a friend, we cut one out. The bouquets and the boutonnieres were made by the bridal party. I created the programs through Zazzle.com. We created the board that displayed our favors (magnets) and packaged our other favors (water beads).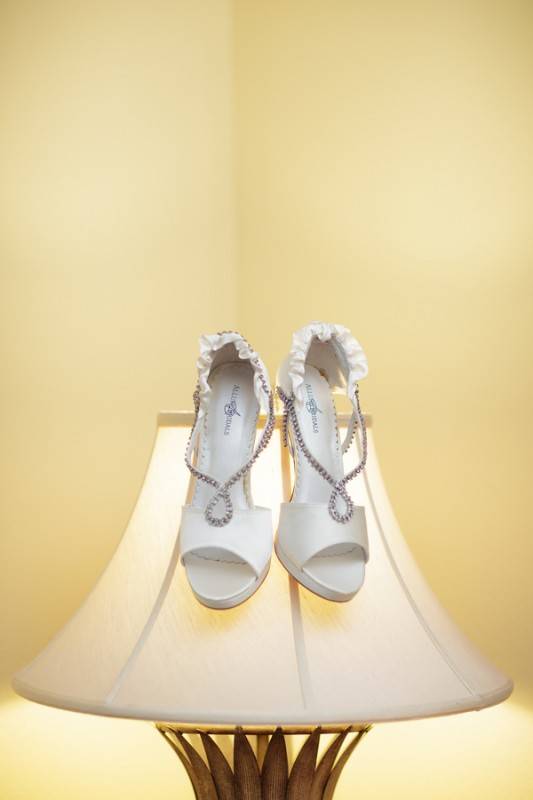 Money Matters
The wedding budget was $8000.  I would say that the venue saved us an incredible amount of money. However, DIY projects- such as letterpress invitations, veil, bouquets and boutonnieres, and other little details provided great savings as well. The venue for the ceremony and the reception was our biggest expense.
The Guest List
I'm not sure how many we invited, but the final guest count was 58 people. We kept it very tight because we wanted an intimate wedding. Everyone who attended was a close friend or family member of either one of us (or both).
The Songs
Bride's Entrance: Knowing You- Graham Kendrick
Recessional: When You're Smiling- Frank Sinatra
First Dance: Better Together- Jack Johnson
The Honeymoon
We spent two weeks traveling all over Turkey!
The Next Step
I'm excited to spend the quiet moments with my new husband.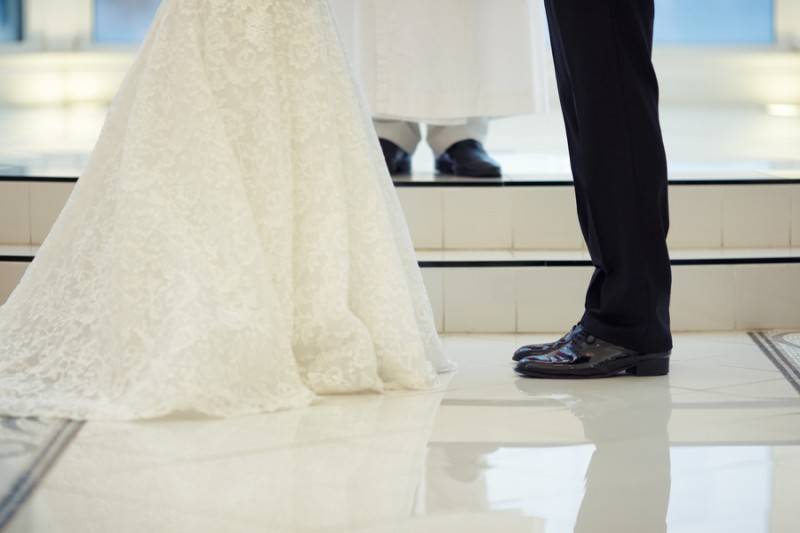 Planning Advice For Couples
Don't get overwhelmed! I think not taking on too much, but what will not stress you is a good idea. There are many ways to save money. Good luck! 🙂
Highlights from the Ceremony and the Reception
One highlight is watching my grandfather dance with my matron of honor/cousin. I didn't know he had such moves! Another memorable moment is the special song performed by my brother and a friend. He had taken the song "Moon River" and added a verse personalized for us. He had a hard time singing through it, and in the end, we were all moved to tears. It was very special to me.
Favorite Part of the Day
I can't say I had one best moment! Every part of it was filled with such love from those around us celebrating our day.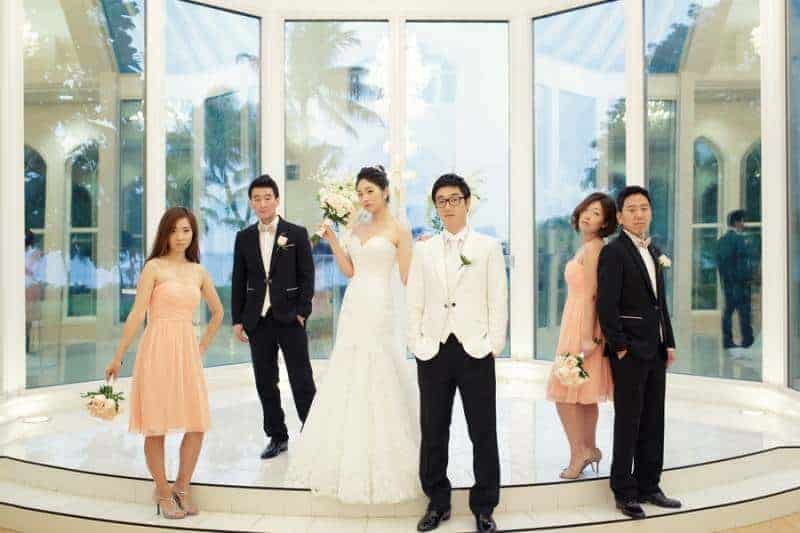 VENDORS
Photographer:  Weddings by Hanel
Reception Venue: Disney Aulani
Event Planner: Karissma by Best Bridal Hawaii
Dress Store: La Bella Bridal Boutique