Click image to enlarge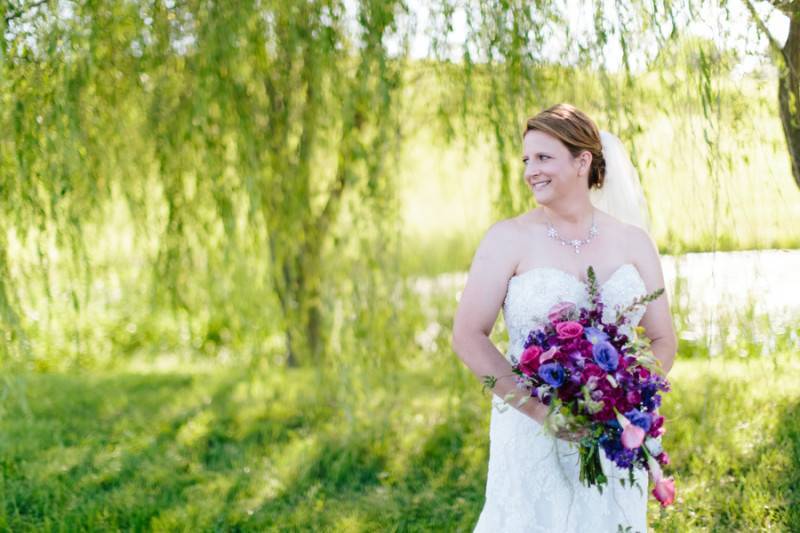 Like. Click to Vote
>
The scenic vineyard location and the wedding's color palette go hand in hand together. I don't know if it was intentional but I love how they made use of colors from different kinds of grapes (purple, plum, red, red-violet) which is incidentally, an ingredient of what their venue is known for – wines. This created some beautiful and rich pops of color. Not too overpowering that the scene is shadowed but visible enough to become lovely accents. And before we let you read the groom's account of this special day, look out for the quirky and naughty cake topper! It definitely made me giggle. Congratulations Beth & Chris!
Groom
What is your story as a couple, how did you meet & fall in love?
We aren't exactly sure about when we first met but we do tell this story: We were both working for ESPN on the ACC Basketball package in the beginning months of 2011. I had been off the truck for a couple of shows and Beth was working with another EIC. This engineer had given Beth permission to leave a small, 4 cup coffee pot onboard to heat water for tea as most of the crew drinks the more readily available coffee. When I returned, I discovered the personal appliance while setting up the truck for a game at Duke. To my line of thinking personal items were not meant to be stored onboard because of the shift in responsibility and the fact that we can have upwards of 50 crew members working the truck in any given week. If we were to allow everyone to leave something it becomes unmanageable. I strongly expressed my displeasure and my opinion and insisted that the coffee pot be removed at the end of the day; taken aback Beth complied. In the following days she came back to work on my truck and told me that she had had a nightmare about the situation, I was incredulous but when the
story was confirmed by the producer Kim Belton, I was remorseful. I sought the advice of Susie Fisher on how to make ammends; "She likes wine! and maybe you can offer to share a drink with her to apologize." (crafty female) I bought a bottle of Conundrum and presented it to Beth as an apology and mentioned that maybe we could share a glass when the opportunity arose. The Fisher's were hosting a Super Bowl (trademark NFL) party and the whole of the North Carolina crew was invited. We were both in attendance and had a couple chances to
chat while waiting for the bottle to chill. When we went looking for the bottle to share, we were told Kim had drank it! The season ended and we went on our ways. We met again at the NBA Finals in Miami that June; we picked up where we had left off. I told her of a little Italian place my associate Jimmy D. and I had eaten at and offered to take her there if the teams returned to Miami from Dallas, when we would have some time. She agreed and they did indeed return. I called to make reservations but alas, the restaurant was closed on weekends. We found a place, Truluck, within walking distance. After a 4 1/2 hour dinner we had the beginnings of what is turning out to be a loving relationship.
How did you propose?
We have been talking about this event for quite some time; if fact it began jokingly as a far off date, 12/13/14, that I put in my calendar that said 'Marry Beth'. The next major step came when we went to CrossKeys for a Tapas & Wine event and saw how beautiful it was and how well it would showcase the area we call home. We went for a "look see" and they had an advantageous date open and an Event Manager named Katie; SOLD! Yes, we had a venue before a ring but that was soon rectified. We found a ring that we loved, that I was proud to present and that she wasn't afraid to wear! All that was left was the presentation. It happened that we were both working an event at "ground zero", what comes to mind as the beginning of our relationship, Duke Basketball'sTV compound. I was there, she was there, the ring was there. Having had Grand Visions of posting a graphic on all the monitors in the truck but not everyone would be in the truck after lunch so, lunch it was! I got everyone's attention by pacing around and then asking for everyone's attention, got down on one knee and asked my most beautiful, beloved, best friend to be my wife. She graciously accepted and here we are.
How long was the planning process? Did you think it was enough time?
With our schedules, we pretty much had to get married this summer or wait until next summer. After we decided that we didn't want to wait more than a year, we decided that we would get married in 6 months. It was a busy time, but I am glad that the process wasn't dragged out.
What tips & tricks (can we use "hacks"?) can you share future brides that you yourself have learned during and after your wedding?
We decided to hire professionals who know their craft and let them do what they do best. I think having people who have experience was the best thing we did.
What inspired your wedding décor? Why did you choose the things that you did?
We kept the decor simple. The venue was beautiful and needed very little in the way of decoration.
What was the biggest expense?
The venue and catering
How many guests were invited in your wedding and what was the final guest count?
We invited 120. With most of our friends living throughout the country, and summer plans, about half made it to the wedding.
What songs did you use during the ceremony?
We had a basic ceremony. No music during the ceremony. We did have a string trio play before and after the ceremony, and at the cocktail hour.
Where did you go on your honeymoon?
Jamaica
What are you most excited about for the future?
Spending my life with my best friend and playmate.

Vendors
Photographer:  Meredith Sledge Photography
Cinema and Video:  Josh Gooden | Photography + Cinematography
Floral Designer:  Blakemore's Flowers
Event Venue:  Cross Keys Vineyards
DJ:  King Studios