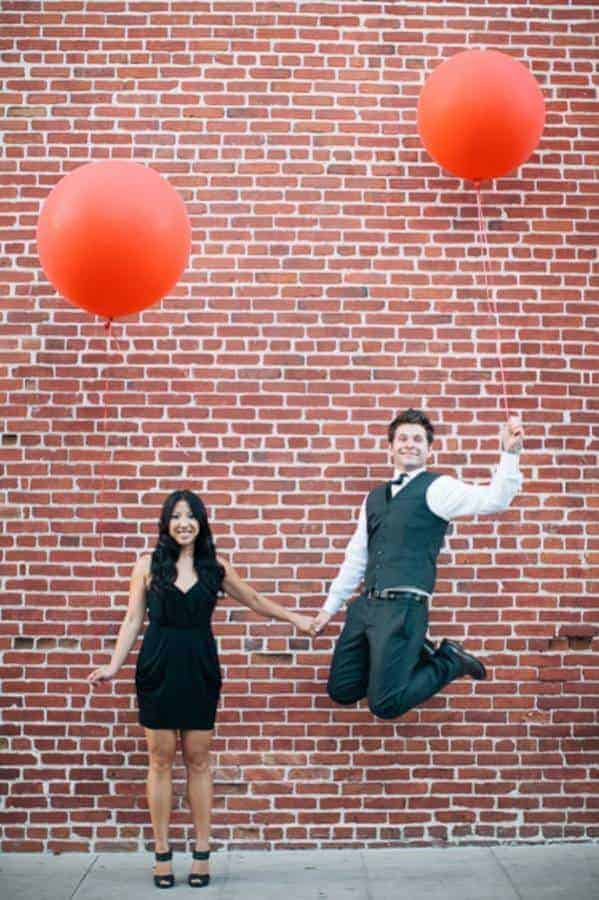 What was the best decision you have ever made in your entire lifespan? For Melody, deciding to be with Enrico was the "best impulsive decision" she has done in her existence & she has no regrets. They make such an amazing power couple. They're both super talented and successful, but they're also down to earth and downright silly. They have this super sweet, intimate way of laughing together at one of their many inside jokes that just totally makes you believe in soul mates. We enjoyed these beautiful shots by Penelope Morgan of this lovebirds  — nothing says urban than the perfect modern architectural backdrops of LA.
What is your story as a couple, how did you meet & fall in love?
I was in Las Vegas for a girlfriend's birthday and Enrico was in Las Vegas for a bachelor party. As we were both exiting a club, he spotted me and asked me to gamble with him. I initially said no. And then in an instant, changed my mind, left my friends and walked away with him. Best impulsive decision of my life. We both lived in Los Angeles and went out on a date the following week. He made such an impression the first few dates. Romantic walks along the Santa Monica Pier and then on a 4 hour drive to the Sequoia National Forest. We had both just become newly single and weren't looking for anything serious but it didn't take long to realize that our chemistry and connection was extraordinary. Falling in love was the easiest thing to do with each other.
What was the best advice you received when you were planning your wedding?
Having a destination wedding vs. having a wedding in California was the biggest decision we had to make and we knew a Caribbean wedding would drastically downsize our guest list. Ultimately, though a bit cliche, a common thread of advice was to do what WE wanted and to not ask for other people's opinions when making such significant decisions because at the end of the day, the ones closest to us would be there and those who could not, would still be there in spirit. We ended up going forward with a destination wedding because Enrico's family is from Germany and the Dominican Republic is about mid point for both sides to travel. Moreover, a destination wedding would allow for Enrico and I to spend more time with those who we rarely see and for us to have more than just "one big night" with friends and family.
What makes the two of you a perfect match?
Words cannot express our compatibility and love. Our relationship is easy. We wake up together, we go to sleep together, and in between there are so many kisses, hugs, and "I love you's." We don't fight about differences of opinions, we focus on what we love about each other and we have common interests. We are super silly, we laugh a ton and our affection for each other grows stronger by the day.
What inspired your wedding decor? Why did you choose the things that you did?
I wanted everything to be simple, delicate, and vintage. I didn't spend too much time obsessing about wedding decor or theme. I utilized Pinterest quite a bit. Saved images and ideas of the decor I liked and sent it over to Mayte, the most amazing wedding planner. She then put together the decor based on images I sent and the rest is history.
Do you have advice for couples still in the planning process?
When most women get engaged, her mind is running 24/7 about weddings. However, the mind of a man may not be the same. It was important for me to realize how much wedding information to present to my fiance at the end of each work day and to know when to present more or less based on how stressful his day at work was. I valued his opinion and I wanted to be sure decisions were made when we both were in a positive mood to discuss our wedding details. I didn't want the wedding planning to be a negative or stressful duty.
What was the wedding budget?
$30,000 was the budget. We spent approximately $35,000.
Where did you save the most money?
We actually saved the most money having a destination wedding. This drastically cut down our guest list. If we had our wedding at a resort, it would have been even less expensive but as soon as I stumbled upon The Jellyfish Restaurant, my heart was set.

Can you share some tips or tricks that you learned along the way leading up to the wedding or after?
There is a blog for everything wedding related. If you don't know something or can't decide , search it on the internet, and you'll find more answers that you need.
Since we were having a destination wedding, I thought our wedding would be at a resort. But after countless hours of researching resorts and their wedding packages, what I found to be the most helpful was watching wedding videos that people took at the resorts I was interested in. I realized that I didn't want a resort wedding because you cannot control passersby, the noise of a resort or potentially half naked people in the ocean wading in the water and infiltrating all your photos. Watch as many videos as you can to solidify if this venue is the perfect one!
On the big day, relax, and let everything be done for you. All the work that you could have possibly done was done. Everything may not be perfect, but there's no sense in stressing out over the minor details. You're surrounded by your closest friends and family. Soak in the spot light because it will be over faster than you think!
Where did you go on your honeymoon?
We have not yet gone on our official honeymoon. Next year we plan to visit either Bora Bora or Fiji, and then to Germany to visit his family and extend our trip to visit England and Italy.
What are you most excited about for the future?
We are excited for the time when we are ready to start a family. We cannot wait to introduce our future children to my Chinese American heritage and his German heritage.
How many guests were invited in your wedding and what was the final guest count?
Number Invited: Approximately 65
Final Guest Count: 44
Was it difficult to narrow down your guest list?
Being that our wedding was a destination wedding, we knew our guest list didn't have to be narrowed down too tightly. We knew that many of our friends and family would not be able to make it due to family, finances and time off work so we were never afraid of going over budget due to having too many guests.
What songs did you use during the ceremony?
Processional Music:  The Book of Love: Peter Gabriel (Instrumental) & Stand by Me: Ben E. King
Bridal Entrance Song: Marry Me – Train
End of Ceremony Song: Good life: One Republic
What was your favorite part of the day?
Walking down the aisle with my mother and father, and seeing everyone standing, smiling in our direction.
Fist pumping on the floor!
What were the highlights from the ceremony & reception?
At most weddings, there are usually one or two speeches that could have been without. And I swear I'm not biased! But all of the toasts that were given during the reception were so eloquent and filled with such kind words and also evoked so much laughter.
Dancing on our dance floor, on the beach, and to house music. Children, friends, and older adults were all dancing, jumping and fist pumping to the up beat music.
Vendors:
Photographer:  Thousand Crane Photography
Other Location: Los Angeles Union Station