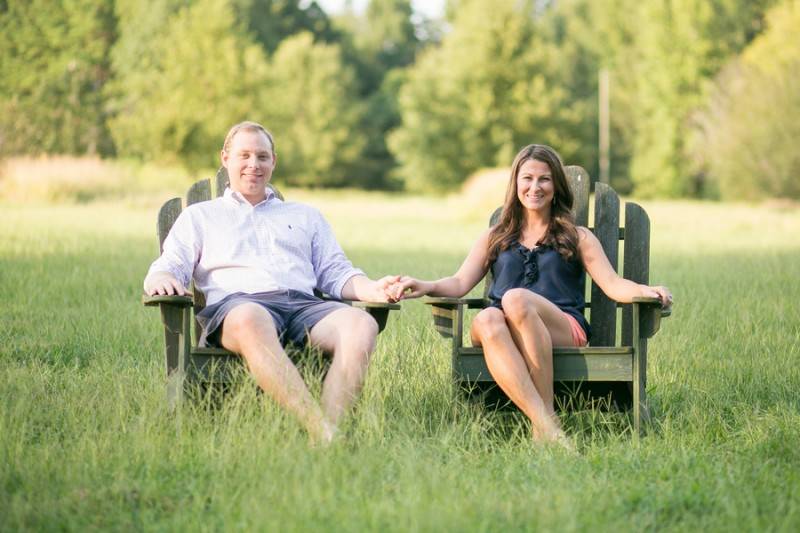 When I think of "happily ever after", I don't think of princesses and princes getting that magical kiss and dancing away in their magical castles. Happily ever after for me is a picture of a couple who has been through thick and thin, spending the last days of their life together, and reminiscing all the good and the bad. And I truly believe that this couple, Mary & Ryan, is on their way to being that. This engagement shoot is the start of their happily ever after. That picture of the two of them on a deck chair feels like a premonition of what they will be decades from now, happy and sitting together, still blissfully in love. And it doesn't hurt to point out that they are a good match for each other, for they have similarities and differences on the things that count.
Congratulations Mary and Ryan! Our couple will wed on May next year.
What makes the two of you a perfect match?
Ryan and I are the perfect match because we compliment and challenge each other idyllically. We have the same ideas on what the core foundations of a relationship are. We value the importance of a strong family base, have similar political ideologies, and agree on the importance of friendship and the meaning of true love. We have different hobbies and interests but challenge each other to think from a different perspective, try new foods, go new places, and experience new activities. We enjoy each others company, crack each other up, rely on one another, trust each other and love each other unconditionally. We make up for each others shortfalls and balance each other out to be well rounded absolute best friends. It doesn't hurt that we both LOVE dogs, too.
What was the best advice you received when you were planning your wedding?
You always hear the typical answers, "don't sweat the small stuff", "remember to breathe", "soak it all in – it goes by so fast". While this advice is definitely helpful, the best piece of advice I received came from one of my best friends and bridesmaids. – Make sure you remember to include your Dad – This really hit home for me because I love and appreciate all that my dad has done for me in my life and I want to make him feel as special as he has made me feel for the past 26 years. It is very easy to get swept up in the craziness of planning the wedding and getting ready for your big day, but it is extremely important to remember this is a big day for your dad too. So acknowledge his efforts and his lifelong support, show him how much you love and appreciate him and remind him that you will always be his little girl. If you are lucky enough to have a dad  like mine, consider yourself blessed because having him there makes it that much easier to not sweat the small stuff.
What inspired your wedding décor? Why did you choose the things that you did?
We both grew up in Georgia and have always been fond of the grace and elegance of old southern traditions. We are having our reception at Cherokee Town and Country Club where we both grew up going with our families. We chose this location because of the significance to us and our families and the way the club exudes southern charm. The wedding will be black tie, with Ryan in his white dinner jacket, in May 2015. We have chosen french blue, ivory, blush, gold, silver and sage green for the spring affair to compliment the elegant ballroom. We chose to go with heavy hors d'oeurves, carving stations, and an open bar to give people the opportunity to eat when they wanted and dance when they wanted. We wanted a timeless, classic wedding while still being a down home party!
How many guests were invited in your wedding and what was the final guest count?
We invited almost 300 people to our wedding.
What songs did you use during the ceremony?
We used Pachelbel's Cannon in D for the processional, Trumpet Voluntary for the Brides entrance and Trumpet Tune and Bell Symphony for the Recessional.
Where did you go on your honeymoon?
We are planning on going to Hermitage Bay, Antigua!
What are you most excited about for the future?
I am most excited about spending the rest of my life with Ryan, starting a family, and living happily ever after.
Do you have advice for couples still in the planning process?
Understand that you cannot please everyone! It can be overwhelming and nearly impossible to completely accommodate every guests wishes. Take your parents, groom, grandparents and in-laws in to consideration and try very hard to keep them involved but understand everyone has their own style, opinion, and taste. Also, don't take Pinterest too seriously. Majority of the weddings featured on Pinterest are styled shoots with models, unlimited budgets, and elaborate flowers and event spaces. Do not compare your wedding to these ones! Your wedding will feel like a million bucks and be special because of all of your friends and family attending, getting to marry the man of your dreams, and the love surrounding everyone there.
Vendors
Photographer:  Jill Doty Photography