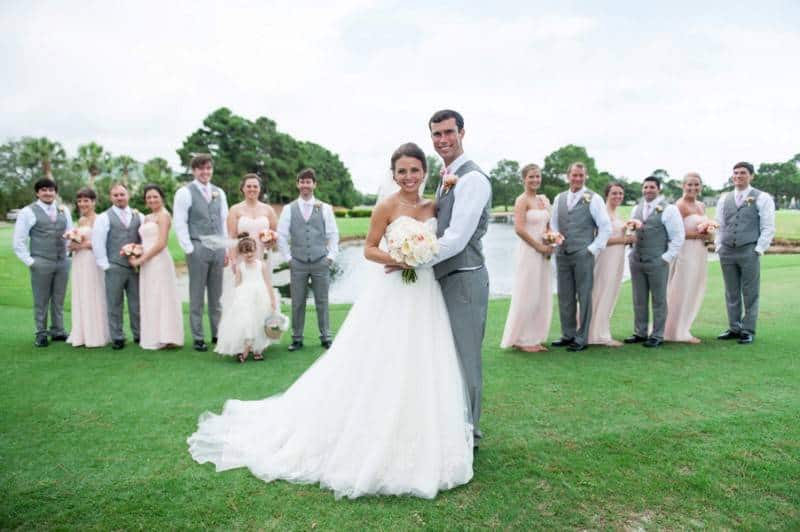 Nothing is more romantic than falling in love & marrying your best friend. For Maegan & Ryan, it all fell into place at the right time. They met while working as nurses at the same hospital in Birmingham. There was that undeniable instant connection between them that made them click right away. They were inseparable right after their first date. They also like going on different adventures together. And during an 18 day backpacking tour in Italy, Seneca proposed to Maegan while they were on a romantic gondola ride around the canals of Venice. Planning their wedding was easy & stressful at the same time. They both knew what they wanted to happen during their very special day. Maegan loved pink & all things girly. And they both love the beach. They have shared a lot of good memories as a couple at the beach. So their theme revolved around "pink at the beach". They also had quite a number of DIY projects such as the fan programs, the wooden signs put out at the beach ceremony, the mason jar flower holders & the old window frames which they attached photos to & displayed at the reception. Thank you Cotton & Clover Photography for making us gush over the soft romantic details of this lovely couple's wedding day.  And to the happy couple, we wish you both more love & happiness as you start a new chapter in your lives as husband & wife, congratulations again Maegan & Ryan!
What is your story as a couple, how did you meet & fall in love?
We met while working as nurses at the same hospital in Birmingham. After an instant attraction, it didn't take long for us to go on our first date and we were inseparable after that. We quickly became best friends and fell in love. We went on all kinds of adventures together including ski trips, sky diving, multiple beach getaways, Disney World, and an 18 day backpacking tour of Spain, France, and Italy. While on a romantic gondola ride through the canals of Venice, Italy, Seneca proposed!
What makes the two of you a perfect match?
We share common goals and see life as one big adventure after the next. We share similar communication styles that make it easy to stay on the same page most of the time and understand each other's thoughts and emotions. We share similar ideals and ideas about life that keep us focused and bonded. But most of all, we are committed to each other and are always working toward the good of the other.
What was the best advice you received when you were planning your wedding?
The best advice we received while planning our wedding was to HAVE FUN! Planning is inevitably very stressful at times but as long as you keep it all about you, as a couple, your wedding is bound to be a day you will love!
What inspired your wedding decor? Why did you choose the things that you did?
We both LOVE the beach and have many good memories there as a couple and with friends and family. Maegan loves pink and all things girly so that made it an easy choice:  pink at the beach. We both knew that we wanted a Motown band at our reception because, both being Greek in college, we had enjoyed many great times dancing the nights away with friends to Motown bands and wanted our reception to be just as fun and memorable. We decided to add a few rustic touches and used a lot of things that our families already had to decorate with.
Do you have advice for couples still in the planning process?
HAVE FUN and enjoy the process! Remember that this is your day and it only happens once (hopefully). Don't get caught up in trends. Just have the things that you will remember and that will make you happy!
Where did you go on your honeymoon?
We booked our honeymoon through Groupon and went to the Dominican Republic. Great money-saver and SO fun and easy!
What are you most excited about for the future?
We are excited to finish our current great adventure: graduate school! Then we will be on to our next adventure, whatever that may be 😉
What was your favorite part of the day?
Dancing with friends and family at the reception! Aside from saying "I do" of course!
How many guests were invited in your wedding and what was the final guest count?
We invited around 175 guests to our out of town wedding and approximately 90-100 attended our ceremony/reception.
What songs did you use during the ceremony?
Seating of Mothers and Grandmothers- Come Thou Fount of Every Blessing
Processional- Canon in D
Bride's Entrance- A Thousand Years (Piano Guys)
Recessional- Say Hey by Michael Franti
Was there any Do it Yourself (DIY) projects? If so, can you describe them in detail?
We made our own fan programs using cardstock and craft sticks from Hobby Lobby. There are some great tutorials on Pintrest. The wonderful bridesmaids also made the mason jar flower holders using twine and a hot glue gun! They also attached photos to old window frames for a rustic display at the reception. Seneca and his dad made the "Shoes here, Vows there, Love Everywhere" sign for the beach out of scrap wood and Maegan used a paint marker to write the script. Maegan's cousin used a chalk board, chalk marker, and paint to make the "Sandy toes and salty kisses" sign for the beach.
What inspired the wedding day outfits?
Soft and relaxed.
What were the highlights from the ceremony & reception?
We loved having all of our closest friends and family in one place: the BEACH! We also loved our reception band, Brother to Brother (Music Garden). We all had a blast! Having an open bar at the reception didn't hurt either 😉
Vendors
Photographer:  cotton + clover photography
Dress Store: Bella's Bridal & Formal
Floral Designer: Celestine's Special Occasions
Reception Venue: Sandestin Golf and Beach Resort