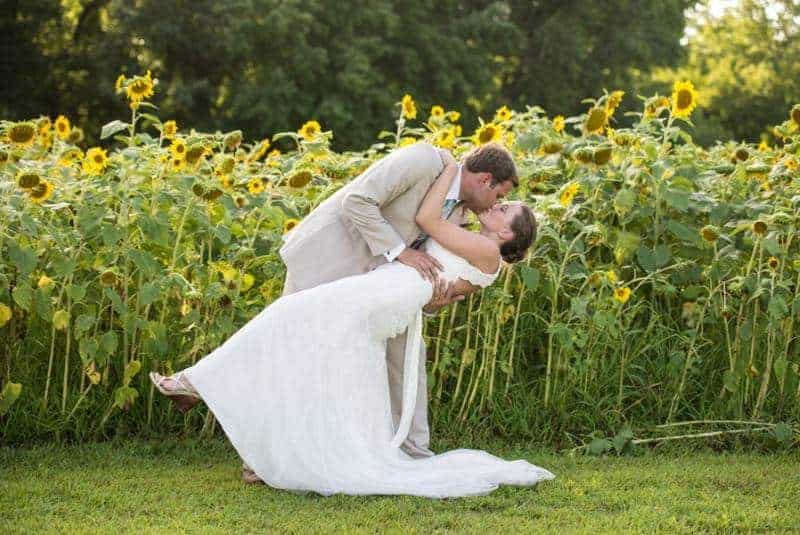 Kasi & Robert actually met during their first grade. But didn't become acquainted with each other until later on in their lives. They were always in the same circle of friends so it was only a matter of time before they actually noticed each other. They eventually spoke with one another & realized they had more in common than they thought. Destiny's work at its best, right?
Since their wedding was in a farm setting, they used hay bales for seating & placed quilts on top of them for their friends & families during the ceremony. The favors were actual fruits & vegetables grown from their farm. They cooked the appetizers. The bride even took time to mix her signature drink for all their guests to enjoy. They placed pictures of the couple in mason jars that were used to house the silverware. They beautifully arranged sunflowers from their farm for the bouquets & centerpieces. Almost everything was made with personal touches from the couple which made this day extra special & worth remembering for them. It was truly a romantic & country chic rendezvous! Cheers to a happy marriage Kasi & Robert!
What is your story as a couple, how did you meet & fall in love?
Robert and I met in the first grade. We actually weren't friends right away. We always had friends in common so we were always at the same places and eventually we talked and realized we had a lot in common. It started watching basketball together (obviously none of my girl friends cared about that) and soon we were cooking dinner, going on "not" dates. It wasn't long before we made it official over an at home dinner date.
What makes the two of you a perfect match?
Acknowledging that we are not "perfect" and always trying to meet the other one in the middle.
What was the best advice you received when you were planning your wedding?
The best advice I had wasn't necessarily about planning the wedding but someone told me to make sure I took the time during my wedding to look around and take it all in. I would have never really gotten to see all my hard work come into play had I not taken that advice.
What inspired your wedding decor? Why did you choose the things that you did?
At first we wanted a small wedding: flowers grown from the garden, pot-luck meals, and mason jars (which we already had, my in-laws can a lot of the food they grow on their farm). When we decided we really couldn't leave anyone off of our invite list we wanted to keep that small wedding feeling so we kept some of those details: mason jars, sunflowers from the garden, home cooked food and appetizers, and so many other diy touches so that the wedding could feel much more personal.
Do you have advice for couples still in the planning process?
Remember that at the end of it all you get to marry your best friend. It may rain, your mother-in-law may get her way over you, and the food may not be what you ordered, but its all about celebrating the next chapter in the rest of your life. If you can remember that, you can get through all of the curve balls.
What were some challenges you faced planning your wedding & what would you have done differently to avoid them?
We had the wedding on the family farm, outside, in July. I loved my venue and I wouldn't trade it for the world, but I might have picked my time or even date a little better around the weather and not so much around my favorite numbers.
What was the wedding budget?
The budget started at $5,000 when it was just a small wedding, after it plans started blowing up we got some contributions from all the parents, mainly my in-laws. At this point we just tried to save as much as possible.
Where did you save the most money?
Its probably a tie between flowers, food, and cake. We grew the sunflowers and bought the filler from Sam's club (who knew they did delivery on a specific date of your choosing?) so they cost around $200. We made all of our own food and appetizers so I think that came in around 1000. And the cake cost materials because a family friend (who happens to make my favorite cake) offered to make the cupcakes for me. I think they were around $200 as well (for ~400 cupcakes and a two tear cake for cutting/saving).
Can you share some tips or tricks that you learned along the way leading up to the wedding or after?
Timelines for the bridal parties and parents are really important. I sent out timelines in advanced including locations (to the groomsmen and their significant others just in case) and it really helped those things streamline. Our photographer was also very involved and aware of all timelines and helped streamline photos by having the names of each person to be in each picture. This really helped make the family photos be very efficient.
Where did you go on your honeymoon?
Sandals Whitehouse in Jamaica.
What are you most excited about for the future?
I am most looking forward to us taking time to really grow in the relationship. We will never stop learning about each other and learning from one another and while it can be challenging it is always rewarding. Every time we go somewhere new or try something new we are growing together and its always exciting.
How many guests were invited in your wedding and what was the final guest count?
356 people were invited and around 250 people showed up.
Was it difficult to narrow down your guest list?
It was at first, until we decided a small wedding wasn't going to happen. At the point we also decided to cater the food head count wasn't as important so we let our parents go a little crazy on the guest list.
What songs did you use during the ceremony?
Red Hot Chili Peppers: Hard to Concentrate
Christina Perri: A Thousand Years instrumental
Florence and the Machine: You've Got the Love
What would you say, the overall story for this album?
It rained, a lot, and we still lived happily ever after. A country-chic DIY farm wedding.
What inspired the wedding day outfits?
I made a pinterest board of things I liked and the bridesmaids dressed kept getting pinned. I knew I wouldn't want black suits in July and it was just a personal preference to pick tan.
What was your favorite part of the day?
In the middle of my husband and I's first dance my father-in-law drove past the tent in a T-shirt on a tractor (taking the pig to the food site) and we both just smiled and I said "this is our life". I can't describe why that was such a great moment but I think it really defined our attitude. You have to roll with the punches. Perfection isn't realistic.
Was there any Do it Yourself (DIY) projects? If so, can you describe them in detail?
EVERYTHING. If we bought it, we still added or did something to it. We made the table runners with the lace detail. We made the jelly, that was the favors, from fruit and vegetables grown on the farm over the period of around a year. We made the food, including all 6 appetizers. I made my signature drink (from my favorite drink in Raleigh- The Queen Bee served at the busy bee). We made the programs (so much spray glue and a little inspiration from pinterest) from stock paper and ribbon burlap. We put pictures of us in mason jars to house the silverware we wrapped in doilies. We repurposed old chandeliers to make them all off white and beaded them togive them a romantic feel (they hung over the food in the larger building). We bought, steamed, and set up all the tablecloths. We grew the sunflowers on the farm and made the bouquets and centerpieces the day before the wedding. We repainted all the frames used in the wedding and made chalk board signed out of other frames – making the menus and what to do signs. We made the "pick a seat not a side" sign out of a mirror and placed cardboard that was spray painted in chalk paint in the center then glued black rope around the edge to cover up the edge of the cardboard. All the letter for the signs were cut from a laser vinyl cutting machine that was leant to us for the wedding. I made my brooch bouquet out of family brooches, antique finds, and ebay lots. Each brooch had to be wired in three separate places which were then twisted together. The brooches were then placed all around a silk hydrangea base (I used three flowers) and wrapped in duck tape and ribbon. We bailed the hay that the guest sat on during the ceremony and a few of the quilts were even made by my mother-in-law for the ceremony. I'm sure I'm forgetting something at this point…

What were the highlights from the ceremony & reception?
When I stepped off of the horse drawn carriage, with the veil over my face and the sun in my eyes, I couldn't see a thing. I just remember walking but apparently I all but ran. My mom told me to slow down and I told her no. I had a long way to walk and I couldn't wait to see my husband' s face. He was very adamant about not seeing my dress or me in the dress until I walked down the aisle. Once I saw his face I forgot that everyone was watching us. It was just us. Once we made our grand exit we got back on the carriage and made our way around the neighborhood to give guests time to clear the venue for pictures. Having that moment with just the two of us was the best. We really got to let it sink in that we were actually married. While we were taking pictures all they could find to give us to drink was my signature drink so by the time the bridal party got introduced by the DJ… well let's just say the entrances were pretty funny. Most of the night was kind of a blur. I did get a chance to walk over to the main building and look around at all the work we had done. And really take it in. Although the pictures are amazing, it can't compare to the time I took to really let it sink in. Next thing I know we were playing that shoe game. My favorite part was when the DJ asked which family was the craziest. We both raised my shoe and my mom stood up and took a bow. When it was time to do our grand exit with the sparklers I asked Robert to dip me one last time. He (and all the tequila his groomsmen gave him) misunderstood and he tried to get me to dip him instead. It was all so us and I loved every minute.
Was there a theme for the ceremony and reception?
Not really a conscious theme but it really ended up being eclectic, personal, and a little country chic (burlap and mason jars… of course).

Vendors
Photographer:  Open Aperture Photography
DJ: BTA Entertainment
Equipment Rentals: Country Aire Rentals
Caterer: Moore's Barbecue