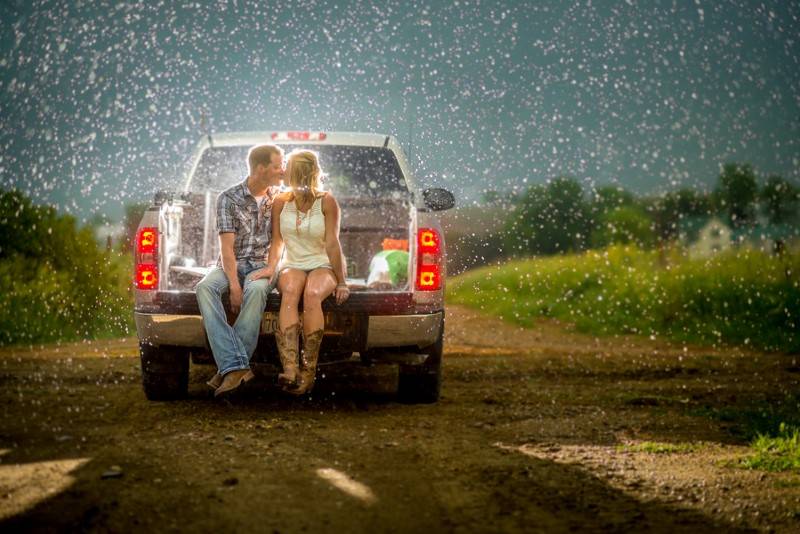 Let us soak up your Sunday a bit with this captivating engagement session by Salt & Pine Photography. Jessica shares that the first time they met, Jeff had asked her to join him for a motorcycle ride but declined. But Jeff's charms must've caught up with Jessica a few weeks later. She found him on Facebook & messaged him if he was still up for the motorcycle ride. And of course, his answer was a definite "Yes!" And the rest was history. Our favorite part of this session was when the couple was seated at the back of the truck while the rain was pouring hard. This just proves that even a bad weather can provide for a good photo opportunity. Congratulations again Jessica & Jeff!
What is your story as a couple, how did you meet & fall in love?
I met Jeff at a former employer. When he first asked me to join him on a motorcycle ride, I declined. A couple weeks later, after some research and thinking, I found him on Facebook and asked if he still was up for that motorcycle ride. Of course, he was!
What makes the two of you a perfect match?
We are two peas in a pod. We like to laugh, have fun, and tease each other. I think we are a good pair, because we are both independent and let each other be our own person. We are different enough that we are better as a pair. It's crazy how much has changed in the four years since we have met. We have grown up and matured a lot!
What was the best advice you received when you were planning your wedding?
Everyone has told us again and again that it's our day and we should do what makes us happy. I am not too big into decor, but I knew I wanted rustic country. Luckily, I have a great team of family members and bridesmaids who are into that stuff!
What inspired your wedding decor? Why did you choose the things that you did?
I love the outdoors, nature, and animals. Jeff grew up on a dairy farm and loves the outdoors and hunting. We love mason jars, chalkboards, and anything as low maintenance and unique as we are! Most of our friends and family have kids and we wanted it to be relaxing for the parents and fun for the kids. We chose a great little pumpkin patch out in the middle of nowhere that has so many great touches and most of the decor already in place. With that, we knew that a live band would add to the atmosphere.
What inspired the wedding day outfits?
We just picked fun, comfortable clothes and, of course, boots!
Do you have advice for couples still in the planning process?
Choose your bridesmaids wisely. 😉 I was able to worry about my appearance, wardrobe, scheduling, and work because I had so many willing assistants for the decor and flowers. Jeff's mom made us a beautiful ring pillow and my mom made us many signs from old barnwood. Those are the things that will make our day so special.
What were some challenges you faced planning your wedding & what would you have done differently to avoid them?
I am an awful planner and communicator. I would rather wing things, and it caused some issues. One of my bridesmaids recommended putting it all on paper. I typed up a schedule that shows who will be doing what when and where. It sounds bossy, but I think it was really helpful. I also listed everyone's phone numbers so that everyone could communicate among themselves.
What was the wedding budget?
As little as possible. Part way through, we realized that we had spent thousands and thousands, but I think we were careful enough about cutting costs where possible. One of the first "splurges" we made was choosing Salt and Pine Photography. They were a little pricier than a couple other great photographers, but their website was phenomenal and they were such cool people. We didn't look further.
Where did you save the most money?
Food! We figured a frilly meal wasn't fitting anyways, so we settled on pulled pork and potato salad catered. Our caterer let us take care of everything but the pork and potato salad so that we could save a little additional money. And with over 300 guests, that was a big savings!
Can you share some tips or tricks that you learned along the way leading up to the wedding or after?
Relax, delegate, and don't sweat the small stuff!
Where did you go on your honeymoon?
We will go to Florida. We're going to fly to Ft. Lauderdale, rent a convertible, and drive down the Keys!
Was there any Do it Yourself (DIY) projects? If so, can you describe them in detail?
Jeff's mom hand stitched the ring bearer pillow. My mom made a burlap guest book. Jeff made a barn wood photo frame. My mom and Jeff made several barn wood arrows.
What are you most excited about for the future?
We're excited for the next chapter, whatever it may be!
How many guests were invited in your wedding and what was the final guest count?
We were surprised that of the 360 people we invited, over 300 will be in attendance. That was a little more than we were warned, but it made us feel good! Especially since it's quite a drive for most!
What was your favorite part of the day?
The photographers made it epic! We were headed back to the farm a little disappointed and Joe (half of Salt and Pine) told us to get out and sit on the tailgate. This was a muddy road in pouring rain! We listened and we are glad we did! Now, we have no fears for the big day. I haven't even checked the weather because I know a storm will only give us another opportunity!

Was it difficult to narrow down your guest list?
We didn't really. There were some friends we wish we could have invited, and who we realized we should have. It's just tough to decide.

What would you say, the overall story for this album?
This is our engagement session. What we thought was a ruined session due to fierce storms actually made for what many described as "the best" picture they have ever seen. I agree!
Vendors
Photographer:  Salt and Pine Photography