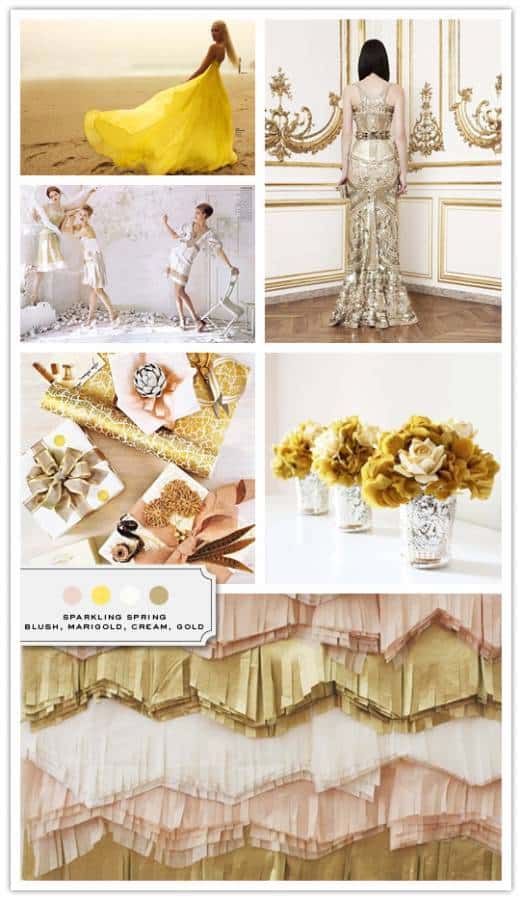 My new obsession: fringes! They are perfect not only for casual weddings but also for parties with a little more glamor! The all idea for this week's board was to combine some classical inspiration with some whimsical wedding ideas that not only use fringe but also use beautiful painted vases with simple but elegant flowers, beautiful packaging and unique fashion for brides and bridesmaids! Enjoy!
• • ♥ • •
Color Palette Credits:
Bride in Yellow Dress, Åsa Tällgård via Oh Joy!
Gold Dress, via Erin Ever After
Bridesmaids, Tim Miller via A Subtle Revelry
Wrapping Paper, via La Boheme
Flowers, via Erin Ever After
Tissue Paper Fringe, A Beautiful Mess
• • ♥ • •
Sofia Ferreira is the co-founder of Brancoprata, a wedding company specialized in design and photography. After graduating from University, Sofia soon realized that her love for interior design and weddings was too powerful to be ignored. She gave up her career as a Mathematics teacher and since then she devotes her time to make dreams come true… at least for her couples! She is currently looking for a place to live and work in the historical part of downtown Porto, where she was born.