Hello! I was so excited when Maddy asked me to write a guest post for Inspired Bride. My name is Bethany Hway, and I am the writer behind b*spoke, a blog that features my ponderings and ramblings on home, life and love. I also am the owner and designer of Emmy Lu Design Studio, which specializes in DIY printable invitations. In midst of all this, I have begun dabbling in event design and styling. Maddy has been a wonderful source of inspiration for this interest, and it is from this platform that I write this post today.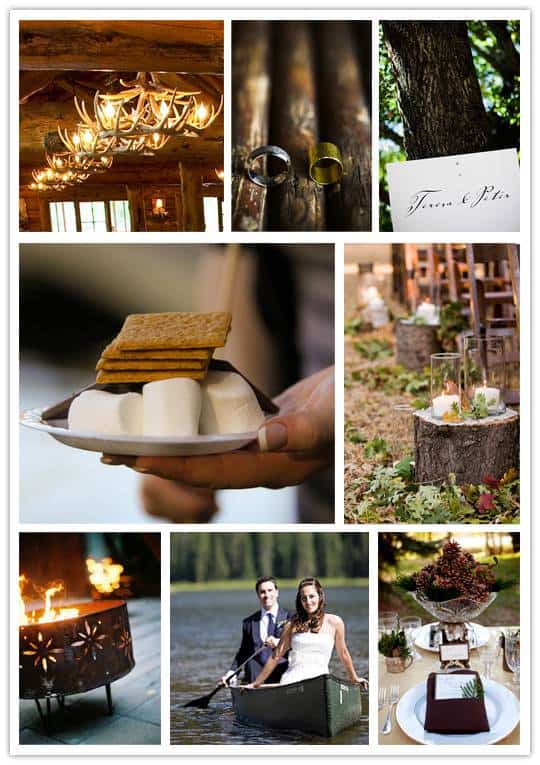 I grew up in the far reaches of northern Minnesota, and from a young age, was a lover of the outdoors. My playground was the woods behind my parents log home, where I entertained myself by building forts among the towering pines, and having tea parties with my dolls on the mossy forest floor. I find the elements of the north woods to be warm, rich and alluring. For me, there would be nothing more romantic and stylish than a wedding centered around the textures, colors, and details of classic, "up north" Minnesota.
These photos are a snapshot of the vision I have for such an event. Drawing inspiration from my childhood days, I have looked to nature for the elements of decor. A rustic log lodge adorned with glowing antler chandeliers creates an inviting setting for the ceremony or reception, while an outdoor patio with crackling bonfires is an ideal location for guests to mingle and roast marshmallows for s'mores. Pine cones in an ornate bowl are an easy, but striking centerpiece, with a sprig of pine tucked into a chocolate brown napkin to finish off a perfectly woodsy table-setting. Candles in glass hurricanes are set on tree stumps, for an elegant, but rustic accent. I picture the day being a blend of sophisticated details, with a casual, resort-style vibe. Guests would be encouraged to take a canoe out on the lake for an afternoon paddle, and the day might wrap up with sparklers on a lantern-lined dock.
Inspiration Board Credits:
Antler Chandeliers, Brides
Rings, Aaron Snow Photography via Style Me Pretty
Calligraphic Sign, Sara Remington via Style Me Pretty
S'mores, Tomme Hilton Photography via Style Me Pretty
Candles, Beth Helmstetter Events via Style Me Pretty
Campfire, Jonathan Canlas Photography via Style Me Pretty
Canoe Ride, Martha Stewart Weddings
Table Setting, Genevive Leiper Photography via Style Me Pretty
Thanks again to Maddy for having me today, and for allowing me to share my "Up North" event inspiration on Inspired Bride!
Emmy Lu Design is a sponsor of the Inspired Bride, but did not pay or provide other compensation for this post. For more information on our editorial policy, please click here.