Time for more yummy eye candy!
I've been having great luck with Flickr lately while trying to find inspiration for the cupcakes to be served at my own upcoming wedding. Glorious Treats' photo stream has been totally up my alley and was perfect for what I was looking for – sophisticated cupcakes without too much elaborate labor involved to bring down their overall cost (cupcakes are more expensive than traditional wedding cakes because they take more time overall – therefore, less money to work with in the design aspect).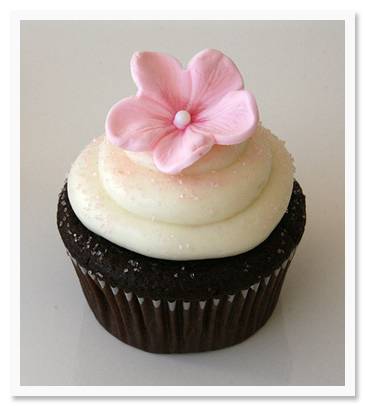 This super sweet one is perfect for spring! I like the pop of pink in the center, so this is probably similar to what I'd want to do if we end up being able to go ahead with the cupcake plan. The dusting of colored sugar is a nice finish and makes it seem a little extra special.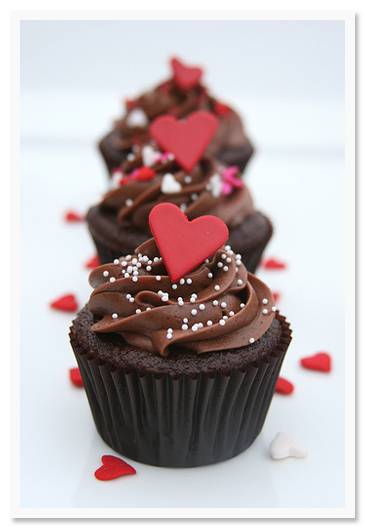 Red and chocolate as a color combination has become a new "thing" of mine. The pairing is romantic, but sensual, sexy, but sophisticated – which makes this design a perfect Valentine's Day wedding cupcake! If my cousin's then-fiancée had taken up my offer to help them visually plan their wedding last year, I would have proposed something similar to this.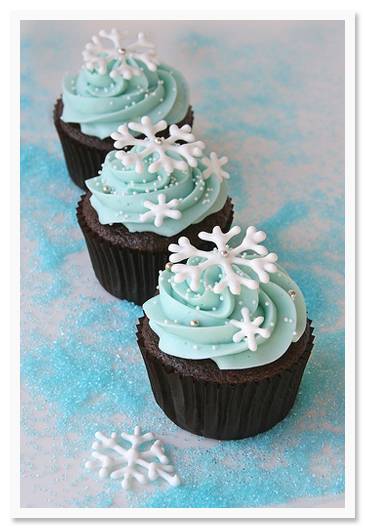 The aqua color and piped snowflakes are absolute show stoppers for winter weddings. The attention to detail on these is fantastic – from the silver dragées to the white nonpareils to the way the chocolate cake and brown wrapper let the icing pop and steal the show. I'm trying not to use the word too much anymore because I overuse it terribly, but love, LOVE, L O V E.
Visit Glorious Treats' photo stream for more beautiful inspiration if you're considering going the cupcake route, or if you can't get enough of pretty pastries (I don't blame you!).